Description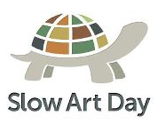 Beach Museum of Art
Art viewing: 11:00 AM - 12:00 PM
Lunch: 12:00 PM - 1:00 PM
At Beach Cafe - bring a sack lunch, coffee and dessert provided
Host: Kathrine Schlageck
Email: klwalk@ksu.edu

We will have five works of art designated for Slow Looking in the Painting Borges exhibition between 10 and 12 a.m. Join Beach Museum senior educator Kathrine Schlageck for a lunch-time discussion.
Carlos Estévez, Agujero en el tiempo (Hole in Time), 2011, pencil and gouache on paper
Mirta Kupferminc, El milagro secreto (The Secret Miracle), 4/5, 2008, digital print
Laura Delgado, La otra – éramos demasiado parecidos y demasiado distintos (The Female Other – We Were too Similar and too Different), 2009, mixed media on canvas
Héctor Destéfanis, Ruinas circulares II (Circular Ruins II), 2009, mixed media on paper
Luis Cruz Azaceta, La casa de Asterión (The House of Asterion), 2009, markers on paper
Slow Art Day is a worldwide celebration of art that encourages people to look at art SLOWLY – and thereby experience art in a new way. You can see more about Slow Art Day and the mission behind it on our website: http://SlowArtDay.com.
As Slow Art Day approaches, you'll hear from your host with more information, as well as instructions about what to do when you arrive for Slow Art Day.
More info about Slow Art Day movement: facebook | twitter | tumblr