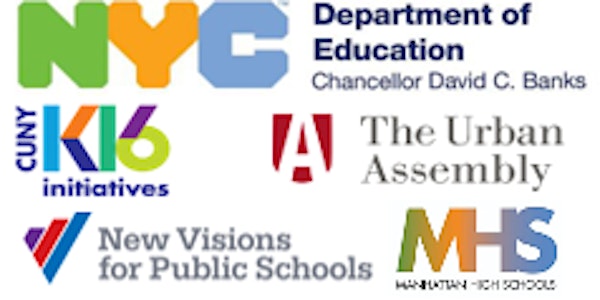 Manhattan, CUNY, UA, New Visions, International, OB, Consortium HS Fair
NYC Department of Education High Schools Fair:
When and where
Location
M600 The High School of Fashion Industries 225 West 24th Street New York, NY 10011
About this event
Meet representatives from CUNY Early College, Urban Assembly, New Visions, Outward Bound, International, Consortium, Manhattan High Schools and more.
We believe every student deserves a high-quality, well-rounded PUBLIC education.
Our community of schools works tirelessly and purposefully every day so that students of all backgrounds and circumstances have the opportunity to be successful.
Our approach to teaching and learning is centered on the idea that students maximize their potential when they're allowed to cultivate human connection and joy. We do this by prioritizing student wellness through safe spaces that understand and respect all cultures – together we lift our students, families, and communities.
To empower our students to grow without limits we focus on project-based learning and partner with local colleges, businesses, and CBOs to pave multiple pathways to college and careers. After graduation, our students are fully prepared to excel in college, career, and community.
What You Will Learn
During this session, you will have an opportunity to learn about all our schools and how to enroll, hear directly from our school and district leadership, ask questions, and find out when you can tour our campuses.
Enrolling at NYC DOE High Schools means learning alongside some of the most passionate, committed, and inspiring students in New York.