Sales Have Ended
Registrations are closed
manduro is sold out
Sales Have Ended
Registrations are closed
manduro is sold out
Description
manduro 2018

a grueling bicycle adventure | How Far Can You Go?

Aug. 3 & 4 | starts & ends in downtown Raleigh, North Carolina

2018 is the pioneer race | you'll get extra special stuff

up to 36 HOURS to complete | 200/+ miles with...

13+ Brewery Check-ins & 13+ Checkpoints & multiple adventure challenges

START LINE PARTY & FINISH SURVIVOR FIESTA
All riders will receive a Pioneer Ride Patch and a stamped manduro copper bracelet. No matter how far a rider goes, they get those plus drinks, a medal, and post-event party.
---
This adventurous race starts at Crank Arm Brewing Noon, Friday, August 3, 2018
This adventurous race ends at Trophy Brewing 11:59:59, Saturday, August 4, 2018
READ THE WARNING
***do not sign up unless you are serious | by serious we mean you must be an idiot | by idiot we mean perfect for this adventure | by perfect we mean crazy enough to try anything***
---
FAQs
What type of bicycle do I need to ride this?
manduro will have every type of surface we can find in the 200+ mile area around the Triangle of North Carolina. That being said, we don't give a damn if you ride a banana seat Huffy or rock a $10,000 bike (no engine or assisted). However, use your head, do some terrain investigation and, plan accordingly. We'll have a WTFIT? Award for one sucker who shows up with a less-than-adequate bike and heads out.
At some point, no matter what bike you are on, you will wish for a different bike. Everyone will.
Is there a minimum age requirement to enter the event?
must be 21+ years old on the first date of the event to enter | no exceptions to this will ever be made, ever
What can I bring on the race?
we don't care | there are -> things you must bring
How can I contact the organizer with any dumb questions?
email originovel@gmail.com | yes, there are dumb questions
What's the refund policy?
no refunds once you are in | if we reject you for any reason, we'll refund you in full and maybe even $5 extra so you can get a beer to go cry in over the rejection | this is not for anyone and everyone | read the warning | this is serious shit | don't do things you are not equipped or trained to do | riding is dangerous

Is my registration fee transferrable?
due to the nature of this event, we can't let you transfer to anyone else | we may, if you are a super cool person, let you transfer to the following year if you promise to show up | otherwise, we'll share your entry fee in the form of beverages with the people that do show up | we may toast to you but probably not

What the heck is manduro | why should anyone enter?
No, not just anyone should enter, in fact quite the opposite | it is a grueling bike adventure that will reveal itself to riders over the course of 24 to 36 hours | it will surprise you | it will challenge you | it will make you happy | it will make you sad | you will NOT have to climb rope ladders or crawl through a mud pit under electric wire | you will find out just how far you can go
However, there is no failure in not completing the entire route, only stories of adventure [insert cliche about, life's a journey, not a destination, here] and celebrate making it in one piece to the finish line party after you quit | but, if someone should succeed, they will have more stories than anyone else and get a lot of extra, extra cool stuff
The "man" part of manduro both makes fun of and embraces that which is attributed to being manly but has absolutely nothing actually to do with one's gender. You'll be thrown into short tasks along the way that will make a mockery of the word MAN. Ex. you may have to whittle something; do some falconry; belch a song; tie a tie et...or, maybe none of this nonsense, however, there will be no mansplaining tolerated | ride your own ride | take care of your own shit'ake

It's like an adventure race on two wheels that will feel like The Barkley marathon, a thru-hike, an urban and rural expedition, and a bikepacking trip gone askew...but hotter.
What else?
obviously - by entering - you, your associates, your sponsors, your support, your friends and your family hold harmless and release anyone and everyone involved from any form of legal action. Note: you could get injured | you could die | you could get divorced | anything can happen
By signing up, you release us, hold us harmless, give up rights to pursue legal action and agree you are in the right mind, body, and spirit to attempt manduro

What else, else?
if you do have support anywhere on the course at any time, we are not responsible for them either | they too waive all liability
and?
all entries will receive a 25% off discount code for Club Ride apparel upon completing the registration and if accepted, some other totally unique stuff ~ see the manduro website for complete list of kick-ass stuff you will get regardless of completing the entire course or not, just make it to the finish in one piece or, show up
sponsors: Crank Arm Brewing | Trophy Brewing | Club Ride apparel | Adventure Cycling Association | Pine State Coffee | ThingsUncommon | Fire & Spunk Productions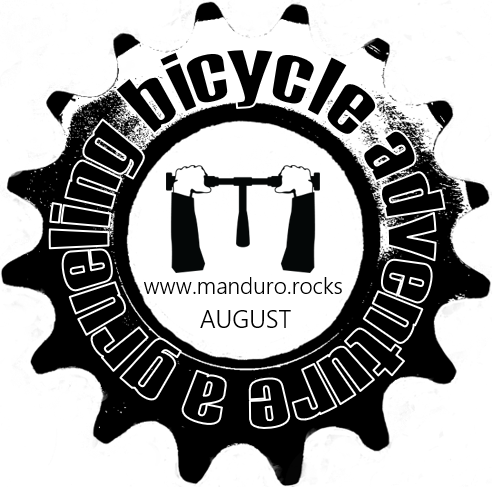 an originovel llc event production