Description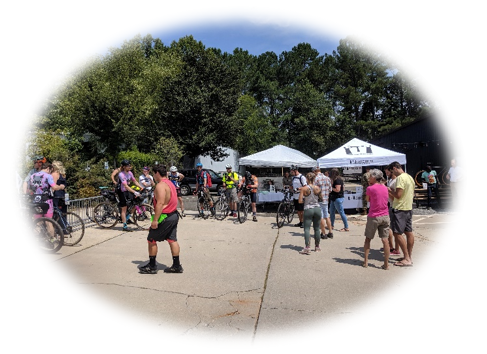 July 31 & Aug 1 | Raleigh, North Carolina

the 2020 edition will be an epic adventure with a vision | #manduro2020

36 hrs to complete 200++ miles

13 checkpoint boxes | many brewery stops | 20 sec. to 2 min. huMANduro tasks

the event is designed for bicycle riders to truly test how far they can go

LAST CALL CHALLENGE ~ if you make the last brewery check on the first day you get a special prize and you get to continue on the race

Launch Lunch Party on Friday starting at 11 am until 1 pm

Big Screen Race Watch Events for fans, friends, & family to enjoy viewing the #sufferfest

Finish Line Celebration on Saturday

NEW: Post Race Sunday Awards Brunch

How far can you go trusting your bike, body, mind, & technology with heat, rain, nature & lack of sleep?
RIDERS GET ALL KINDS OF STUFF: 2020 riders button/patch | manduro swag | adult drinks | other goodies
START: HQ Raleigh in downtown Raleigh, NC on July 31, 2020, at Noon (start location subject to change but will remain downtown Raleigh, NC)
END: at a different, very near the start location on Sat. by Midnight
read the WARNING ~ don't sign up unless you are serious | by serious we mean, crazy | by crazy we mean, perfect for this adventure
FAQs
What type of bicycle do I need to ride this? riding on every type of terrain imaginable in the Triangle area of North Carolina. Look at it this way, if it's an outdoor surface, you'll travel across it at some point.
We don't give a damn if you ride a banana-seat Huffy or rock a $10,000 bike, as long as there is no engine or assist, come crank this event! Google the terrain and plan accordingly.
No matter what bike you are on, at some point, you'll wish you were on a different bike. Everyone will.
Is there a minimum age requirement to enter the event? must be 21+ years old on the first date of the event to enter | no exceptions ever
What can I bring on the race? we don't care about most things | these things you must bring
How can I contact the organizer with any dumb questions? email originovel@gmail.com | yes, there are dumb questions
What's the refund policy? no refunds | if we reject you for any reason, we'll refund you in full, maybe even give you $5 extra so you can get a beer to go cry | this race is simply not for everyone | read the warning | this is serious shit | don't do things you are not equipped to do | even if trained and well-experienced, you may not have ever done this type of crazy | riding this is dangerous | riding where we'll be sending you is absurd
Is my registration fee transferrable? due to the nature of this event ~ no | we may, let you transfer to the following year | we'll share your entry fee as beverages with the riders that do show up | we may drink a toast to you at the finish line but, probably not
What the heck is manduro | why should anyone enter? an adventure race on two wheels that feels like a thru-hike, a gravel grinder, an urban exploration, a rural expedition, and a bike-packing trip all in one | it is not a scavenger hunt | go to the website and read.
What else? obviously, by entering, you, your associates, your sponsors, your support, your friends and your family hold harmless and release anyone and everyone involved from any form of legal action. Note: you could get injured | you could die | you could get divorced | poison ivy | ticks | snakes | anything can happen
AND THIS: All riders will need to have a Gmail account and do Location Sharing with the manduro race director at the start of the race and throughout the event
By signing up, you release us, hold us harmless, give up rights to pursue legal action and agree you are in the right mind, body, and spirit to attempt manduro: a grueling bicycle adventure | acknowledging your own idiocy is the first step | "us" is originovel llc and its officers, employees, and volunteers