Mandatory Pre-Bid Meeting C.V. Kane EA0G8404

Wednesday, November 6, 2013 from 10:30 AM to 12:30 PM (PST)
Event Details
08-0G8404 - http://www.dot.ca.gov/hq/esc/oe/project_ads_addenda/08/08-0G8404/
This project has a mandatory pre-bid meeting
Upgrade Existing Roadside Rest Area 08-SBd,Sac-5,15-23.3,107.3 
Date Advertised 10/21/2013
Bids Opening in Irvine Bids Open 11/21/2013
Estimate: $8,000,000
250 Working Days
7% DBE Requirement

In Building Construction In San Bernardino County On Route 15 About 30 Miles East Of Barstow At C.v.kane Safety Roadside Rest Area And In Sacramento County On Route 5 About 0.2 Miles South Of Route 275 The Contractor must have either a Class A license or Class B license or a combination of Class C licenses which constitutes a majority of the work.
DATE CHANGE!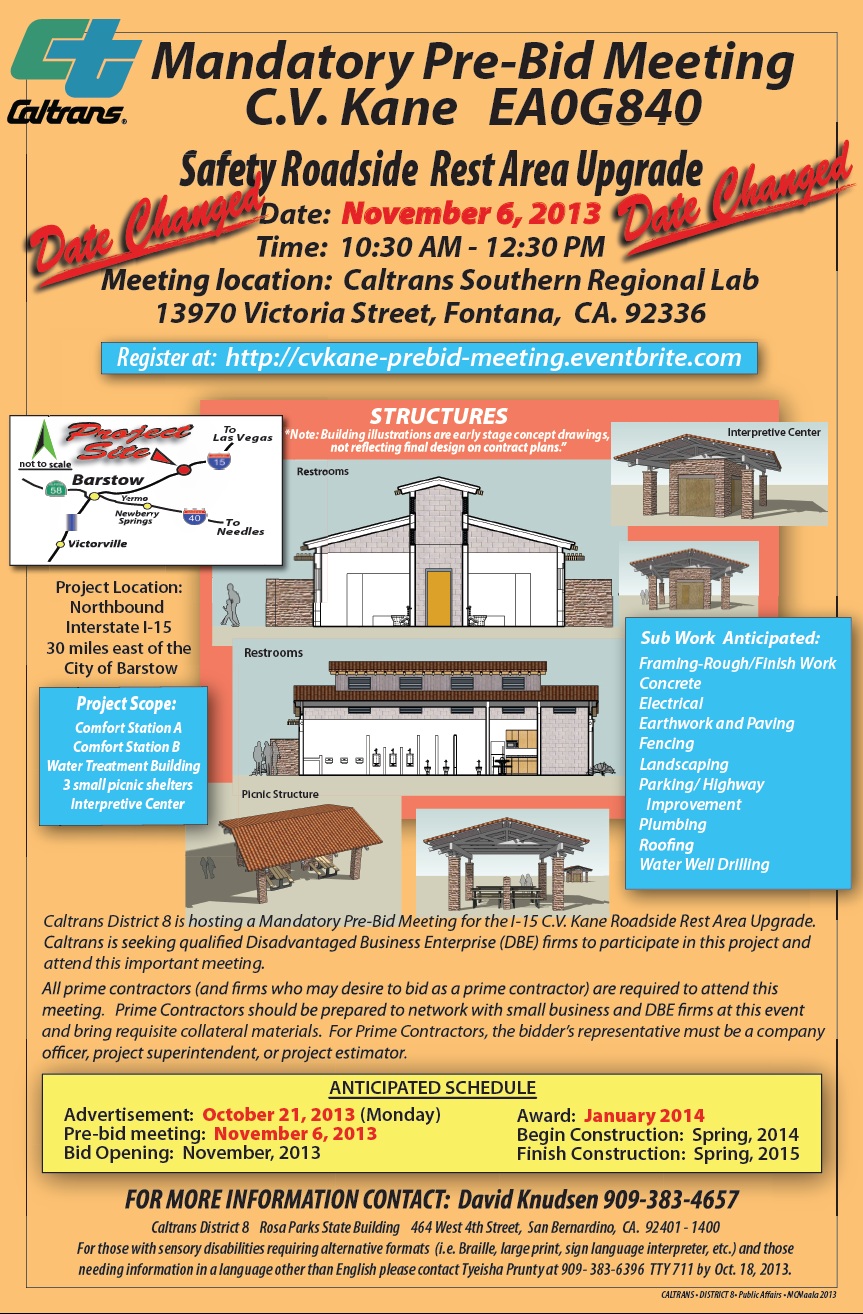 FAQs
I am a Prime Contractor but I am not sure I need to attend this event. Should I attend?
All prime contractors (and firms who may desire to bid as a prime contractor) are required to attend this meeting.
I am a possible Prime Contractor for this project. What should I bring to the event?
A company officer, project superintendent, or project estimator representing the Prime Contractor should be prepared to network with small business and DBE firms. Please bring requisite collateral materials to distribute.
As a Prime Contractor, what will be required of me at the event?
Prime Contractors will be expected to network with the small businesses and DBE firms. Prime Contractors should bring plenty of business cards and other business materials related to this project and their individual firm.
I am a sub contractor, small business, and/or DBE certified firm. Am I required to attend this event?
This event is specifically targeting small business and DBE firms and establishing a connection with decision makers representing Prime Contractors. While not required, this event is for you. Please bring your contact materials as well as a detailed scope of work your firm can provide for this project. Put your best foot forward as you network with the Prime Contractors.
When & Where

Caltrans District 8 Southern Regional Lab
13970 Victoria St
Fontana, CA 92336


Wednesday, November 6, 2013 from 10:30 AM to 12:30 PM (PST)
Add to my calendar
Mandatory Pre-Bid Meeting C.V. Kane EA0G8404