Location
Grosvenor Square
Manchester
m15 6bh
United Kingdom
Description
* * * SOLD OUT * * *
Please join the Waitlist and we will notify you if a ticket becomes available. You will then have 24 hours to book your ticket.
The Modernist Society and Manchester Metropolitan University present: GM10
Two modernist architecture bus tours of the ten boroughs of Greater Manchester visiting five selected buildings in the first and then second five boroughs.We are now accepting public suggestions for landmark 20th Century buildings in each of the 10 boroughs of Greater Manchester via https://gm-10.org/. These ten buildings will then form the basis of two bus tours (five buildings in each tour) across the ten boroughs in May and June 2017.
Convened by: The Modernist Society (Jack Hale & Eddy Rhead)
Founded as The Manchester Modernist Society in 2009 by Jack Hale, Eddy Rhead and Maureen Ward, The Modernist Society is a creative project dedicated to celebrating and engaging with twentieth century architecture, through publishing, events, exhibitions and creative collaborations.
The coach pick up and final drop off point will be outside Grosvenor (aka All Saints) Park, opposite St Augustine's church, Lower Ormond Street. Please see the map below.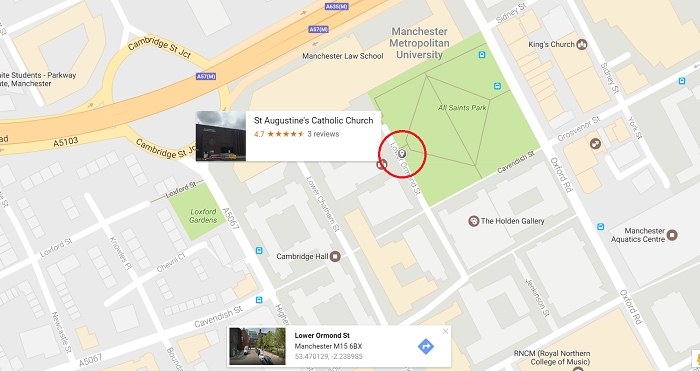 The draft itinerary for the day is:
10.00am – Coach pick up opposite St Augustine's Church (map below), Leave Manchester
10.30am – Rochdale - Hopwood Hall, Leave 11
11.30am – Tameside Tameside (tbc), Leave 12
12.30pm – Stockport – Stopford House
1.00pm – 2.00pm – Lunch, own arrangements
Please make your own arrangements for lunch, for example bringing a packed lunch or buying something locally in the hour break.
2.30pm – Stretford Esseldo Cinema
3.00pm – Arndale
3.30pm – Toast rack, Leave 4pm
4.30pm – Arrive back in Manchester at St Augustine's Church (map below)
Please bear in mind this is subject to change.
Please book onto Part 1 of the tour at: https://manchester-modernists-tour.eventbrite.com