Managing the Motherload: Book Launch w/ Rebekah Borucki + Special Guests
About this Event
To celebrate the release of her second book, Managing the Motherload: A Guide to Creating More Ease, Space, and Grace in Motherhood, Rebekah Borucki is inviting you to join her for an evening of meditation, deep discussion, and nourishment at the beautiful studio space at lululemon athletica, 520 Broadway, Soho, NYC.
EVENT HIGHLIGHTS
★ Begin the evening with a guided meditation by Rebekah Borucki
★ Participate in a live panel discussion and Q&A for moms featuring Anna Gannon (Expectful), Denise Woodard (Partake Foods), and Elizabeth Dialto (Wild Soul Movement)
★ Enjoy free healer services for VIP guests: Astrological Birth Chart Readings, Massage, Reiki, Tarot Card Readings
★ Take home a signed copy of Managing the Motherload, included with your ticket
★ Sip on cocktails and mocktails courtesy of Little Spoon, and enjoy delicious gourmet treats by Partake Foods
Every ticket purchase includes a signed copy of Managing the Motherload. The VIP Access ticket includes access to the wellness services provided at the event.
100% of your ticket purchase will be donated to the SWA's Book Club, founded by Rebekah's co-host, Tamela Gordon. The SWA's Book Club is an online space dedicated to providing a safe space where Black literature, art, and politics are centered. It was designed to be a safe haven for Black women and women of color, but all women and non-men are welcomed. Your purchase will directly benefit self-care retreat days and free books for its members.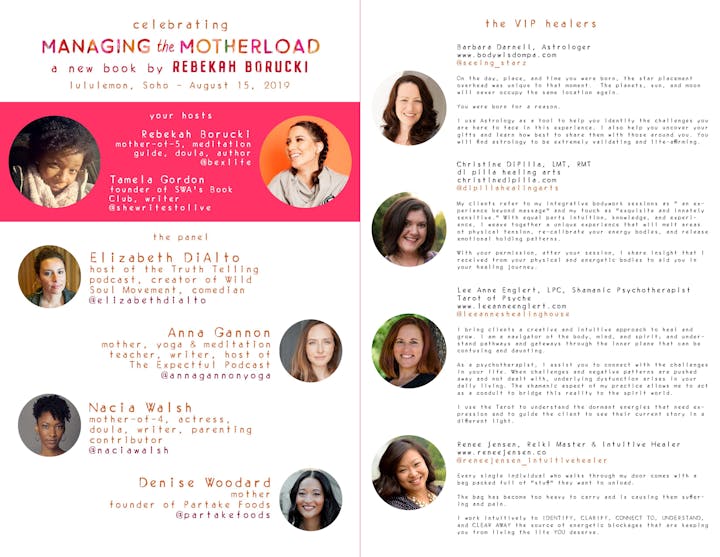 All womxn are welcome: mothers, nurturers, non-men, and all femme-identifying folks. Sorry, no men or children under 16 allowed.
About Rebekah Borucki:
Rebekah "Bex" Borucki, founder of BEXLIFE® and the BLISSED IN® wellness movement, is a mother of five, TV host, meditation and yoga guide, and birth doula. She has taught meditation as a profound act of self-care that can be executed effortlessly and effectively to hundreds of thousands of individuals online and in exclusive workshops and public events. Rebekah's mission is to make mental-health support and stress-management tools accessible to all. For more information, visit MotherloadBook.com.