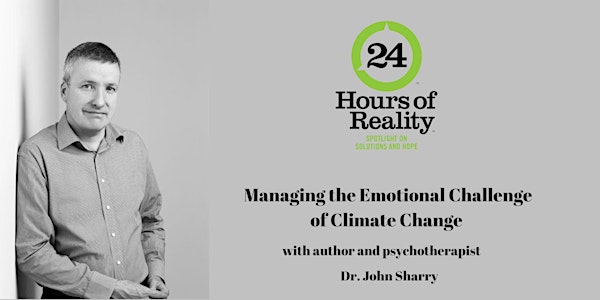 Managing the Emotional Challenge of Climate Change
Workshop on our emotional and psychological response to the climate and biodiversity emergencies
About this event
As part of Climate Reality's 24 Hours of Reality, the Irish Climate Reality Team invites you to a workshop on managing and communicating our emotional response to the climate crisis.
Facing the reality of climate change and biodiversity breakdown can easily evoke challenging feelings of anxiety, grief and despair. When communicating about climate it is important to understand how people emotionally respond to the news as well as the impact on us as the communicators. In this practical workshop, John will describe this emotional response and show how we can manage these emotions positively and as means of galvanising our motivation rather than leaving us feeling helpless.
Prof John Sharry is a family psychotherapist, adjunct professor at the UCD School of Psychology and author of 25 parenting and mental health books and programmes. He is also a trustee of the Feasta environmental charity, co-founder of the Parents Plus Charity and an Irish Times Health columnist. John has written a series of articles in the Irish Times on the psychological factors that inform our collective response to the climate/biodiversity crisis as well as steps we can take towards action.