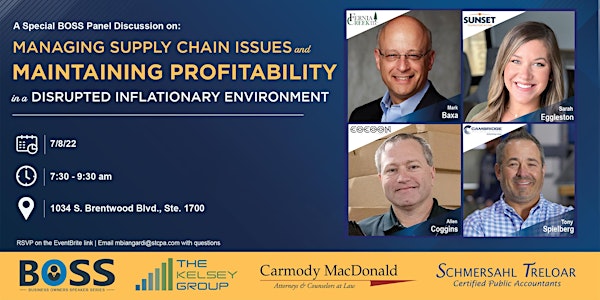 Managing Supply Chain Issues and Maintaining Profitability
Location
University Tower
1034 South Brentwood Boulevard
Ste. 1700
St. Louis, MO 63117
Event Description: This panel will focus on the supply chain and how companies can find solutions to counteract lack of materials.
About this event
Event Description:
Our next BOSS event will focus on challenges in sourcing raw materials. Our supply chain experts will provide excellent solutions and guidance to navigate current challenges that Business Owners face in the world today.
Join us at the next BOSS event and you'll learn:
1. How to manage inventory, supplier relationships and risk more effectively
2. How to optimize your supplier network
3. How to control costs and not overpay for material
4. Learn how you can forecast demand more accurately
Meet Our Panelists
Mark Baxa | President | Fernia Creek Consulting
Mark brings over 37 years of experience in supply chain leadership roles. Mark has developed, leads and instructs the advanced St. Louis University Center of Supply Chain Excellence International Supply Chain and Trade Compliance certificate program. At Fernia Creek consulting he coaches teams on how to build out a reliable and productive international supply chain, organize it, staff it, and enable it to accelerate performance. With his deep, globally established supply chain networks and leadership experience in strategically developing supply chain processes, policy and procedures and the organizations to support it, while also creating, developing and leading one of the most extensive international trade digitization projects and possessing extensive supplier relationships. Mark is a 20 year member and leader with the Council of Supply Chain Management Professionals (CSCMP) presently serving as officer and 2019 Chairman of the Board, is a member of the International Compliance Professionals Association (ICPA), and co-founded the St. Louis Compliance Practitioners Round Table. He was recently inducted into the DC Velocity 2018 Supply Chain and Logistics Rainmakers. https://www.ferniacreek.com/
Allen Coggins | CEO | Cocoon
Allen is a futurist, inventors, and entrepreneur. Allen has been in the HVAC and Electrical trades for over 25 years, and have spent my life constantly searching for a "better way" of doing things. After a lifetime of tinkering to figure out how to make things work better, Allen Coggins began to notice how older fellow union HVAC tradesmen limped with injuries after years of carrying heavy furnaces up and down stairs. Thinking there had to be a better way, he spent years developing a better furnace that came to be called the Cocoon, an electric furnace that Coggins said marks the first significant change in furnace technology in more than a century, saving 41% in energy costs over a typical furnace...Allen Coggins has been on a mission to accomplish mind-blowing, energy saving technologies. https://www.cocoonrevolution.com/meet-inventors
Sarah Eggleston | Vice President of Sales | Sunset Transportation
Sarah Eggleston is Vice President of Sales at Sunset Transportation, leading all phases of business development at the second-generation logistics company, including overseeing the full sales cycle from lead generation to solution design and developing company strategies for positioning Sunset's suite of service in the market. She is responsible for new logistics growth and annual company sales goals with a growing team of in and outside salespeople. Through a collaborative approach, Sarah focuses on learning and understanding each prospective client through a deep dive into analytics, processes, and supply chain pain points. Prior to joining Sunset, Sarah spent four years with a small supply chain consulting company, specializing in domestic US LTL pro9ram management and international ocean and air consulting. There, she focused on logistics and supply chain data analytics to positively impact the supply chains of Fortune 500 global shippers. Fluent in Spanish, Sarah focused on growing the company's Latin American footprint and notably designed and implemented the first Mexican Freight Audit & Payment capabilities, later expanding into Argentina and Brazil.https://www.sunsettrans.com/
Tony Spielberg | Manufacturing Ambassador | Cambridge Air Solutions
Tony Spielberg is a visionary leader and strategic advisor with a blend of luxury retail and manufacturing operations expertise and 25+ years of experience developing highly influential global brands. Often recognized as an industry disruptor, Mr. Spielberg proudly embraces this moniker as he revolutionizes the manufacturing space by driving engagement and relationships to grow topline revenue. Recognized for his exceptional business acumen focused on disruptive leadership and overhauling the leadership paradigm, Mr. Spielberg was appointed to the Association of Manufacturing Excellence and NAM Manufacturing Leadership Council boards of directors. In addition, he is frequently profiled as a thought leader who possesses a unique blend of manufacturing operations and branding experience. Mr. Spielberg has delivered numerous keynote addresses, presentations, and articles on pivotal topics that influence manufacturers throughout the country. Active in leadership development, Mr. Spielberg recently spoke to the Missouri Association of Manufacturing and the Manufacturing Leadership Council on supply chain. A mentor throughout his career, Mr. Spielberg continues to coach and develop future industry leaders. Consistently encouraging advancement, he guides students and young professionals to build their leadership acumen and lead with integrity by employing a 'tough love' approach that encourages hard work and kindness to achieve results. https://www.cambridgeair.com/
Each B.O.S.S event will offer a light breakfast starting at 7:30am. Our programs kick-off at 8:00am and conclude by 9:30am. These events are not networking events and are intended exclusively for business owners and their leaders!