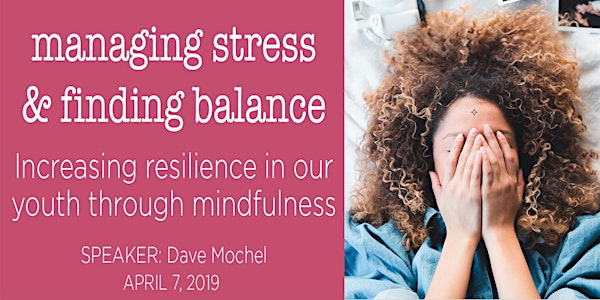 Managing stress & finding balance
Join the movement in Santa Barbara County to strengthen our community. Because we can all be more aware and more informed.
When and where
Location
Deckers Outdoor Corporation 6601 Hollister Ave Goleta, CA 93117
About this event
How do we offer guidance & support without rescuing our children from the discomfort that naturally comes with healthy challenges and growth?
We will...
[1] introduce & practice simple strategies for supporting our kids in becoming capable & resilient adults,
[2] explore simple practices for parents to use in being more present & understanding,
[3] discuss the line that separates normal upset & disappointment from depression & anxiety that require professional intervention.
**Parents of youth ages 5-25, teens, educators, and youth providers are invited to this FREE workshop.**
Sponsored by... Family Service Agency, Mental Wellness Center, YouthWell Coalition, DECKERS
SPEAKER: For over thirty years, Dave Mochel has been focused on the foundations of wellbeing, healthy communities, and leadership. After a twenty-year career teaching human development and neuroscience in independent schools, he founded Applied Attention to help individuals, teams, and organizations focus their attention and energy where it will make the greatest positive difference. Using principles drawn from modern scientific research and enduring wisdom, he has had the opportunity to work with leaders, educators, executives, parents, students, and athletes all over the world. He draws upon his degrees in biology from Williams College, a Master's in Humanistic and Multicultural Education from SUNY New Paltz, and a clinical internship in Mindfulness-Based Stress Reduction (MBSR) at the University of Massachusetts Medical Center. The principles and practices he teaches have been distilled and synthesized from thousands of years of enduring wisdom, thousands of scientific studies, and thousands of conversations with colleagues, students, friends, and clients.