Description
14 PDUs available for this course
Course Description
Quit doing all manual work in Excel! Come learn to use a dynamic, resource driven reporting tool from industry experts. This course is designed to help you manage and master MS Project from simple task management to Program and Portfolio management. Learn how to create and maintain easily dynamic schedules, and address resource demand and capacity, over and under allocations all with visual reporting and proven techniques by 20+ year industry veterans. This course trains participants how to plan, forecast, build, and manage project tasks and resources and to combine issues, risks, deliverables and dashboards in one central tool.
Laptops will be provided, but we encourage you to bring your own.
Learning Objectives
Create, manage, and update effective project schedules
Create and manage resources, resource pools and assignments
Learn the do's and don'ts of working with Microsoft® Project Professional
Create useful views for tracking, dashboards, printing, task usage, etc.
Formatting tricks for automating critical path tracking
Use reporting functions more effectively
Included Materials
Those who enroll in Advisicon's Managing Projects with Microsoft Project 2010 will receive a proprietary book written by Project MVPs and MCTSs, combining over 50 years of industry experience. This course manual outlines the best uses for Microsoft Project Desktop for use in project management scheduling and progress tracking.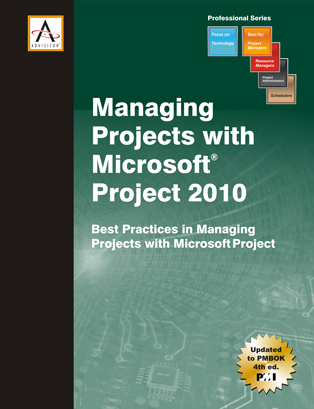 Who should take this course?
Project managers, project team members, project schedulers… and anyone who has used Microsoft Project Professional and had a hard time getting it to do what they wanted!
Course Instructors & Accreditation
Advisicon is a Project Management Institute (PMI) Registered Education Provider (REP) and an accredited Microsoft Gold Certified Partner. This course will be taught by an experienced Advisicon instructor, all of whom are industry experts in the field of project management and Microsoft Project. Read more about the Advisicon instructors.



Course Outline
Effective Use of Microsoft Project

MS Project Overview
Avoiding the pitfalls of working with MS Project
Creating project schedules, segments, milestones
Creating task relationships & dependencies
Setting task constraints and outlining

Managing and Tracking of Projects

Utilizing scheduling methods to shorten the critical path of a project
Utilizing MS Project Tools and Views to resolve resource conflicts
Advanced resource scheduling techniques
Managing costs, tracking baselines
Tracking completion of actual work between tasks and resources
Applying resource contours for forecasting and analyzing resource availability
Managing and viewing planned and actual durations, costs and schedules

Applying Resources and Calendars

Creating and utilizing resource pools
Applying layers of calendars
Utilizing project views
Formatting schedule layouts
Utilizing project reports
Understanding printing

Working with External Data & ApplicationsCustomizing for Better Management Results

Linking data between applications
Importing & exporting data
Hyperlinking and web pages
Utilizing business analysis templates

Using filters, tables, details and groups
Creating views, filters, tables, and groups
MS Project scheduling methodologies
Utilizing effort‐driven scheduling
Simulation
We provide a hands-on project simulation exercise where the participants can have actual tactical experience creating a schedule, linking tasks, creating custom views, along with best practice knowledge transfer on topics such as critical path methodology, project tracking, and Microsoft Project Do's and Don'ts. Participants will also walk away with an understanding of how the schedule engine within Microsoft Project functions and will no longer need to 'game' the software, but can now let the software work for them.

Organizer of Managing Projects with Microsoft® Project 2010
Who We Are
Advisicon is a Project, Program & Portfolio Management Company. We transform your organization's project management with a mix of methodology and technology that delivers results. Our team specializes in technology implementations, application and workflow development, training and consulting.
We are authors, teachers, consultants and technologists who are passionate about helping your organization learn, scale and grow.
As a Gold Microsoft PPM partner and certified by PMI, we take pride in our accomplishments and customer relationships. We work hard to deliver an experience you won't have anywhere else. We are invested in your success and are here to support you before, during, and after the job is done.
We understand your time is valuable and strive to keep each training dynamic, relevant and interactive. We offer three consumable avenues for our trainings:
In person at our local Training Center
Visit our website to view our case studies and learn more about how we can assist you at www.advisicon.com.