Description
Experience a practical, thought provoking and fun
(with a purpose)
programme that has been designed to provide attendees with proven techniques and strategies to support 'excellence' within both Management and/or Supervisory roles.
In our complex and ever changing world the role of a manager has altered dramatically from an emphasis on the boss/subordinate relationship to more of a collaborative working partnership
.
With a clear focus on 'achieving through people' this 2-day innovative course is based around research which shows 'hands-on' … 'minds-on' learning produces deeper and more meaningful understanding and utilises the proven powerful LEGO® Serious Play® method to both enhance and embed.
By using the LEGO® Serious Play® methodology in conjunction with traditional theory and practice an enhanced platform is created which provides an enriched learning experience through increased knowledge sharing, deeper reflection, enhanced communication and greater insight into personal strengths and opportunities for development through open and honest disclosure.
This hands-on, minds-on method supported by pertinent leadership and management theory, combined with an experiential training approach is guaranteed to make your learning more engaging, more meaningful, more memorable and ultimately more effective as a result of :
100% participation from everyone in the group

Hearing and appreciating everyone's unique insight on the topic of discussion

Focussing on the message not the messenger

A bottom up approach that unlocks personal insights and experiences

Building emotional connections and getting deeper and broader into content in less time

Generating maximum ideas
The 2-day course includes a LEGO® Serious Play® Starter Kit for each delegate, a certificate and lunch and refreshments (please advise of any dietary requirements).
Maximum 12 delegates
Price: £1,000 +VAT
This programme will provide delegates with the skills and knowledge to enable them to:
Identify and understand the Role & Responsibilities of an effective Manager/Supervisor

Understand the impact of Learning Styles

Demonstrate an understanding of Team Development

Recognise own Management Style and Impact

Learn how to effectively manage Own &/or Teams' Time issues

Demonstrate effective Communication, Feedback and Coaching Skills

Develop an on-going Personal Action Plan for immediate implementation back within the Workplace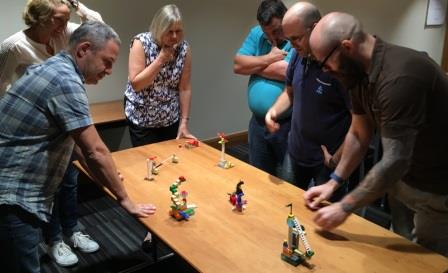 Course Outline - Day One
9.00 - Arrival - refreshments
9.30 - Welcome, Context Setting and Introductions.
10.00 - Role and Responsibilities of a Manager/Supervisor
- Trainer input/Group discussion
- Delegate activity
10.45 - Coffee Break
11.00 - Learning Styles
- Trainer input
- Delegate 'self-analysis' activity
11.45 - Task - Team - Individual
- Trainer input/Group discussion
- Delegate activity
12.30 - Lunch
13.30 - Team Activity - 'Highway Code'
- Designed to incorporate the 'key learns' from the morning sessions
- Group debrief
14.45 - Feedback Techniques (including Johari Window)
- Trainer input/Group discussion
15.15 - Coffee Break
15.30 - Feedback Delivery
- Delegate practice session
16.30 - Key Learning Points - summary and action plan' sheets
17.00 - End of day one
Course Outline – Day Two
9.00 - Review of day one and Key learning points
9.30 - Team Development
- Trainer input/Group discussion
- Delegate 'values/beliefs' activity
10.30 - Coffee break
10.45 - Belbin Team Roles
- Trainer input
- Delegate 'self-analysis' activity
12.00 - Situational Development - Skill/Will Matrix
- Trainer input/Group discussion
12.30 - Lunch
13.30 - Coaching for Performance Improvement
- Trainer input/Group discussion
- Performance improvement activity
- 1-2-1 Coaching activity
16.30 - Conclusion
- Completion of summary and action plans for day two
- Review of progress since start of course
- Review of personal and course objectives
17.00 - Course wind up and close