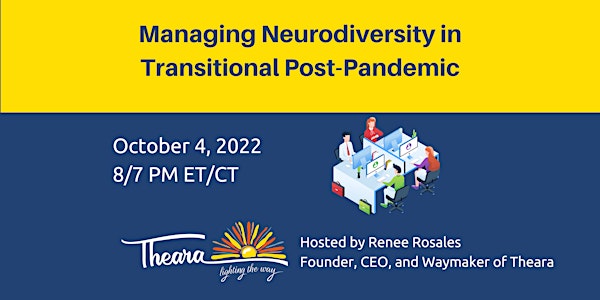 Managing Neurodiversity in Transitional Post-Pandemic Periods
Learn how to navigate transitional periods in your life while balancing your Neurodiversity
About this event
Readjustment periods have been incredibly difficult for everyone over the past few years. We went from normal life, to life at home, to life in between, and now we finally are seeing the light at the end of the tunnel while navigating our new normal.
However, for Neurodivergent people of all ages, these transitional periods have been extremely hard.
Whether you're Neurodivergent or have Neurodivergent children or loved ones, this webinar will give you the tools and understanding to manage the transitions we're facing as a society and how to consider Neurodiversity when dealing with changes.
In this entirely free 45 minute webinar, we'll cover:
Managing change with Neurodiversity
Providing and requesting accommodations for Neurodiversity
Preparing your child for a new and ever-changing learning environments
Navigating daily transition both big and small successfully
We'll wrap it up all with a Q&A at the end.
Our webinar will be hosted by, Renee Rosales, founder and Waymaker of Theara Way.
More about Renee:
Renee Rosales is a Neurodivergent mother, educator, advocate, and innovative and transformational leader. Theara is the integration of Renee's passion for education and neurodiversity. Renee brings her mother-heart to the table and offers hope, possibility, and belonging to the neurodiverse. Her desire is to provide a direct and sure path to efficacy, equity, and empowerment for as many as she is able. Renee is sharing her journey, The Theara Way, so you don't have to walk alone.
More about Theara:
The Theara Way's mission is to light the way to efficacy, equity, and empowerment for the global neurodiverse collective. With our acronym-based educational courses, we want the Neurodiverse Collective to live more efficiently, equitable, and empowered at home, school, and work.
To learn more about The Theara Way visit us at: https://theara.com/
Follow us on:
Instagram: https://www.instagram.com/thearaway
Tik Tok: https://www.tiktok.com/@thearaway
Facebook: https://www.facebook.com/ThearaWay
LinkedIn: https://www.linkedin.com/company/76529102