Managing Millennials in the World of Business
Description
Gain an understanding of the Millennial or "Y" Generation. Understand what they do very well and where their opportunity areas are. Eliminate frustration as you communicate, build your team, and set goals within your business. Set Millennials up for success in your organization or business. You will learn the key components to make Millennials more efficient and more effective!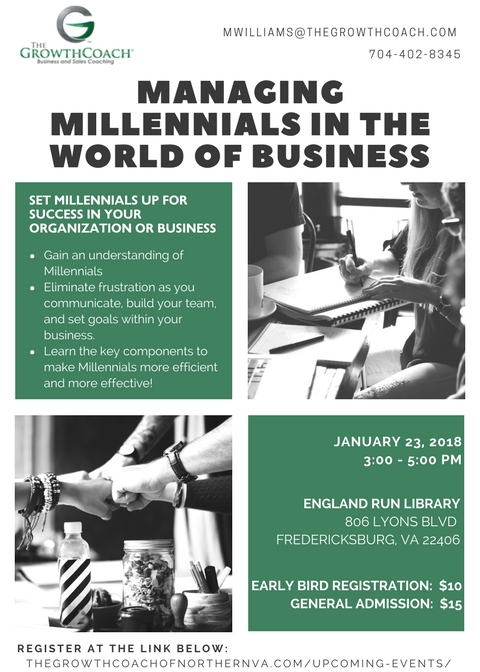 Reserve your seat today, as the Early Bird tickets will sell fast. Drinks and snacks will be provided along with some Growth Coach goodies and tons of useful business information!
---
Testimonials

"Mike is an accomplished professional who strives to help his clients be their best. His workshops are motivating and he has provided me with tools that I can quickly implement to help grow my business. I look forward to attending and doing more events together".
Tammy Meyer,
Marketing Director: Stonebridge Title, LLC
"These workshops are a great way for small business owners to better target their efforts into the areas that will best improve their business processes. Mike Williams uses his extensive knowledge of sales to help small business owners learn how to grow their businesses. Mike uses specific examples from his own experience that can be applied in a direct way to other businesses.
Elizabeth J. Moffett, CPA
Partner, Burdette Smith & Bish LLC

Read more testimonials.