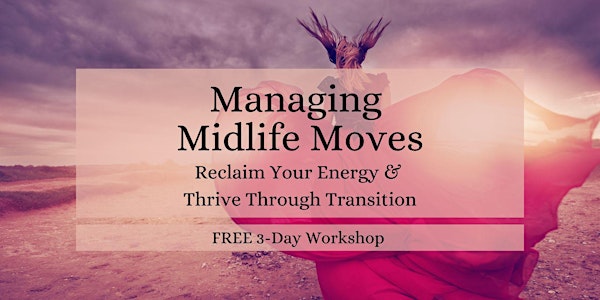 Managing Midlife Moves: Thrive Through Transition - Montclair
Learn to Reclaim Your Energy & Thrive Through Transition with simple tools you can start to implement immediately!
When and where
Location
Montclair Virtual Via Zoom Montclair, NJ 07042
About this event
This workshop is for you if...
you are exhausted, depleted, fatigued, burnt out
you can't remember the last time you got a good night's sleep
you have trouble focusing & don't feel grounded anymore
you are searching for purpose & struggling to trust yourself
you feel like you're losing control & don't recognize yourself
you are gaining weight & have unexplained aches and pains
your sex drive is low & your mood swings are intense
YOU FEEL LIKE YOUR BODY IS BETRAYING YOU!
Free 3-Day Workshop
(Virtual via Zoom)
December 5, 6 & 7th
8am PST / 11am EST
Are you experiencing transition and feel like you are barely surviving? Do you have an empty nest and aren't sure what your role is anymore? Are you changing careers? Is your forever relationship crashing? Are you struggling to recognize yourself? Did the energy and balance you "used to have'' simply disappear one day?
You are not alone! At 44, I was burnt out and filled with self-doubt! The list you just read? That was my life. Experts are reporting that more and more women in their 40s and 50s are feeling lost during their midlife moves. This was true for me and I know so many women going through midlife moves that are struggling just like you!
This time in our lives can be empowering ...we can thrive through transition! This workshop was created as a guide to give you tools to reclaim your energy and move from surviving to thriving.
Nutrition & Movement - learn to support your energy
The Moon - learn to align with the moon's energy to manifest change
Chakra 101 - learn to balance your chakra energy centers
Human Design -learn to protect the energy in and around you
What will the thriving version of you look and feel like?
This FREE 3-Day Workshop will be fast paced and filled with information and tools you can start applying to your life IMMEDIATELY so you won't to miss a minute of it! Reclaim, recover, regain, retrieve, rescue, restore, redeem, salvage. If your body just REACTED to these words with a "hell yes!", THIS WORKSHOP IS FOR YOU!