It's easy to manage easy employees. You get paid to deal with the difficult ones. Learn how to recognize the games that they play.
About this Event
Russ Cherry - International Speaker, Trainer, and Author will guide you to success when it comes to managing your difficult employees.  
After this seminar you and your staff will be better equipped to:
1. Understand the difficult people in your life
2. Learn how they think
3. Learn what they fear
4. Learn why they do what they do
5. Know what to specifically do and say to get compliance
6. Be less of a target for difficult people
7. Teach problem people to treat you with respect
Recognize the Characteristics of Difficult People
Everyone has dealt with at least one truly difficult person in his or her career. But nobody believes THEY are a truly difficult person. Only about one out of every five people can be classified as "truly" difficult. But they have such a significant impact on those around them that being able to identify them is critical. You will learn the difference between those people in your organization who may be challenging and the characteristics of those who are deeply difficult.
Avoid the Pitfalls Difficult People Can Create
Employees or colleagues who get under our skin seem to have a special talent of sorts. Too often, the things we do in an attempt to counter their behaviors draw us slowly into their trap. We may try to excuse their behavior, ignore it, collude with them or try to change them, all of which are a waste of time, generally unhealthy and almost always unproductive. This seminar will help you discover your "pitfall pattern" and give you the insights you need to avoid potential traps.
Learn to Beat Them at Their Own Game
Once you have identified a truly difficult person and are aware of your own "pitfall pattern", you are ready to implement five powerful tools that may result in long-lasting behavioral change: Stand Up Straight, Talk Straight, Listen, Triangles and Active Problem Solving. These tools, when used properly, can bring new life to you and your organization as you are at last able to beat difficult people at the game they've likely been playing subconsciously for years and get them to take action. As you make the most of these tools, you will feel re-energized and ready to take action.
Know the Nine
To fine-tune the principles outlined you will have the opportunity to examine the many different types of people —including nine key profiles you are most likely to encounter.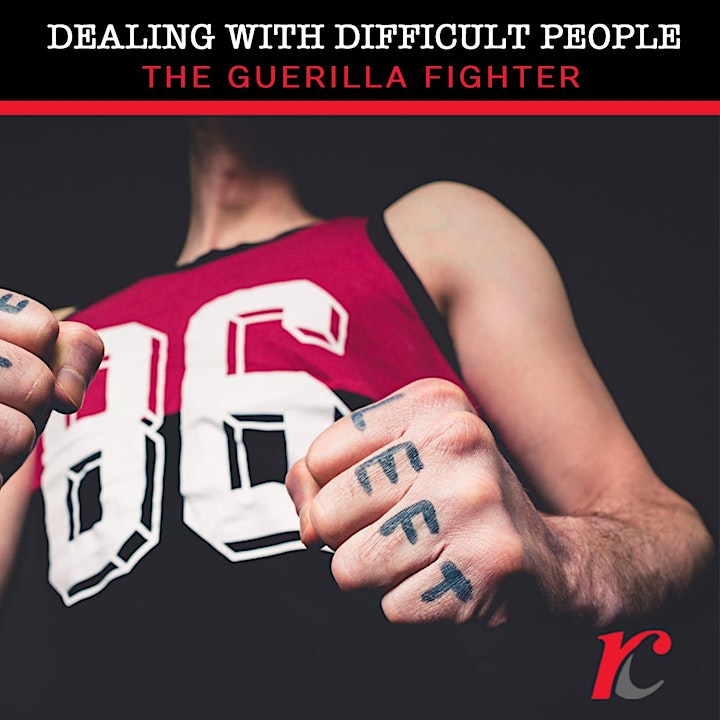 The Guerrilla Fighter
Characteristics
Guerrilla Fighters shoot you from the trees and bushes. These people shake your hand and then stab you in the back. They give you a big smile and then cut you to pieces. Guerrilla Fighters are masters of sarcasm, putdowns, discounts, and practical jokes. They love to tell a joke that stings. When you say, "Ouch, that hurt," they respond, "What's the matter? Can't you take a joke?" Or they ask you personal questions at parties to embarrass you. Guerrilla Fighters are smart, smooth, and dangerous. They can cost you your job, so this is serious business.
Feelings
How do you feel around people like this? Does suspicious sound familiar? You do not trust these people. You are cautious, and you are smart to feel that way. Again, what you feel with them is what they feel all the time — suspicious and cautious. You do not trust them, and they do not trust anyone. They think everybody is like they are.
Dynamic
The Guerrilla Fighter's game is: "I look smart if I make you look dumb!"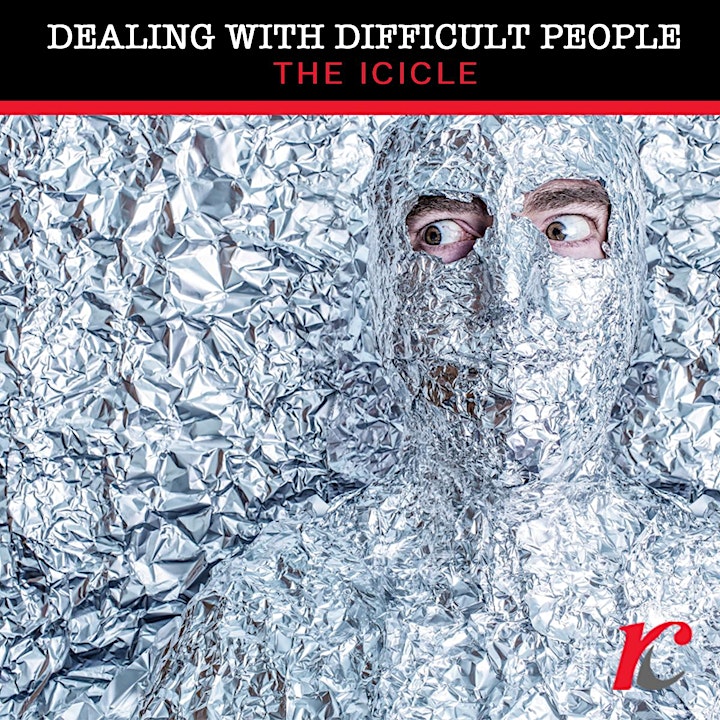 The Icicle
Characteristics
Icicles freeze up on you. You can't get anything out of them. They say, "yes" or "no" and that's about it. If you ask, "Is that okay with you?" they respond, "That'llbefine" — all one word. They are very hidden people. By hidden, I mean that they can be in a group and you will never know they are there. There are some of those folks in your high school yearbook. You look at a photograph and say, "I don't remember her. Was she in our class?"
Icicles often have very small handwriting. (If you have small handwriting, that does not make you an Icicle, but it reflects hiddenness.) They keep things close. These people have a deep emotional scar. They were hit pretty hard, probably as children, about the way they talk.
Feelings
Primarily you feel frustrated with Icicles, and that can turn into rage. Sometimes you feel a mixture of rage and pity. That is how Icicles feel — furious, but at the same time they feel sorry for themselves.
Dynamic
The game is: "Whoever is the quietest is the winner!"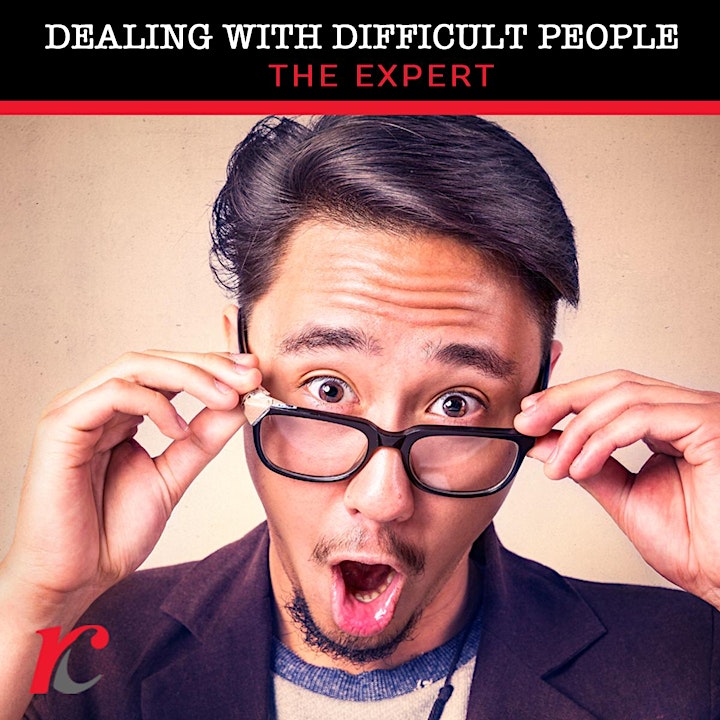 The Expert
Characteristics
Experts know a lot. What makes them difficult is that they think they know everything. They refuse to admit when they are wrong. What drives you crazy is that they are usually right — that's what makes them an Expert. Experts are right more than 90 percent of the time. The problem is that they think they must be right all the time. Furthermore, Experts are terrible listeners. They are terrible listeners because they think they know it all. What could they learn from an inferior person like you? They are usually loners. Experts refuse to take responsibility when things go wrong. Whatever went wrong, even if you did it exactly as they told you, they conclude that you couldn't possibly have done it just as they said. Additionally, they always turn the conversation toward their own Expertise. Any conversation must focus mainly on what they know. When you begin to talk about something outside their scope of knowledge, they make light of it.
Feelings
How do you feel around somebody like this? Inadequate. You're angry, and you feel intimidated. Frustration and intimidation go together. We feel intimidated because we feel inadequate. We feel dumb. Again, what you feel is how they feel. Incredible! How in the world could they feel dumb?
Experts believe that if there is anything you don't know, you must be dumb. Now they know that there are things they don't know, and they live their lives in constant fear that you will find out — that you will ask a question they can't answer.
Dynamic
The game the Expert plays is: "Whoever knows the most is the winner."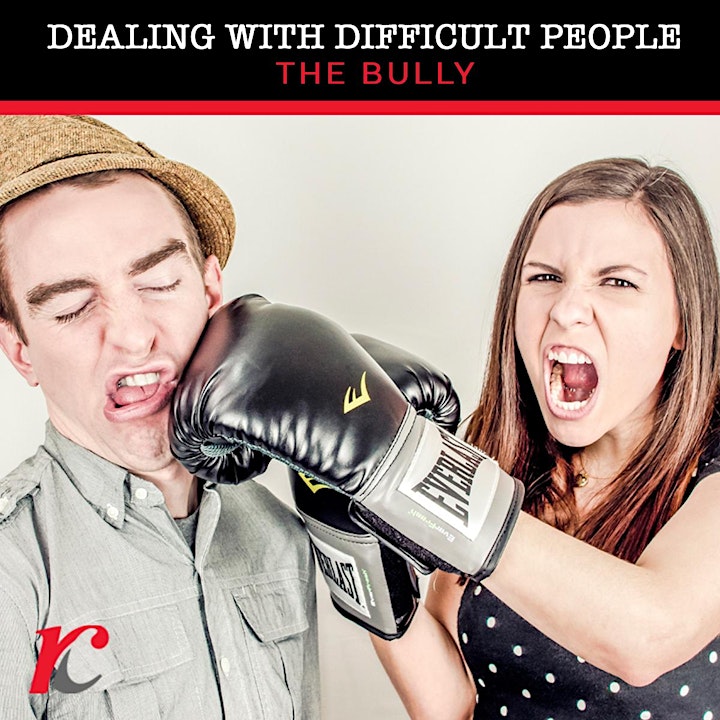 The Bully
Characteristics
The Bully is easy to describe. First, the bully is loud. Bullies do not whisper — they shout, scream, and holler. They also punctuate their sentences with threats and intimidation. They try to intimidate by saying things like, "You just try that again and you'll find out what happens." Their body language is like a boxer's or a wrestler's. When you are with them, you think you are going to be punched or thrown to the floor. They are always on the offensive; they lean into you.
Furthermore, no matter whom you know, the Bully (according to the Bully) knows somebody one position higher. If you know the vice president of the company, the bully knows the president. If you know the president of the company, the Bully knows the President of the United States.
Feelings

How do you feel when you're around Bullies? Intimidated, threatened, scared! You may be unaware of another feeling — anger. You find yourself very angry with these people. But wait a minute. Notice the feelings we have listed — intimidated, threatened, afraid, and angry. Believe it or not, that's the way Bullies feel. You are dealing with very scared people. If bullies are not afraid, why are they yelling and screaming? If Bullies had their acts together, they wouldn't need to behave this way. They are trying to make you more afraid than they are.
Dynamic
They dynamic of a difficult person refers to the "game" played. Remember, in the present context games are not activities done for pleasure; games are unconscious moves to get one's way. The Bully's game is called: "Whoever is the loudest is the winner!"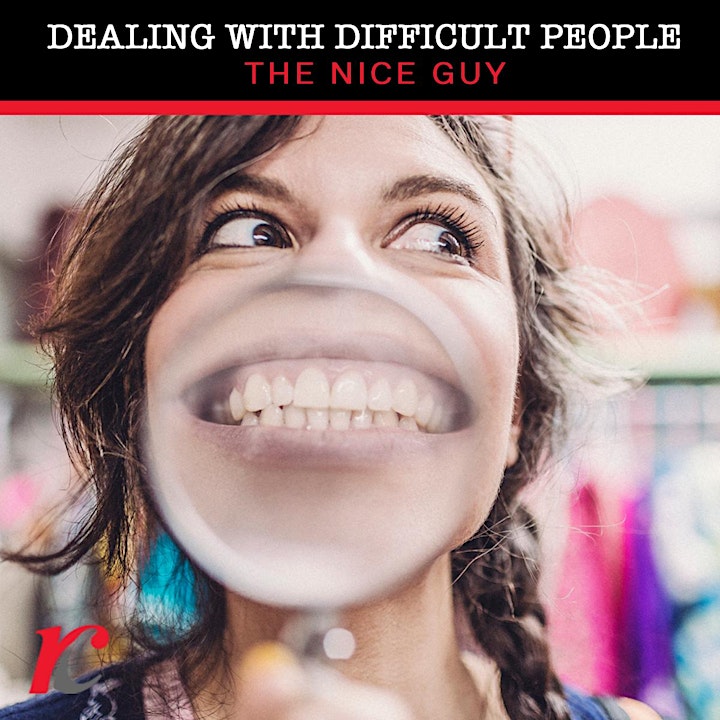 The Nice Guy
Characteristics
The Nice Guy shakes your hand, pats you on the back, tells you what you want to hear, and wouldn't think of telling you anything unpleasant. He tells a joke only to entertain you, and certainly not to hurt you. But the Nice Guy can cause you trouble by refusing to give you negative feedback. There are some negative things you need to know about yourself or your department, but the Nice Guy won't tell you.
So what's difficult about somebody like this? This is the kind of guy who, if you had toilet paper on your shoe, wouldn't tell you. At the end of the day, perhaps you say, "I have toilet paper on my shoe. Did you know that?"
Nice Guy "Yeah."
You "Well, why didn't you tell me?"
Nice Guy "Looks good on you. I thought wearing mine like that."
Nice Guys tell you only that you are looking fine. They fail to give you negative information you need to know. They think that you will "kill the messenger", namely them. They are very nice, pleasant, fun to be around, but often very shallow.
Feelings
The primary feeling around the Nice Guy is emptiness. At first he's fun to be around, since he tells you only what pleases you. In truth, he is nothing but a mirror reflecting back what he believes you want to see. Those first warm feelings soon turn to nausea. Before long, you are afraid to trust him.
Dynamic
The Nice Guy's game is: "Whoever is the nicest is the winner!"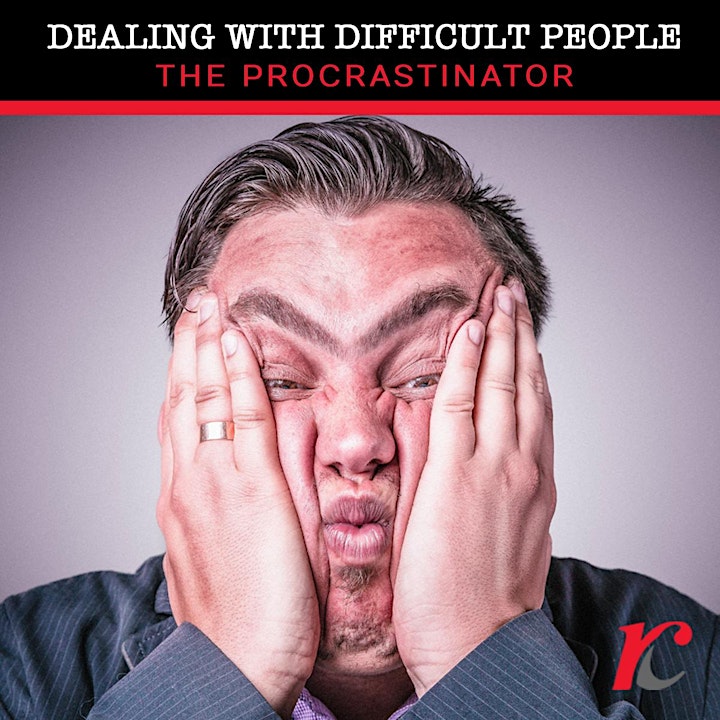 The Procrastinator
Characteristics
And now for the Procrastinator. We have put them long enough! Procrastinators have trouble making a decision or delivering a product or service you need. Otherwise, they are very pleasant. When questioned about nonperformance they usually carry on about how sorry they are that they haven't finished your project, but they still deliver it late or not at all. Procrastinators tend to speak in broad, general terms. For instance, if you ask when your material will be ready they might say, "Won't be long now!"
Believe it or not, Procrastinators are perfectionists. They do not think a decision should be made or an action taken unless it is a perfect one. When can you make a perfect decision? Never! So they put off making a decision. A Procrastinator's motto is, "I work best under pressure." What they mean is that they only work under pressure, which is a very different proposition. In school they were the students who knew for weeks that they had a paper due on Monday but waited until Sunday night to put it together. They got a B+ and said that they would have gotten an A if they had had more time. The procrastination protects them from admitting that they are not perfect. That is why the will say that any shortcoming on their part is your fault because you rushed them.
Feelings
How do you feel around Procrastinators? Probably frustrated, exhausted, and angry. I also feel a sense of powerlessness — as if I have no ability to make things happen. That is how they feel — powerless, frustrated, angry and exhausted. Procrastinators would love to make a decision but often cannot because they know that they cannot act perfectly. So as a defense they undertake the Procrastinator's game, which has the effect of helping them put off doing whatever it is that they are supposed to do.
Dynamic
The Procrastinator's Game is: "Whoever waits the longest is the winner!"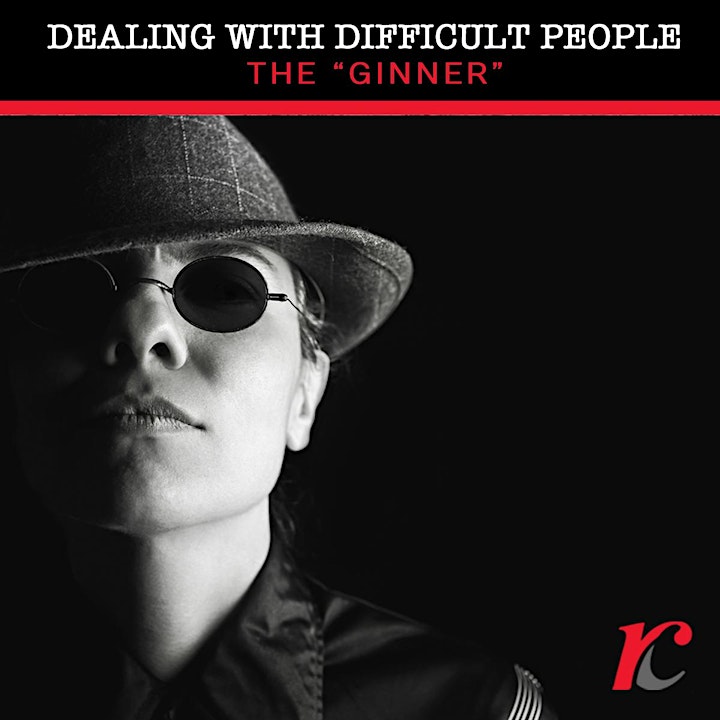 The Ginner
I have spent a large part of my professional life working in the south east United States. Most folks were generally positive about new ideas. In other words, the were "for it" ("fer it", that is). But a few folks were usually against new ideas. They were "against it". They were "ag'in it." Before long I came to know them as "Ginners". They are also called Negativists.
'Ginners - or Negativists - have no answers. They are just constitutionally against whatever is being discussed. If you say, "O.K., what's your idea?" they'll respond, "I don't have one, but I know that won't work. I just know what you are about to do is a waste of time and effort." 'Ginners won't take a risk, and they want to get you to avoid taking risks.
Most 'Ginners respond to good news and bad news in the same way. You could tell them that they've just won the lottery and they would say, "Fine, just lay it right over there." If you then say, "Just kidding," they'll respond, "Well, I didn't need it in the first place. It didn't matter to me. That's how the cookie crumbles." 'Ginners are often zombie-like.
Feelings
How do you feel when around someone like this? Tired, negative, and depressed. You, feel depressed because they feel depressed. You also feel angry. Depression is anger that has been shut down, bottled up. Thus, in dealing with 'Ginners you will have to deal with anger and depression.
Dynamic
The 'Ginner's game is: "Whoever risks the least is the winner!"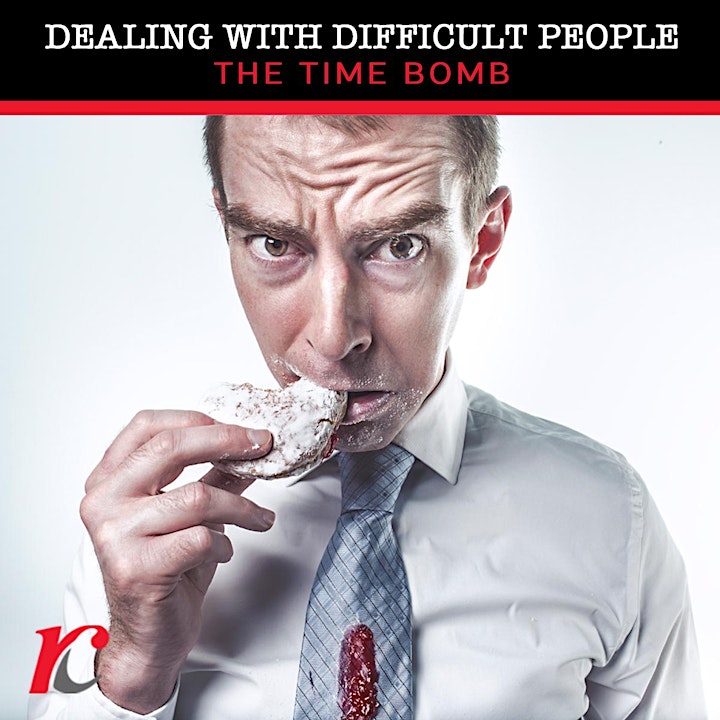 The Time Bomb
Characteristics
Time Bombs are people who have erratic changes in mood. They may explode every six weeks, every six months, or only once. They may have a violent temper tantrum or a massive coronary, or they may climb a building and start shooting people.
Feelings
When you are around these people, you are afraid, because you never know when they are going to go off. And because you never know, when the explosion does come, it is scary and it is surprising. Time Bombs are also afraid and surprised when they go off.
Dynamic
Time Bombs' personalities are different from all the others because they are not playing a "game". Games are unconscious ways to get what one wants. Bullies throw fits to get what they want — that's their game. But Time Bombs do not explode to get what they want. When Time Bombs go off, they are not benefited. Time Bombs never know when they will explode — maybe in church, maybe in the cafeteria, and maybe walking down the street.
These people have been taught for a long time that anger is unhealthy and should be shut down only so long before it erupts. Time Bombs are people who do not know how to deal with their anger. They do not know how to express it.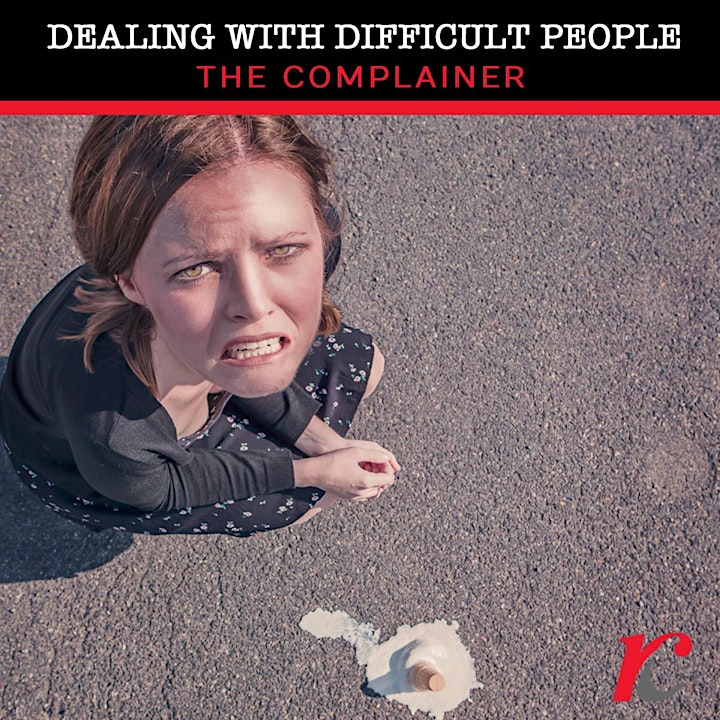 The Complainer
Characteristics
Complainers come to you to complain about somebody else. They rarely complain about you directly to your face. You will notice immediately that with a Complainer you automatically have a triangle. Complainers are classic victims in our tumbling triangles from chapter ##. They love to set you up against somebody else. Furthermore, they generally bring you not one problem at a time but a whole bunch of problems, which are usually exaggerated. They have three favorite words that will help you identify them:
always
somebody
never
This is how they use them, usually in a thin, whiny voice:
Complainer "Somebody messed up."
Russ "Who was it?"
Complainer "I don't know, but somebody did. It's never been right; always been wrong. It's always been like this and that's never right."
Russ "Who did it?"
Complainer "I don't know. Somebody did it."
Complainers have a terrific memory. They can remember every offense that has ben committed against them since time began.
Feelings
How do you feel around somebody like this? Tired, very tired. These folks are exhausting! They also make you feel angry, frustrated, helpless, and used. But again, what you feel is the way they feel. They feel tired, used, angry, frustrated, and helpless. (As you now can see, in order to find out what kind of difficult person you have in front of you, you have to look inside yourself. If you are afraid, this person must be a Bully. If your are tired, this person must be a Complainer.)
Dynamic
The Complainer's game is: "Whoever is the most helpless is the winner!"
Date and Time
Location
Refund Policy