Managing Change in Organizations

Tuesday, March 7, 2017 from 6:30 PM to 9:00 PM (CET)
Event Details
We are pleased to invite you to our next Event:
Managing Change in Organizations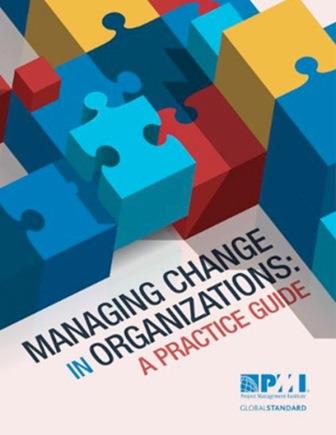 Organizational change projects are the fourth most common type of project undertaken, but only 20 percent of organizations adopt a formal organizational change management practice. Studies show that organizations achieve higher success rates by using standardized portfolio, program and project management techniques in concert with rigorous change management approaches.
Event agenda:
18:30 - Registration
19:00 - Welcome
19:15 - Business maps to support change management in European Institutions

19:35 - Project specifications writing with PROMETA framework

19:55 - Discussion Panel
20:10 - Questions & Answers
20:30 - Conclusions & Networking cocktail
21:30 - End of event
PDUs are offered to PMI members, both Chapter members and non-Chapter members.
We look forward to seeing you.
Best regards,
The Board of Directors of the PMI Luxembourg Chapter.
Event organization & registration:

Participation is free of charge. Please note that the number of seats is limited and online pre-registration is required. Please pre-register by selecting a ticket and clicking on "Register" by 15:00 on 06 March 2017.
Please print the ticket that will be sent to you after your registration to the event as it will be needed at the reception to validate your identity.
The event will be held at:
Chambre des Métiers (and not Chambre de Commerce)
2, Circuit de la Foire Internationale
We kindly inform you that parking facilities are on site, accessible from rue Alphonse Weicker.
Speakers:
 

Ludovic Delépine

Head of Unit for the ICT Conception and Development Unit

European Parliament

 

Ludwig Balmer


Head of IT


Administration du Personnel de l'Etat



 

Anna Ciszek

Change Management Leader

Goodyear

 

Steve Quinn


Head of Business Management Investment Funds Services

Clearsteam
About the speakers:
Ludovic Delépine is currently Head of Unit for the ICT Conception and Development Unit in the European Parliament (EP) in Luxembourg. He is chairing the Interinstitutional working group on Information Systems and Project Management Office. He was previously Chief of the IT innovation office and acted as advisor to the Director General for innovation and technological support (DG ITEC) during 3 years. He is IT Strategic Portfolio Manager for the IT Directorate since 9 years. In his current position, Ludovic is also responsible for supporting IT governance, IT strategy and the engagement of DG ITEC to align the IT Portfolio with the strategy IT strategy of the EP. Previously, he held multiple roles and responsibilities in IT development within the EP where he has worked as official since June 2004. He is also Chairman for the Interinstitutional working group on Information Systems and Project Offices. Prior to that, he worked at ENESAD (France) where he was head of research and development and responsible for training the future IT project leaders from the French Ministry for Agriculture and Fisheries. During this period he was responsible for the Master diploma "Management of Information Systems" and coordinator for the Leonardo European project GISA2E (Geographical Information System). Before ENESAD, he worked 3 years for several companies in Luxembourg where he held different roles, mainly as a consultant and project manager in the public and banking sector.

Ludovic holds a Ph.D. in IT from the University of Bourgogne where his principal competencies were Artificial Intelligence and Internet and Communication Technologies. He was a teacher in French universities and researcher in CNRS laboratories for over 8 years in these fields.

Ludwig Balmer is currently Head of the IT division of the Administration du personnel de l'Etat (APE) of the Ministère de la fonction publique et de la réforme administrative. He is responsible of the IT, the HR Business Intelligence Competency Center and the Business Process Management Office.
Before joining the APE, he was Head of Business Process Management Office at the IT Center of the Luxembourgish state (CTIE), where he has designed, developed and deployed a global enterprise business architecture framework (Prometa) used by the national administrations and the public sector. Prior to join CTIE, he has consulted for dozens of companies on management and BPM. Before moving to the management consulting industry, he worked in the manufacturing industry for 10 years, where he has set up and managed a technical consulting and computation center in production process simulation, optimizing production and engineering processes using and developing IT solutions (FEA/Polymer inj. molding flow simulation) for engineering and design departments, while leading and being involved in many quality management initiatives (Lean-6 Sigma projects) in large manufacturing corporations.
Ludwig holds a MSc. Engineering and Operations Management and a MBA from the Sacred Heart University. He used to teach Business Process Management from concept to IT development and Quality Management at the Institut National d'Administration Publique.

Anna Ciszek is Change Management Leader with Goodyear since 2015. In this role she works on the implementation of the Consumer Strategy across Goodyear business in EMEA. She leads and coordinates change management activities for several strategic initiatives across the value chain, currently concentrating on introducing new technologies and organization models in manufacturing environment and redesigning salesforce.
Next to her strategy-related activities, she advises project managers, facilitates change leadership workshops and teaches a range of Change Management training curricula across the EMEA region.
Anna started her career at Goodyear four years ago and has since held various roles supporting change in corporation-wide IT roll-out, Operational Excellence, Safety Leadership and in her current position Strategy Planning and Execution. Prior to Goodyear she pursued a career in translation and software localization as a self-employed person.
Anna is a Polish citizen, 32, married and mother of 2 young children of 5 and 7. A resident in Luxembourg since 2015. After graduating from the Jagiellonian University in Cracow, Poland, she went to work in the field of non-literary translation and has since expanded her education and interest to other areas, concentrating on Change Management since 2012.

Steve Quinn is a project management professional for more than 35 years with Royal Mail UK, Sky Television and Cedel/Clearstream.
For the last 10 years Steve delivered major projects for Clearstream's Investment Fund Services including the Vestima order routing and facility for funds settlement and custody systems, SWIFT ISO 20022 and the acquisition and integration of the financial institution hedge fund custody business acquired from Citco.
He currently manages the portfolio of Clearstream's investment fund projects as Head of Investment Fund Services Business Management in Luxembourg and is Board Member of Clearstream Global Securities Services, Cork.
Originally from London, he now has Luxembourg nationality.


Event sponsor:

PMI Luxembourg Chapter will take pictures of the event and will use it for advertising events and activities of the chapter (PMI.Lu website, LinkedIN, Twitter, Viadeo, press release etc). If you do not authorize the use of your image, please inform us on the registration form at the entrance of the event.
When & Where

Chambre des Métiers (and not Chambre de Commerce)
2, Circuit de la Foire Internationale
1016 Luxembourg-Kirchberg
Luxembourg


Tuesday, March 7, 2017 from 6:30 PM to 9:00 PM (CET)
Add to my calendar
Organizer
PMI Luxembourg Chapter
Join the PMI Luxembourg Chapter to enjoy the benefits:
· Attend events for free
· Exchange best practices with your peers
· Network with your peers
· Contribute to the growth and development of the Chapter
If you are not yet a PMI member, you can join PMI and the PMI Luxembourg Chapter via the online registration form: PMI Membership page 
If you are already a PMI member and wish to join the PMI Luxembourg Chapter, click on "Luxembourg" on the PMI Chapters' page.
Getting involved with PMI in Luxembourg
If your company is interested in being a sponsor and/or if you are interested in speaking at one of our events on a project management-related topic, please contact us on info@pmi.lu
Managing Change in Organizations