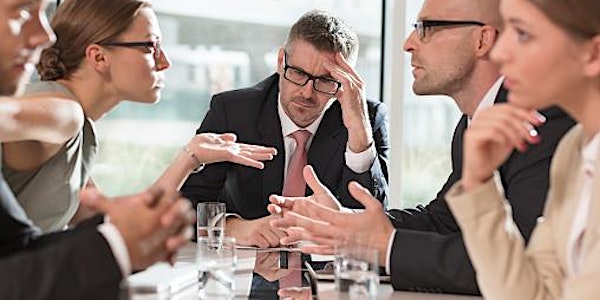 Managing an Acute Mental Health Crisis in the Workplace
Managing an Acute Mental Health Crisis in the Workplace: Understanding the Voluntary and Involuntary Process
By EAPA Lone Star Chapter
When and where
Date and time
Wednesday, March 17, 2021 · 9:30 - 11am PDT
About this event
Managing an Acute Mental Health Crisis in the Workplace:
Understanding the Voluntary and Involuntary Process
Presented by:
Lori Peugh, MSSW, MA, Court Liaison Millwood Hospital
Anna Arwine, LPC, Director of Intake Millwood Hospital
Over ten million adults in the United States have an unmet need for mental health treatment. According to a report publish by Mental Health America, serious thoughts of suicide among adults have increased by over 11% in recent years.
Workforce mental health can have significant influence in the workplace. Employers need to understand how mental health can impact the employees' wellbeing as well as the health and safety of their family, co-workers, clients and everyone around them. An awareness of the voluntary and involuntary process is a key starting point.
Learning Objectives for this Session
1. Attendees will learn what defines an acute crisis.
2. Attendees will understand the role of an ER or psychiatric hospital.
3. Attendees will understand the role of the police.
4. Attendees understand the difference between an Emergency Detention and Order of Protective Custody.
About Our Speakers
Lori Peugh, MSSW, MA graduated from Texas Christian University in Fort Worth, TX in 1992 with a Bachelor of Science in Psychology. Lori completed a Masters of Arts degree in Criminal Justice in 1998 and a Master's of Science in Social Work degree in 2000, both from the University of Texas at Arlington.
Lori interned with Arlington Police Department's Victim Assistance Unit, where she worked with victims of violent crimes. She later worked at MHMR of Tarrant County in their 24 hour residential program. Lori also worked in the Supported Housing Program in Fort Worth. At Supported Housing, Lori wrote and implemented a grant to secure housing funds for Fort Worth residents with mental health issues.
Lori joined the Millwood Hospital team in November 2020 as the Court Liaison. Lori manages the Millwood court docket and facilitates communication between the patient, lawyers, courts, and the treatment team.
Anna Arwine, Licensed Professional Counselor and Intake Director for Millwood Hospital and The Excel Centers. She has been in the mental health field for six years and has spent all six with Millwood Hospital and the Excel Centers.
Anna began her career at Millwood as a graduate student completing her internship at the Ft. Worth Excel Center location. She received a Bachelor of Arts in Psychology from Texas Tech University in Lubbock, TX and a Master of Arts in Professional Counseling from Texas Wesleyan University in Fort Worth, TX.
About the organizer
The Employee Assistance Professionals Association (EAPA) is the world's largest, oldest, and most respected membership organization for employee assistance professionals. With members in over 40 countries around the globe, EAPA is the world's most relied upon source of information and support for and about the employee assistance profession. We are Lone Star Chapter # TX05 representing North Texas.