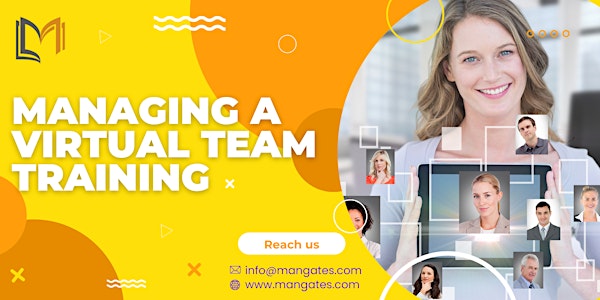 Managing a Virtual Team 1 Day Training in Anchorage, AK
Our classroom training provides you the opportunity to interact with instructors and benefit from face-to-face instruction.
Date and time
Friday, June 30 · 9am - 5pm AKDT
Location
For venue details reach us at info@mangates.com +1 469 666 9332 Anchorage, AK 99501
Refund Policy
Refunds up to 7 days before event
About this event
Certificate: Course Completion Certificate Language: English
Duration: 1 Day Credits: 8
Course Delivery: Classroom/ Virtual
Course Overview:
Anyone who manages or leads people in a remote or virtual environment would benefit from the training provided by this Managing a Virtual Team training course materials. The course would suit people managing teams that work from home, on the road, at various locations or any other situation where the team is not based in the same place from day to day.
Course Contents:
Managing a Virtual Team Training Materials
Managing Virtual Teams has become a hot topic over the last few years. People are now much more likely to work from home, from their car, at alternative locations, or even on the other side of the world, which means managers might rarely see them.
Consequently, managers that are asked to lead these virtual teams not only face the usual leadership dilemmas, they also have to be able to adapt to these challenges in an environment where the rules have changed.
Managing virtual teams requires a different approach. It means developing new skills, communication methodologies and techniques to get the best out of teams and improve organisational and personal performance.
Perhaps you've always had virtual teams and you want to make your managers more effective. Or you want to refocus existing teams by developing your management team skills. Whatever your need, Trainer Bubble provides you with a comprehensive training course on managing a virtual team that will make your life easy.
Why is taking a virtual team training course a good idea?
Well, just imagine if you were better able to:
Inspire your virtual teams, bringing out the best in each and every individual.
Overcome the barriers and isolation that working remotely can cause.
Develop a virtual team that works collaboratively and with the interests of the organisation at heart.
Increase their teams performance through clear goal setting and communication.
Improve the effective use of technology within the organisation.
Develop trusting relationships that ensure the team works towards common goals.
Keep their teams happy and reduce staff turnaround.
Ultimately this training allows you to nurture a virtual team that is more motivated, inspired and productive. You need to know that your managers can effectively lead remote workers and now you have the training to do it.
This training will provide you with the tools and techniques to overcome the challenges of a virtual manager. They will be provided with practical tips to help you lead effectively, communicate successfully and consequently increase the performance of your virtual or remote team.
Course Topics:
What is a Virtual Team? – Providing the scope and broad definitions of various situations that constitute managing a virtual or remote team.
Benefits and Challenges – Identifying the benefits and challenges that face a manager of a virtual team and suggesting the mindset that a virtual manager needs to develop.
Competencies and Skills – Establishing the competencies and skills of a virtual manager and acknowledging where there may be development opportunities.
Virtual Team Case Study, Part One – The first part of a case study that follows Steve on his virtual team management journey. What challenges and opportunities are there for Steve with his new team?
Building a Virtual Team – What does a virtual team require from their manager to be a success and what ground rules should be set?
Virtual Team Case Study, Part Two – How should Steve set up his initial meeting with his team? What should be included and how should he approach this?
Working on Trust – What traits build trust in a virtual team and how can the participants demonstrate this with their teams?
Using Technology Effectively – Reviewing the tools available to the virtual manager and knowing which tool is better to use for each situation.
Virtual Team Case Study, Part Three – How can Steve resolve the challenges that he is facing with his virtual team? What should he do and how could he have avoided them in the first place?
Communication Skills – What is the best practice of communication with a virtual team and how can we ensure our communication approach is effective?
Feedback Skills – Understanding the purpose and guiding principles of feedback and developing an approach to feedback preparation.
Virtual Team Case Study, Part Four – What can Steve do to resolve the problem of a poorly performing virtual employee? How could he have avoided the problem in the first place?
Managing Performance from a Distance – How to monitor virtual work, set goals and provide effective reviews without micromanaging or losing control of the team.
Session Recap – An activity review of the core elements of the training course ready to feed into the personal action plan.
Course Feature:
At the end of this managing a virtual team training, you will be able to:
Understand and develop the skills required to effectively manage a virtual team
Build engagement and trust with members of their virtual team
Effectively use technology and tools to support communication within the team
Improve their communication and feedback approach with your virtual team
Track progress and performance management of team members to achieve success
Certification:
Once after the training you receive course completion certificate from Mangates
Who can Attend?
Anyone who is interested in learning Managing Virtual Team skills.
Note:
However, catering to the demands of busy professionals, our virtual training programs are as effective as face-to-face learning. Reach us at info@mangates.com for dates and details of Instructor Led Live Virtual Sessions.
If you would like to get this course customized and delivered exclusively for your group, we have an On-Site Training Option you can reach us at info@mangates.com for more details about on-site or corporate training.
Offers:
Groups of 3 people 10% Discount
Groups of 5 people 15% Discount
Groups of 10 people 20% Discount
About the organizer
Mangates Tech Solutions is one of the Leading Education Industry, We Developed a more advanced, applied level of Training programs. We Designed High Quality Training programs and you can expect the same learning Experience, this made us stand out above the competition.