Manager's Employee Procedures Manual

Monday, July 15, 2013 from 1:00 PM to 4:00 PM (EDT)
Event Details

 Congratulations on your decisions to implement the Manager's Employee Procedures Manual.  This manual is a guide to help you and your supervisory team to effectively manage your employees in a more consistent and professional manner.  The information contained herein is merely a suggestion and not a direct interpretation of the law for your workplace.  For more up to date information on federal and/or state labor laws please visit the appropriate websites or contact your appropriate federal or state agencies. 
The information contained herein is not to be misconstrued as legal advice or legal opinion.  In deciding how to deal with situations or individuals, please contact your attorney for the appropriate legal actions to minimize your liability to litigation.
 This manual is a comprehensive guide that follows the lifecycle of the employment process: Pre-Hire, New Hires, Employees & the Workplace, Performance Appraisals, Progressive Discipline, Separation & Termination, Record Retention, EEO Reporting, Information ofr Small Businesses and much, much more. Both hard copy and electronic version of the forms are included so that you may customize the forms with your logos and company needs.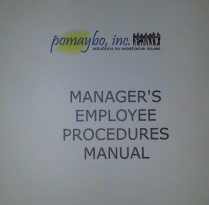 Organizer
(412) 963-6311, info@pomaybo.com, www.pomaybo.com
Pomaybo, Inc. specializes in assisting businesses with a broad range of workforce related issues such as:
Our services enhance the productivity of your employees through assessments for recruiting and promoting, while increasing your ability to retain valuable employees. We can help you create meaningful rules and regulations for a clear understanding of employers expectations and employees rights. Additionally, we minimize your exposure to liability in labor related legal actions and other lawsuits.
Our 15 years of experience allow us to identify your needs quickly, and to effectively select and implement the solutions that will work best for you.