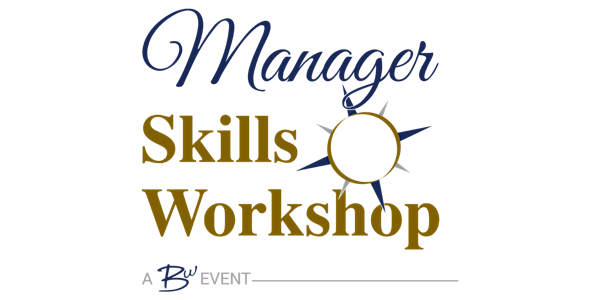 Manager Skills Workshop (Online)
Do you have a hardworking and talented person on your team who is ready to take the next step up to leading and managing others?
Refund Policy
Contact the organizer to request a refund.
About this event
Do you have a hardworking and talented person on your team who is ready to take the next step up to leadership? Or perhaps you know a new manager, who is still struggling to understand the new world of managing others. Unfortunately, we've found that the majority of employees who are promoted into a supervisor or management role were never given any type of formal training to do so. As a result, they oftentimes don't feel set up for success, which can lead to your new supervisor/manager feeling frustrated, disillusioned and ineffective overall.
The Manager Skills Workshop covers all of the basics on how to effectively manage others on a team.
Topics will be:
You as a Manager
Leadership
Delegation
Handling Problems & Conflict
Successful Meetings
Effective Communication
Motivation & Team Building
Improving Employee Performance
Workshop Details
The Manager Skills Workshop will be an 8-week online program, and will cover 8 modules in that timeframe. The class will meet weekly from February - March to go over the module in a dynamic and interactive online session.
The class will meet LIVE every Tuesday at 2PM EST for 75-90 minutes. The only exception will be the first week, where we will meet on Thursday, Feb 9th at 2PM EST.
The recording of each session will be sent to attendees by the following day.
Each attendee will receive:
Pre-module email every Monday morning by 11AM EST. The email will contain a link to access the online program, the module handout and any other pre-reading.
Post-module email every Thursday morning by Noon EST . The email will contain a link to the recording and follow up materials.
An electronic certificate of completion will be sent to each attendee upon successful completion of the 8-week workshop.
Workshop Testimonials
"The workshop was nothing short of AMAZING from beginning to end. Bryan has a way to relate to truly every demographic and learning style. Using humor and experiences he makes learning so fun. I look forward to implementing everything I have learned to not only work but in my everyday life at home. Bryan will be seeing more of my team and I in the future." -Mieshia Fraser
................
"I have been raving about all of my takeaways and sharing with all who will listen about my new lease on managing myself and my team. Thank you for being engaging and passionate about what you do and willing to share to help others find or re-ignite their own passions." -Allene David
.................
"We had the best time at this workshop. I love that we had clear, concrete and actionable items that we can take back to our workplace and implement right away." -Lisa Michaelis
"Everything you covered was spot on! I really loved the interactions we shared and will never forget the role playing scenes!! If only I had had that practice when I first became a leader!! I am sure I will review my notes from your Supervisor Skills Workshop throughout my career just so I may remain focused on the common goal of sustaining a successful and succinct team. I honestly feel that every leader needs to hear what you and your team have to deliver! Leadership is an art and you, my friend, are have become one of my favorite artists!! I enjoyed myself so much that the time flew by and I found myself feeling a sense of transformation and realignment. It was an experience that I will treasure for the rest of my life!" -Xylka Molina