"Management of Female Genital System Cancers" - Annual Medical Seminar - BNR & MOH

Thursday, October 22, 2015 from 1:30 PM to 5:00 PM (AST)
Event Details
ABOUT THE SEMINAR
The Barbados National Registry in association with the Ministry of Health of Barbados presents their 11th Annual Medical Conference on the "Management of Female Genital System Cancers" Thursday, 22 Oct 2015 from 1.30PM-5.00PM. The seminar will feature a host of local health and medical professionals from  multidisciplinary backgrounds. General Practitioners, Obstretricians/ Gynaecologists, Cancer and Imaging Specialists, Nurses and other Allied Health Professionals are other specialities are invited to attend. CME Credit will be awarded. Registration is complimentary. The Barbados National Registry thanks the Barbados Cancer Society for their continued support of this annual event.
REGISTRATION
REGISTRATION IS COMPLIMENTARY (FREE)
MANDATORY PRE-REGISTRATION IS REQUIRED
EXTENDED REGISTRATION DEADLINE: WEDNESDAY 21 OCTOBER 2015
REGISTER AT:
Or Contact the Barbados National Registry:
 Tel: 426-6416 Fax: 228-0360 BNR Hotline: 256-4BNR
Email: bnr@cavehill.uwi.edu
---
 "Management of Female Genital System Cancers"
 Chairperson: Dr. Kenneth George, Acting Chief Medical Officer
Seminar Programme
1:30-1:35pm
Chair and Welcome, Dr. K George
Treatment of Female Genital System Cancers
1:35-2:05pm
Uterine Tumours/Womb Cancers, Dr. V Chatrani
2:05-2:35pm
Non-Surgical Management of Female Genital System Cancers, Mr. P Gilkes
Prevention of Female Genital System Cancers
2:35-3:05pm
Cancer in Barbados: 2008 data, Mrs. T Martelly
3:05-3:35pm
HPV Genotype in the Barbadian Population, Mrs. J Ward
3:35-3:45pm
Cervical Cancer Prevention Activities in the Public Service, Dr. K Broome
3:45-4:55pm
Panel Discussion :
''The USA and the UK are moving away from using cervical Pap smear cytology for primary screening, to the use of HPV DNA test/genotyping. Discuss the pros and cons if Barbados was to adopt this direction.''
 4:55-5:00pm
Vote of Thanks, Prof. P Prussia
5:00pm Refreshments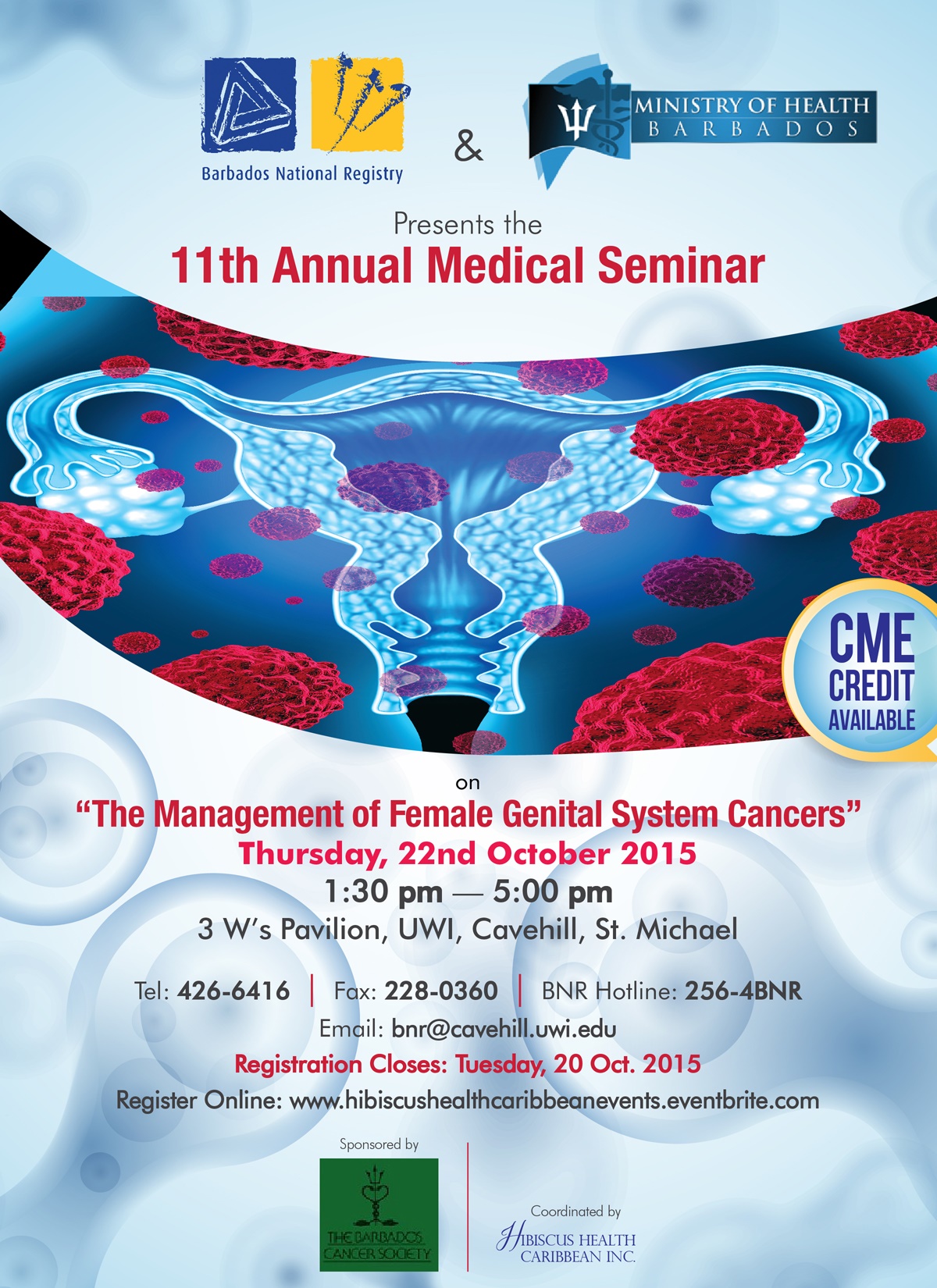 Dr. Karen Broome
DKB

Dr. Karen Broome

Ministry of Health

Senior Medical Officer of Health (Acting)

DVC

Dr. Vikash Chatrani

Gynae-Oncologist

DKG

Dr. Kenneth George

Chief Medical Officer (Ag)

Chairman

PG

Philip Gilkes

Queen Elizabeth Hospital

Physicist

TM

Tanya Martelly

Barbados National Registry

Director

JW

Juann Ward

Medical Technologist
When & Where

3 W's Pavilion, UWI, St. Michael


Barbados

Thursday, October 22, 2015 from 1:30 PM to 5:00 PM (AST)
Add to my calendar
Organizer
Hibiscus Health Caribbean Inc.
Hibiscus Health Caribbean Inc. is a health communications and events company based in Barbados. Our goal is to coordinate and create quality health and medical events to strengthen the network and capacity of healthcare practitioners, of all types, to ultimately improve healthcare in Barbados and the Caribbean. We offer various types of health promotions and marketing services to assist our clients in targeting the medical community in Barbados and the Caribbean.
Some of our services include:
Creation and Coordination of Continuing Medical Education Events
Health Event Coordination including:
Corporate Health and Wellness Programmes & Events
Mixers & Networking Sessions
Health Marketing and Promotions
Health Services & Product Promotion
Advertisements, Medical Classifieds
Special Projects
Patient Education/ Empowerment Seminars
General Info
Office: 246 269 6183; 253 9384
hibiscushealthnetwork@gmail.com
www.hibiscushealthcaribbean.com
Event Pre- Registration
http://hibiscushealthcaribbeanevents.eventbrite.com
hhccmeevents@gmail.com
(pre-registration only via this site - no online payment available via this site)
Payment
Online: www.ticketpal.com
Barbados Select Ticketpal Locations: 
A& B Music Supplies - Sheraton
Sir Lloyd Erskine Sandiford Centre, St. Michael
Sundek Boutique, Limegrove, St. James
Hibiscus Health Caribbean Inc.
2017 - 2018 Schedule of Conferences/ Workshops/ Seminars
Month

CME Event

Sept 1

Considerations in Cancer Care

Sept 16

Caribbean Emergency Medicine Association 's  (CEMA)

Emergency Medicine Conference – Day 1 – Barbados

From Office to Emergency Department

Sept 17

CEMA's Emergency Medicine Conference – Day 2- Workshops

Wound Care, ECG, X-Rays, Dressings

Sept 29

Caribbean Diabetes Update – Trinidad

Saving Lives, Saving Limbs : Diabetic Foot Public Education – Trinidad

(Part of the Diabetes Expo 2017 – Trinidad)

Oct 7-8

Annual Women's Health & Medical Conference - Barbados:

From Prenatal to Postpartum

Oct 29

Nutrition & Obesity Workshop - Trinidad

Nov 4

Physical & Rehabilitative Medicine: Amputee Care – Barbados

Nov 5

Wound Care Conference – Barbados

Nov 12

Considerations in Diabetes Management- Barbados

Dec 3

Chronic Cardiovascular Complaints – Barbados

2018

Jan 12-13, 2018

Medical Technology – Barbados

June 23-24, 2018

BFPA's Sexual and Reproductive Health

Sept 8-9 2018

Annual Women's Health & Medical Conference

TBA

Nutrition Interventions in Chronic Disease

TBA

Nursing in Diabetes

TBA

Multidisciplinary Diabetes Conference

TBA

Sports Medicine

TBA

Diabetic Emergencies

More 2018 events to be added!
 All events are held in Barbados unless otherwise specified. Some dates are subject to change and additional events may be added.
CPE Credit is awarded at all events.