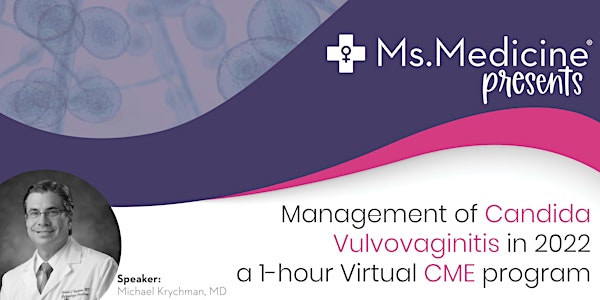 Management of Candida Vulvovaginitis in 2022
Management of Candida Vulvovaginitis in 2022: An Update for Primary Care Providers and All Clinicians Caring for Women
About this event
Candida vulvovaginitis is a common women's health problem and a frequent presenting complaint. All clinicians caring for women must be trained to evaluate and manage women with candida vulvovaginitis. Unfortunately, most clinicians and especially primary care providers, lack adequate women's health education or knowledge about the current evidence based approach to managing women with candida vulvovaginitis.
Candida vulvovaginitis is the most common cause of vulvovaginitis but not the only cause. It is important for clinicians to have an evidence approach to evaluation of women with vulvovaginal complaints in order to make the correct diagnosis and treat appropriately. It is important to diagnose candida and exclude bacterial vaginosis, trichomoniasis, desquamative inflammatory vaginitis, genitourinary syndrome of menopause, contact dermatitis, and other sexually transmitted infections before treating for candida.
Women frequently have repeated episodes of candida vaginitis, either due to inadequate initial treatment or candida that is resistant to standard therapies. Although for decades there have been no advances in therapeutic options for treatment of candida vulvovaginitis, recently a new pharmacologic therapy has been FDA approved. With this recent approval, additional clinician education about an updated approach to evaluation and management of candida vulvovaginitis is needed.
This virtual CME is intended to advance evidence based care of women with candida vulvovaginitis through 1) a review of an evidence based approach to the evaluation and appropriate diagnosis of women presenting with vulvovaginitis, and 2) a review of current and recently approved therapies.
Four Opportunities to Join
January 19, 2022, February 15, 2022, February 17, 2022
Free Registration!