Management Faculty of Color 2019 Annual Conference
Description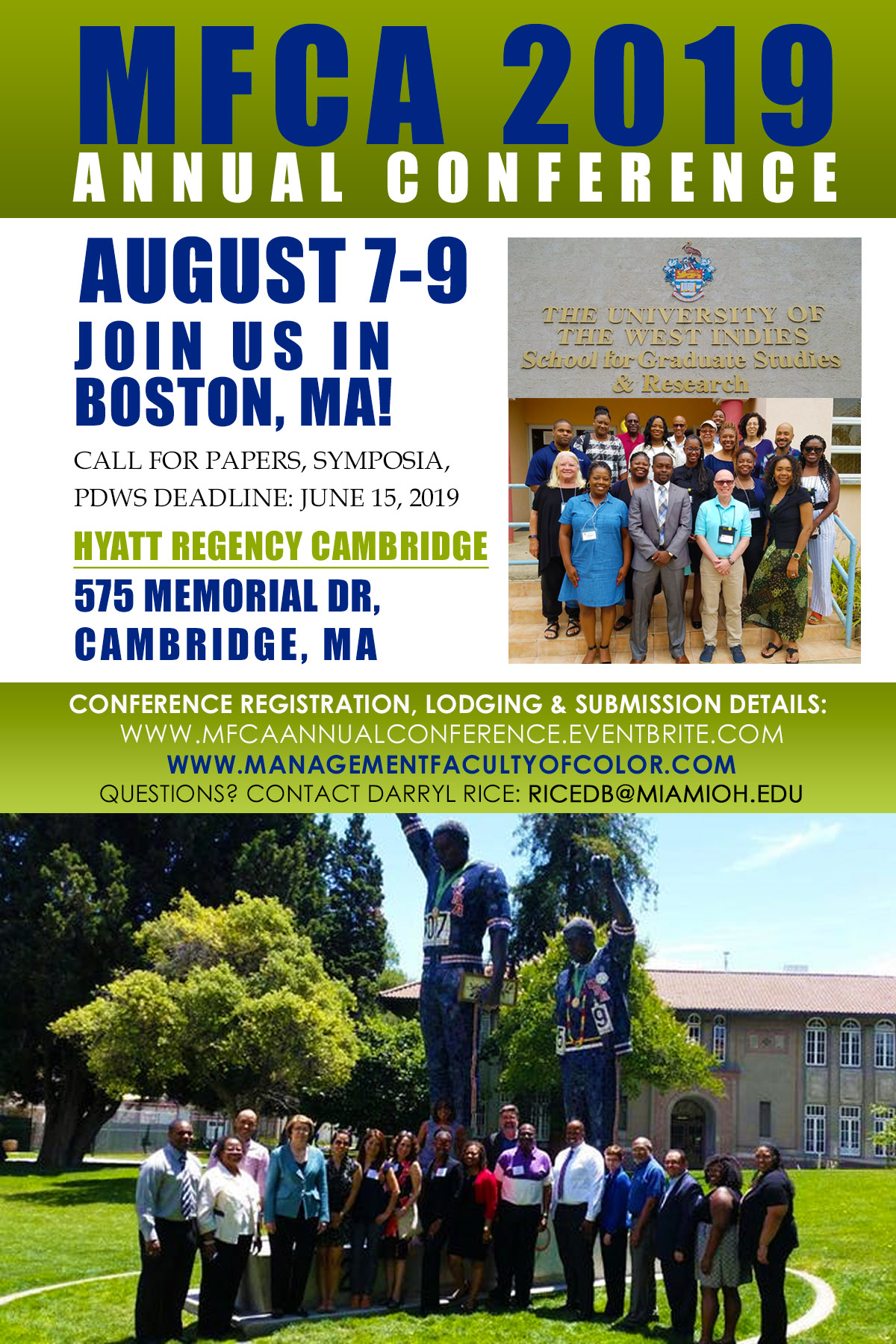 Please join the MFCA as we explore these and other topics/issues during our 2019 Annual Conference themed "Adaptation and Inclusiveness in Academia." For the second time in our history, this year's conference will be held in conjunction with the PhD Project MDSA Annual Conference at the Hyatt Regency Cambridge, MA on August 7-9. 2019. Sessions will begin on Wednesday afternoon and concluded with an offsite PDW on Friday morning. Conference attendees can book a room at the hotel by calling 617-492-1234 or by booking online here. Room block details coming soon.
The conference registration fee is $99 for MFCA members and $149 for non-MFCA members (includes one-year membership). Registration rates for guests are available upon request. Please contact Paul Prosper at paul.prosper@usafa.edu for any registration related questions.
The deadline for all submissions was June 15, 2019. Submission notifications will be sent out no later than July 1, 2019. Thank you to all who submitted!
CONFERENCE AGENDA
Wednesday, August 7th
3:00 pm: - 4:30 pm: Registration
3:30 pm - 4: 30 pm: Research Publication Colloquium
6:00 pm: Opening Reception at Babson College Downtown Campus
8:00 pm: Opening Night Social at Darryl's Corner Bar and Kitchen
Thursday, August 8th
8:00 am - 9:00 am: Registration & Breakfast
9:00 am - 1:00 pm: Sessions and PDWs
1:00 pm - 2:20 pm: Lunch
2:30 pm - 6:00 pm: Sessions and PDWs
7:30 pm: Trailblazer Dinner
Friday, August 9th
7:30 am - 8:15 am: Breakfast
8:30 am: Depart for Roxbury Innovation Center (RIC)
9:00 am - 11:30 am: MFCA's Off-site PDW at RIC (AOM Session #12625)
12:00 pm - 2 pm: Return to Hyatt Cambridge Hotel for lunch and research collaborations exploration session
2:00 pm - 6:00 pm: Open time to attend AOM sessions
7:45 pm - 10:00: MDSA Family Reunion Closing Dinner and New Faculty Ceremony
** Sunday, August 11th **
8:00 pm - 11:00 pm: MFCA Business Meeting & Social (AOM session #21018), Boston Park Plaza Hotel, Arlington Room