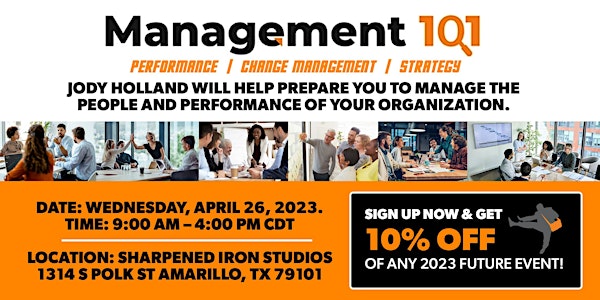 Management 101
Management 101 focuses on the 3 key areas every manager must master...Performance Management, Change Management and Strategy.
Date and time
Wednesday, April 26 · 9am - 4pm CDT
Location
Sharpened Iron Studios 1314 S Polk Auditorium Amarillo, TX 79101
About this event
Performance Management - Managing performance is the scientific approach to achieving top work performance with and through others.
Performance management includes 5 key areas.
Performance Reviews
Performance Models
Team Alignment
Strategic Workflow
Performance Feedback
Change Management - Building out a predictable model for positive change is the job of most managers. The world we live in is in constant fluctuation. Creating positive change requires 3 key focus areas.
Understanding and overcoming resistance
Using frameworks of buy-in
Reinforcing the benefits of change to make it stick
Strategy - The process of planning for the future is the process of creating a vision that inspires others and then distilling the vision into measurable steps. The aspect of planning for contingencies is creating clarity around what could go wrong and how to respond if/when it does. We do not achieve positive change without first establishing performance standards and creating a model for the change to happen. The three key areas of contingency planning are...
Translating a strategic plan into a functional map to success
Creating zones, processes, and habits for success
Creating route maps to success
These three key areas are taught in a one-day format and will prepare you to manage the people and performance of your organization. Seating is limited. We would love to have you participate in the program and build the success of your team!
Join us on April 26, 2023 from 9 AM to 4 PM.
Jody Holland
Agenda
8:30 AM - 9:00 AM
Registration
9:00 AM - 10:20 AM
Strategy & Planning
10:20 AM - 10:35 AM
Break
10:35 AM - 12:00 PM
Change Management
12:00 PM - 1:00 PM
Lunch with a food truck
1:00 PM - 2:20 PM
Performance Management
2:35 PM - 4:00 PM
Performance Management
Frequently asked questions
What is included with my ticket?
About the organizer
WE BUILD THE LEADERS YOU WANT TO FOLLOW!
A business cannot be successful long-term without strong leadership. Our training and coaching programs cultivate those leaders. Since 1999 we have helped businesses across the country identify, develop, and retain great leaders through our proprietary programs. With our leadership training, we show you how to create the leaders your employees will want to follow, creating a harmonious workplace. Elevate your business to the next level with our proven leadership development, coaching, and training.
OUR PURPOSE
Our purpose is to help your people become the leaders others want to follow. We do this by training your people on the critical skills of leadership necessary for success. Through our programs, we increase employee engagement and retention, increase productivity, and increase profitability. Through our various training programs, events and seminars, we help you bring out the best in your teams and your organization.
WHY?
We do what we do because we believe every successful workplace begins with great leadership. A great workplace creates harmony both at work and outside of work.
HOW?
Through training, seminars, executive coaching, and eLearning, we make leadership growth and development easy and fun.
WHAT?
We offer a variety of training programs, events, seminars, and coaching packages that are specially designed to build leadership and entrepreneurial skills.
Jody's books can be found on Amazon at http://amazon.com/author/jodyholland