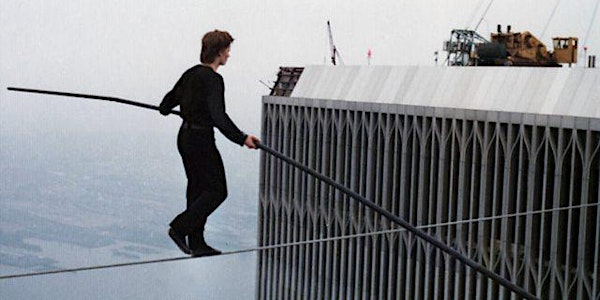 MAN ON WIRE
Join us at O'Donohue Park for our special series of free sunset films.
When and where
Location
O'Donohue Park Seagirt Boulevard Queens, NY 11691
About this event
In a special collaboration with the New York City Department of Parks and Recreation (NYC Parks) and Jamaica Bay-Rockaway Parks Conservancy (JBRPC), we're thrilled to present a summer series of free sunset films at O'Donohue Park. These films were selected to celebrate the unique Rockaway landscape and community as the city continues to slowly reopen.
O'Donohue Park, located between Beach 9th and Beach 17th Streets along the Rockaway Beach Boardwalk, hosts stunning views of coastal dunes, Rockaway Inlet, and the Atlantic Ocean, sure to make a memorable outdoor film experience for all.
MAN ON WIRE by James Marsh. 2008. 94 min.
In an enthralling and symbolic display of spellbinding courage, Philippe Petit famously and illegally tightrope walks across the 1974 yet-to-be-opened World Trade Center. With themes of perseverance and personal achievement, Man On Wire is also a subtle but beautiful portrait of the Twin Towers: pillars of the NYC skyline.
_________________________
We work hard to provide good cinema at affordable rates to the community. This special summer series is offered entirely for free.
Please consider making a tax-deducible donation to Rockaway Film Festival to keep the dream alive.