Sales Have Ended
Registrations are closed
Time has run out. Please try again. Thank you.
Sales Have Ended
Registrations are closed
Time has run out. Please try again. Thank you.
Description
Culture Connection is thrilled to present Man on Wire, James Marsh's Oscar-winning 2008 biographical documentary, with a live appearance by Philippe Petit. This film looks at tightrope walker Petit's daring, but illegal, high-wire routine performed between New York City's World Trade Center's Twin Towers in 1974 - what some consider "the artistic crime of the century." Philippe Petit will be participating in a Q&A with the audience in tandem with a book sale and signing after the screening.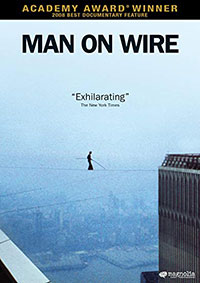 Some other notable facts about Philippe: he juggles six hoops, is the author of ten books, speaks six languages, has walked on the wire the equivalent of the earth's circumference (24,900 miles), and has been arrested over 500 times for street juggling—twelve people did walk on the moon, but only one walked on a wire between the twin towers of the World Trade Center!
Philippe, an artist in residence at the Cathedral of St. John the Divine, is currently developing his second one-man show, High Definition, in which he will perform on the high wire. His most dear project is Rapa Nui Walk, on an inclined cable set on Easter Island, in homage to the Rapa Nui and their giant stone statues known as Moai.
---


Tickets Purchase Policy
Queens Public Library programs are free to the public. In order to make the programs available to the most number of people we are limiting general admission free tickets to 2 per individual. Multiple orders per individual are not allowed and will be cancelled. This policy ensures that no-shows are reduced and tickets are available to the most number of people.