Description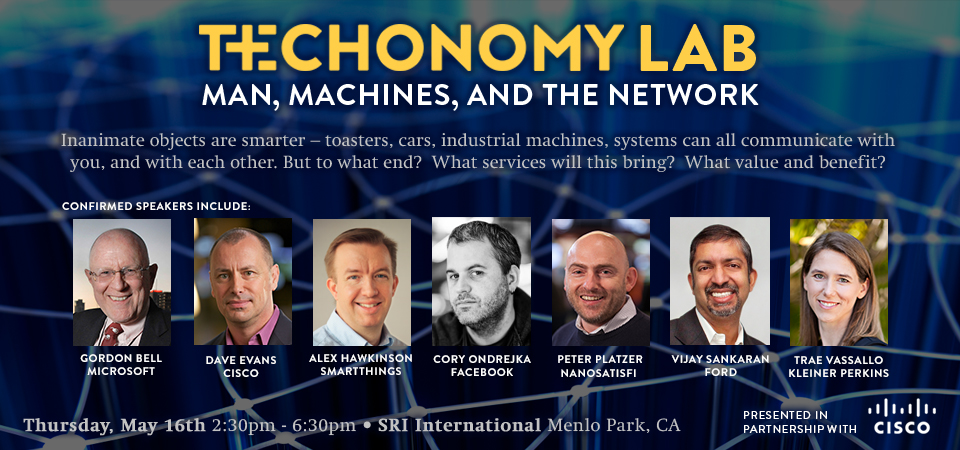 Overview:
Join Techonomy as we gather experts, thinkers, and leaders to discuss an idea whose time has come. Inanimate objects are smarter – toasters, cars, industrial machines, systems can all communicate with you, and with each other. But to what end? What services will this bring? What value and benefit?

Sessions include:

Constructing the Physical Graph
Internet + Everything =?
The Internet of…the Universe
Your Life Is in the Internet of Everything
Opportunities in the IoE Economy
How Facebook Connects You to Everything

Confirmed Speakers include:

Gordon Bell, Principal Researcher, Microsoft Research Silicon Valley
Jon Bruner, Editor-at-Large, O'Reilly Media
Rob Chandhok, President, Qualcomm Internet Services
Frank Chen, Partner, Andreessen Horowitz
Dave Evans, Chief Futurist and Chief Technologist, Internet Business Solutions Group, Cisco
Alex Hawkinson, Founder and CEO, SmartThings
Kerrie Holley, IBM Fellow and Global Business Services CTO, IBM
Geoff Hollingworth, Ericsson Networked Society Evangelist #5, Ericsson
Dave Icke, Chief Executive Officer, MC10
David Kirkpatrick, Chief Techonomist, Techonomy Media
Cory Ondrejka, Vice President, Mobile Engineering, Facebook
Peter Platzer, Chief Executive Officer, NanoSatisfi Inc.
Paul Rogers, Chief Development Officer, GE Global Software
Vijay Sankaran, Director, Application Development, Ford
Trae Vassallo, General Partner, Kleiner Perkins Caufield & Byers
Check in on our Facebook event page and use Twitter hashtag #techonomylab.
For up-to-date information on the program agenda and conference speakrs, please visit:
Organizer of Man, Machines, and the Network
Founded in 2011, Techonomy Media Inc. is an American conference and media company headquartered in New York. Techonomy organizes conferences that focus on how the accelerating advancement of technology is transforming business and can help address the world's pressing needs. Techonomy also publishes editorial content on its website and in a weekly newsletter, and creates original video journalism.