Man Conference - Nov 2, 2013

Saturday, November 2, 2013 from 7:30 AM to 3:00 PM (EDT)
Event Details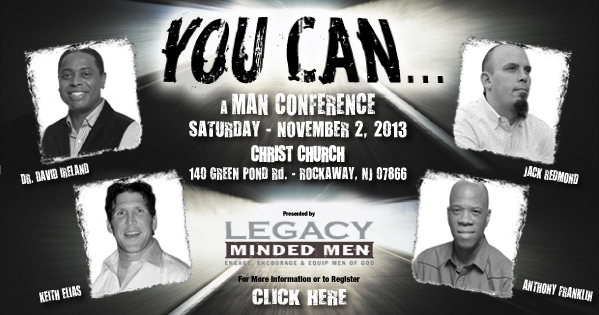 Speakers
Dr. David Ireland
founder and senior pastor of Christ Church, is the author of some 20 books including his latest. The Kneeling Warrior. Diversity consultant to the NBA, Dr.Ireland leads chapel services for the New York Giants & Jets.  He has an earned Ph.D in organizational leadership (Regent University) and has completed post-doctoral work at the University of Pennsylvania. He and his wife, Marlinda, have been married for 30 years. 
Rev. Anthony Franklin
is the senior associate pastor at Christ Church and founder of the Men of Vision and purpose ministry.  He provides pastoral leadership to the Small Group, Men's  and Marriage Ministry and serves as spiritual father and mentor to many leaders. Anthony is a graduate of Alliance Theological Seminary, and a former adjunct professor at Nyack College. He and his wife, of 30 years, Barbara have two daughters and two grandchildren.
Jack Redmond
has served as part of the teaching and ministry team and Director Of CHAMPION Youth Ministry at Christ Church for the past 14 years.  He is also President and Founder of Fourth Generation Ministries focusing on Leadership training, Youth Ministry and Adult Discipleship. He speaks on the LifeCHANGE Radio program on Star 99.1 and is the author of six books.
Keith Elias
is a former NFL running back with the New York Giants and the Indianapolis Colts. He was also an All-American in high school and college where he established school, conference and national records while playing for the Princeton Tigers football team. Keith now speaks all over the country encouaging people through his personal testimony and the Gospel that changed his life.
Includes 4 Powerful Workshops (1:30:3:00pm)
"Breaking The Chains" - Raun Barretto & Dan Bove
There are many links in a chain. When the links lineup you now have a chain. Raun & Dan will discuss how to get to the bottom of sexual addiction and how God can break that chain, guaranteed! 
"Prayers that Move Heaven" - Dr. Jim Henry, D.Min
We live in a day when men are pressed in every way possible. Now more than ever we need to know what it takes to get God's attention, what kind of prayers get God to move on our behalf, and how confident can we be that He will respond. We will explore these questions and how God's word answers them.
"Reaching Men...A Guide to Building a Lasting Men's Ministry" - Joe Pellegrino
What would happen if men acted like men? What would happen if godly took charge and served the church, their families and their community well? In this no holds barred workshop Joe will show you how to raise up an army of men ready to serve by building a strong men's ministry in your church. Whether you men's ministry is just starting or going well Joe will provide insight and tips to move forward.
"Financial Stewardship - God's Way" - Matthew Rotella
Jesus spoke about money more than any other topic except for the Kingdom of God.  If we approach money with a mindset of stewardship versus ownership, the game changes.  How do we change our mindset?  We will take a look into the Word to see what is required of us, and then delve into a few basic ideas into proper money management.  
When & Where

Christ Church
140 Green Pond Road
Rockaway, NJ 07866


Saturday, November 2, 2013 from 7:30 AM to 3:00 PM (EDT)
Add to my calendar
Organizer
Legacy Minded Men
Transforming lives by Engaging, Encouraging & Equipping men to build a Christ-centered legacy
Man Conference - Nov 2, 2013