Description
JOIN SHILO FARM & FAT PEACH FARM
FOR A SPECIAL SUNSET SHOW
WITH MAMUSE!
This special show will be held outdoors at the beautiful Shilo Farm in Eliot, Maine. 5% of all ticket sales will be donated to the MOUNT AGAMENTICUS TO SEA CONSEVATION INITIATIVE.
DETAILS: Garden Chair seating will be provided for up to 75 guests. First come, first serve (unless you purchase Limited Reserved seating Tickets). There will be snacks and a non-alcoholic herbal elixir available by donation. This is a BYOB event. Bring a folding chair if you anticipate arriving late. $25 at the Door.
DESCRIPTION: Harmonic, Uplifting, Luscious, Folk-Soul-Revival; A Musical Tune-Up for the Heart
Wholeheartedly fed by the folk and gospel traditions, MaMuse (Sarah Nutting and Karisha Longaker) create uplifting music to inspire the world into thriving. Interweaving brilliant and haunting harmony with lyrics born of honed emotional intelligence, MaMuse invokes a musical presence that inspires the opening of the heart. Playing a family of varied acoustic instruments including upright bass, guitar, mandolins, ukulele, and flutes, while backed by guitar virtuoso Walter Strauss, these two powerful women embody a love for all life. The synergy that is created through this musical connection is palpable and truly moving to witness.

With nine delicious years of co-creation and five full length albums under their belts, MaMuse keep their hearts tuned to the creation of music for the health of ALL BEINGS.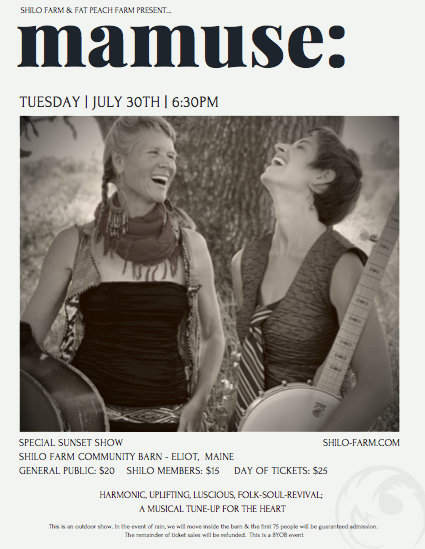 CHECK OUT A SAMPLING OF THEIR RECORDINGS HERE:
CHECK OUT THEIR LATEST CAMPAIGN CALLED PRAYERS FOR FREEDOM.

---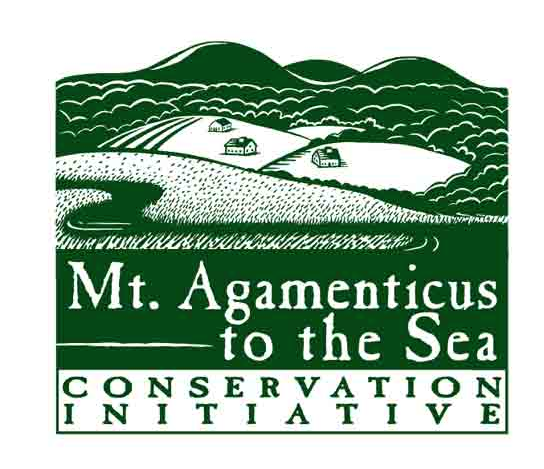 THIS IS AN AWARENESS & FUNDRAISER EVENT
5% of Ticket Sales will be donated to the MOUNT AGAMENTICUS TO SEA CONSEVATION INITIATIVE.
ABOUT US: Ten organizations began working together on the Mt. Agamenticus to the Sea Conservation Initiative (MtA2C) in 2002 to conserve the most important forests, fields, wetlands and marshes in a focus area that includes part of Kittery, Eliot, York, Ogunquit, Wells, and South Berwick. Our goal: 19,000 acres of conserved natural lands and protected watersheds in the Mt. Agamenticus region to benefit people and wildlife.
We envision thriving communities connected by an expansive natural landscape that provides a haven for wildlife and enhances the health and well-being of our citizens, forever.
---
PARKING:
Overflow parking across the street at Soulmama farm. Thank you Heidi & Keith!! Look for the cones & flags marking the way. Take care crossing the road, be mindful of the roadside poison ivy and please be respectful of our neighbors...
We wouldn't be here without their support!