Description

Mammalian Cell Culture
Bioprocessing Professional Advancement & Training (BPAT)
Industry Training Program

Date: Sept. 25 - 27, 2017
Location: City of Fremont EOC
Who should apply?
KGI has designed this MCC course for bioprocess scientists and engineers who wish to update their basic knowledge and skills in mammalian cell culture operations as well as industry professionals who are new to upstream functional area

Course program synopsis:
Advances in mammalian cell technology over the past three decades, combined with major developments in therapeutic proteins and antibodies, have made the recombinant Chinese Hamster Ovary (CHO) cells the expression of choice in biomanufacturing.
In traditional mechanically stirred bioreactors, production levels have increased 10,000-fold during the same period and product protein titers are now routinely measured in multigrams per liter. These achievements are leading to significant cell culture bioprocess sophistication, and, along with emerging single use technologies, are making the future flexible bioprocess manufacturing a distinct possibility.
This three day intensive course is designed for professional scientists and engineers who wish to enhance their basic knowledge and training in upstream cell culture operations.

The primary goal of the course is to update the participants' background in mammalian cell operations, from media selection and optimization to bioreactor design and operation and scale-up/scale-down.
Course overview
Scientific, engineering, and practical industrial aspects will be presented in a series of lectures, seminars, and workshops complemented with case studies. Attendees will gain first-hand experience in principles of mammalian cell culture technologies, process development, scale up and scale down, control and measurement of dissolved oxygen, pH and temperature.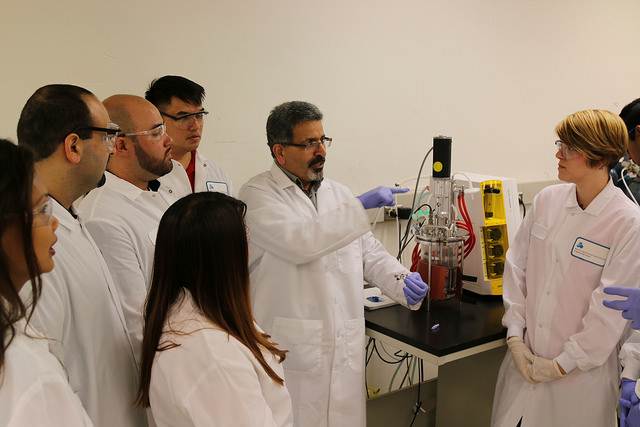 Quotes from previous course attendees:
"The BPAT Courses have been an exceptional tool for learning the in-depth theory behind the bioprocessing techniques that we work with every day." - Victor Constantinescu, Manager, Purification, SHIRE
"Besides delivering targeted subjects, one of the best parts about the KGI BPAT workshop (Viral Safety in Biomanufacturing) was the high ratio of instructors to students - creating a comfortable intimate setting that fostered interactive learning. This approach is unique to anything I've experienced to date, and as a result, I was able to conveniently build relationships with SMEs in the field," - Sheldon Mink, PhD, Sr. Manager, QC Virology, Regenron, Inc.
"Every time I visit KGI for their BPAT courses, I'm amazed by the engagement from the instructors, especially Dr. Parviz Shamlou...KGI is a well-respected school within the biopharma industry and their campus is modest for what they have to offer." - Christine Bui, Sr. Manager, Manufacturing, Portola Pharmaceuticals, Inc.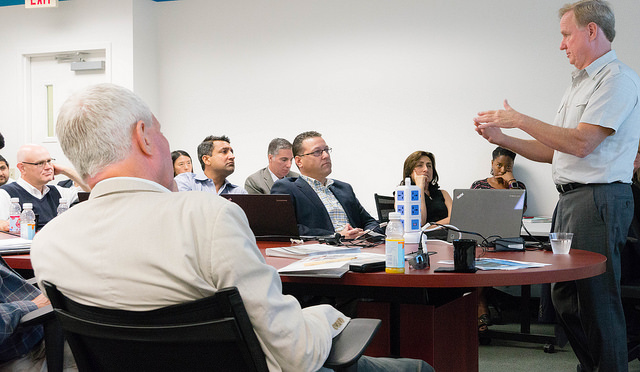 Format
This annual three-day intensive training course will follow the highly successful format established in 2014, integrating lectures and projects in a classroom setting based on participant's experience and training needs.

In general, lectures and projects will occur in the morning, with case studies, and advanced project discussions in the afternoon; these will be in a break-out session based on participants' experience.
Lecture topics
Cell culture bioreactor design and scale-up and scale-down models


Impacts of agitation and aeration on cells

Batch vs. fed-batch vs. perfusion bioreactor

pH measuerment and control

Dissolved oxygen measurement and control

Volumetric Oxygen transfer rate and its impact on cells growth

Impact of shear on cell growths

Design and operation of single use bioreactors

Media selection and optimization including impact of trace metals

Integration of cell culture processes with downstream product recovery and purification

Key issues and tools used in industrial cell culture operations, including economies of scale, control charts, and process flow diagrams

Measurement of cell growth, death, and primary metabolism

Performance of mammalian cell culture operations under current Good Manufacturing Practices (cGMPs)

Cleaning, sterilization, set-up, and operation of a laboratory-scale bioreactor, for growth of a high-density, fed-batch suspension culture (laboratory session)

Measurement, tracking, and control of culture pH, oxygen, temperature, and other environmental parameters

Cell culture Process Analytical Technology (PAT)

Lead instructors
Parviz Shamlou –KGI, Lilly, UCL
Location
This Mammalian Cell Culture Course will be held at City of Fremont EOC, 42551 Osgood Rd., Fremont, CA 94539

Fee
Deadline for the Early Bird Fee of $1,500.00 is the end of day Sept. 8th, 2017. Beginning Sept. 9th, the full cost of the course is $2,000.00. Included within the fee are all lab equipment and supplies, handouts and materials, instruction, daily breakfast and lunch will be included.
Accommodations and travel expenses are the participant's responsibility.

*Special Discount Rate for KGI Alumni! For further information and pricing, please contact:

Christa Oudshoorn-Hobo
KGI Alumni Engagement Manager
Office: 909-607-8592
Christa_Oudshoorn-Hobo@kgi.edu
Cancellation
Cancellation Requests for refunds due to cancellation for any reason must be made in writing to aa.events@kgi.edu
Requests for refunds received by us between Aug. 8th thru Sept. 8th, 2017 will be made, minus a $500.00 processing fee.
NO refunds will be given for any reason starting Sept. 9th, 2017
For further information contact:
Diana Bartlett
Office: 909-607-9864
diana_bartlett@kgi.edu
http://www.kgi.edu/faculty-and-research/kgi-centers/amgen-bioprocessing-center/mammalian-cell-culture-intensive.html
Please Advise of any special dietary restrictions when registering.