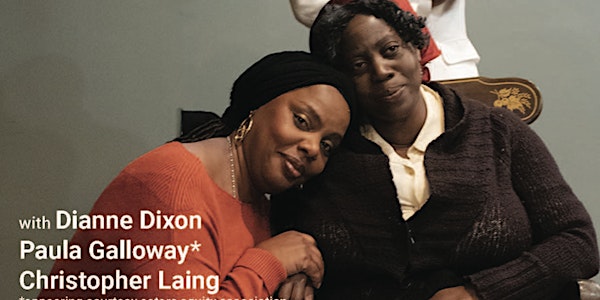 Mamma Decemba
An award-winning, bittersweet play raising larger questions about the nature of life-long relationships, especially when they come to an end
By New Perspectives Theatre Company
Location
New Perspectives Theatre Company 458 West 37th Street New York, NY 10018
Refund Policy
Contact the organizer to request a refund.
Eventbrite's fee is nonrefundable.
About this event
After a four-year hiatus, NPTC is pleased to announce a return to our co-production relationship with BANANA BOAT PRODUCTIONS with a revival of MAMMA DECEMBA by noted Jamaican-British author NIGEL D. MOFFAT for a limited run May 4 - 13, 2023 at New Perspectives Studio.
Winner of the SAMUEL BECKETT AWARD in 1985 (sponsored by the Royal Court Theatre and Channel 4), MAMMA DECEMBA is a bitter-sweet play about an older Jamaican woman living in England who finds herself widowed, jobless, and deserted by her children. Her attempts to cope involving hauntingly honest, sometimes humorous and often painful reflections on her past, raising larger questions for all of us about the nature of life-long relationships.
"An aching slice of life run aground." — BRITISH GUARDIAN
The play is directed by Banana Boat Artistic Director MERLINA RICH, and features PAULA GALLOWAY as Mamma Decemba, with DIANNE DIXON and CHRISTOPHER LAING in supporting roles.
NIGEL MOFFAT began his career writing poetry, playing acoustic guitar, and singing in pubs and clubs. His song "Peace, Love & Harmony" was recorded with Paul Weller in 1984 at Abbey Road Studios and produced on the Love The Reason Album. His poetry has been featured in many notable magazines and television broadcasts. Mamma Decemba premiered in 1985 at the Birmingham Repertory Theatre, for which he won the Samuel Beckett Award; it was later adapted for BBC Radio. Lifetime won the Giles Cooper Award for BBC Radio in 1987 and Moffat went on to write many more plays for radio. When Love Dies was produced by Channel 4 television in 1990 and is currently playing on All4. He has written for the Royal National Theatre, The Royal Court Theatre, Leicester Haymarket Theatre, Temba Theatre, and Birmingham Repertory Theatre, for whom he wrote Musical Youth about Birmingham's first boy band who reached number one around the world. He won the Butler Trust Award in 1998 for his outstanding work as writer-in-residence at Shrewsbury Prison and the Coloradover his long career since. He recently obtained an Arts Council grant to go to Jamaica to write From Birmingham To Montego Bay. Moffat is published by Faber & Faber and Methuen Publishing.
MERLINA RICH is the Founder and Artistic Director of Banana Boat Productions. As a producer, director, writer, and actor, she has been involved in various productions over the past twenty-five years, most of them having to do with Caribbean life and its representation in the larger world. Among the plays Merlina has produced are Patricia--A Love Story, Cinderella Syndrome, Nine to Five Government Style, The New Hardware Store, Have Mouth Will Travel, All I've Got, and Pretty Papers. In partnership with the Caribbean-American Repertory Theatre, she co-produced Jestina's Calypso and My Children! My Africa!, which was nominated for an Audelco Award in 2005. Merlina's collaboration with NPTC began in 2007 with the NY premiere of The Ritual, with revivals in 2009 and 2019 (the play's 40th Anniversary). The NY premiere of Mamma Decemba was co-produced in 2008. Additional Banana Boat/NPTC collaborations include the Audelco-nominated The Key Game in 2018, and the double-bill presentations Dueling Voices, Women in Transition and Crossing Boundaries.
BANANA BOAT PRODUCTIONS was established in 1998 with the aim of creating theatrical experiences of specific interest to the English-speaking Caribbean community of the greater New York metropolitan area. Caribbean culture is a multicolored and rich palette of expressions, experiences, and lifestyles that is in need of more exposure in the realm of truly meaningful theater. Banana Boat Productions seeks out plays that focus very specifically on dramatic themes that reflect the historical and cultural development of Caribbean life as well as the present reality of the culture as it has migrated to global settings. In this context, our productions can be seen as experiential instruments to promote a greater elaboration, a deeper understanding, and more respectful view of oneself—in this case, a Caribbean self. In addition, Banana Boat engages in outreach to non-Caribbean communities to expand understanding and expose regular theatre-goers to the lived realities of people of the Caribbean Diaspora.