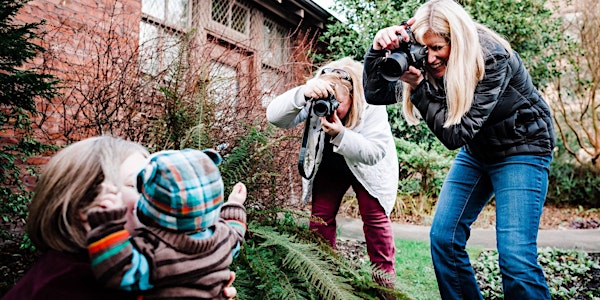 Mamas with Cameras: Introduction to Digital Photography (January 26)
When and where
Location
Good Shepherd Center, Room 223 4649 Sunnyside Avenue North Seattle, WA 98103
Description
Mamas With Cameras Workshop: Introduction to Digital Photography
This is a small, women-only workshop geared towards mamas who are new to their digital cameras or haven't explored outside the automatic mode. We know that if you're new to digital photography, the technology behind your camera can feel overwhelming at first, but we have the tools to help you learn fast and we make it FUN!
During this in-person 3.5 hour workshop, we give you practical tips and information about how to create beautiful images of your kids at different ages and stages. You can ask questions and learn the settings with hands-on exercises. And we give you practical tips that will help you to capture photos you'll want to frame for your wall!
We'll get friendly with basic photography terms: aperture, shutter speed, ISO and white balance. You'll get hands-on experience with the semi-automatic modes on your camera: aperture priority, shutter priority and P mode. We'll also go into some creative and compositional techniques that will instantly improve your photographs!
[NOTE: Because we only have one afternoon, this workshop we doesn't cover shooting in Manual mode-- but we do have a separate afternoon workshop for that and we'd love to see you there too!]
Bring ALL your questions: Our motto is there are NO silly questions! We create an open, warm, and fun environment where you and your fellow Mamas will feel empowered to explore and play with your cameras. We strip away the technical jargon and let you know the practical settings and tips that you need to start making beautiful photographs right away.
---


Requirements
Digital SLR or mirrorless camera (Trust us, you will be super bored if you don't have one with you!) Your camera is an SLR/mirrorless if you can change the lens at the front. If you're not sure about your camera, check with us before registering!
"Bra" You don't have to have children (or wear a bra, really), but this is a workshop for women and the tips are geared towards mamas who are interested in photographing their kids.
Portrait lens If you don't have one already, please purchase, rent or borrow a portrait lens in advance of the workshop. This is going to get you those nice buttery backgrounds that you have been (or will be) craving. If you're not sure what a portrait lens is (hint: it's not the lens your camera usually comes with), check the FAQs below for details.
[Note: If you have a Nikon DSLR, please read the FAQs to make sure you have the correct lens!]
We look forward to a fabulous afternoon of exploration, learning, and fun as you dive into the awesome, shutter-happy world of Mamas with Cameras!
---


FAQs
What's the refund policy? Please note our policy before you finalize your registration: Your ticket is not refundable, but it is transferable. If you secure your place and your plans change, then you will be refunded your money if you can be replaced by someone on the wait list. You are also free to sell your ticket and inform us that you are transferring the registration to someone else. If a conflict comes up, please contact us ASAP to find out the wait list status.
How many people are in a class? The class volume varies but we require a minimum of 4 registrations to run the workshop and we won't exceed 12 registrations per workshop in order to keep the instructor/participant ratio low.
Is my lens a portrait lens? If you only have the lens that came with the camera, it's most likely not a portrait lens. For DSLR cameras, you'll need a 35mm or 50mm prime (not zoom) lens with a fixed aperture of at least F1.8. How can you tell? Look at the numbers on your lens. There should only be one "mm" number (35mm, 50mm) and the number after the F should be 1.8 or lower. If your lens has two numbers for "mm" or F (ex: 18-55mm F3.5-5.6), then it's not a portrait lens. The most common portrait lenses are 50mm F1.8, 50mm F1.4, 35mm F1.8 and 35mm F1.4. If you have a mirrorless camera, please message us and we'll give you a great recommendation.
Glazer's Camera rents lenses by the day if you're not ready to buy.
Please read if you have one of the following Nikon DSLR cameras:
D40
D60
D5000/5100/5200/5300/5500
D3000/3100/3200/3300
The camera bodies in these models don't have the autofocus mechanism built in, which means that you'll need to use a lens that includes autofocus. Nikon labels these lenses as AF-S (not just AF or AF-D). Here are some of the portrait lenses you can use:
The AF-S lenses can be more expensive than the AF or AF-D versions, so you may want to rent the lens for the purpose of this workshop. You can do that at Glazer's Camera for about $25 for the weekend. Just be sure to reserve your lens early and specify that you want the AF-S lens, not the AF! (Note: If you have any other Nikon camera model, you can use any version of the portrait lenses.)