MAMA DOM presents the Mama Domi-Que

Sunday, September 17, 2017 from 2:00 PM to 8:00 PM (EDT)
Event Details
MAMA DOM presents the Mama Domi-Que.
A BBQ, Brunch, Backyard Boogie.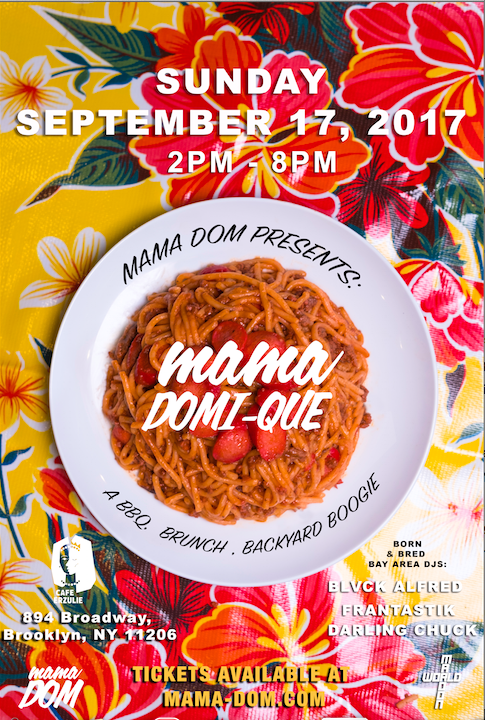 Born and raised in the Bay Area, Dominique Lagleva, better known as Mama Dom, consistently reps her roots wherever she is. Her love for sharing the music, slang, and style of her hometown is more than familiar to those who know her best.  Incorporating Filipino traditions, cooking styles, and preparing familial recipes that span generations and continents, Dom's undeniable love for her upbringing is apparent in every bite of her unique and delicious offerings.  
After seven years of calling New York home, Mama Dom has decided to share these recipes with a wider audience, debuting her pop-up restaurant series in early 2017 at An Choi, a foodie mecca in NYC's Lower East Side. Creating an immersive experience that fused her Bay Area upbringing with her Filipina roots, Mama Dom engaged guests with a one-night only function of food, music, and photography, providing an unforgettable evening rooted in authenticity for the sold out event.  Due to the overwhelming response of the first installment, "DOM CHOI," Mama Dom is now offering the second addition to her nation-wide pop-up tour.
Step into Mama Dom's world and experience food, culture, and music that is truly unforgettable.
WELCOME TO THE MAMA DOMI-QUE.
TELL ME WHEN TO GO:
Sunday, September 17th, 2017
Private, Tickets Only: 2pm- 5pm (Food Service ends promptly at 5pm)
Open to the public, Backyard Boogie: 5pm- 8pm 
GET ON MY HYPE:
Pricing: $30/ person 
Each ticket includes a pass to the following food/ drink stations:
Station 1- The Infamous (Palms are Sweaty) Dom's Spaghetti
This sweet spaghetti is a Filipino take on a classic- but with added Pinoy extras. And yes, it's so extra. Veggie option available.
Station 2- DomSilog (Choice of Chicken, Pork or Eggplant)
Pop's secret recipe Adobo, served with garlic fried rice, topped with a fried egg. "Filipino salad" (Kamatis [tomatoes] and pickled cucumbers) served on the side.
Station 3- Mama Domi-Que (Choice of Chicken, Pork or Veggie)
Classic Pinoy style skewers, glazed with a special BBQ sauce.
Station 4- Hella Holla Holla
Halo Halo is the classic Filipino dessert with fine shaved ice served with Mama Dom's special milk mix and accouterments, topped with caramelized cereal.
Station 5- Cutty Bang
A SF classic hood drink cocktail, refined. A mixed drink of two types of gin, rum, fresh lemon and pineapple juice.
* Tip and additional drinks not included in the ticket price. 
The SIDESHOW:
A photo installation
presented by Maroon World.
Super Duper Hyphy (...hyphy hyphy)
Slappers provided by Bay Area-bred DJs:
Blvck Alfred
Frantastik
Darling Chuck
When & Where

Cafe Erzulie
894 Broadway
Brooklyn, NY 11206


Sunday, September 17, 2017 from 2:00 PM to 8:00 PM (EDT)
Add to my calendar
MAMA DOM presents the Mama Domi-Que