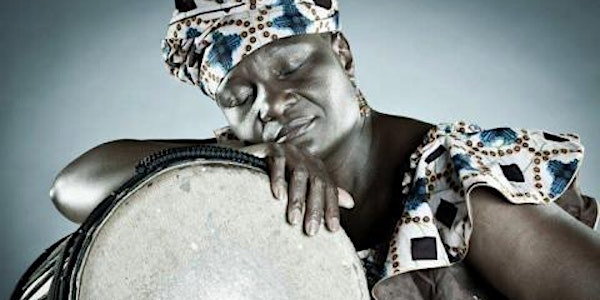 Mama Africa: From Congo to Oakland - Sistahs of the Drum and Mabiba Baegne...
Location
Ashkenaz Music & Dance Community Center
1317 San Pablo Avenue
Berkeley, CA 94702
Description
Mabiba is an internationally acclaimed teacher, drummer, and choreographer of traditional and contemporary African dance. Mabiba was born in Brazzaville, Congo, and initiated into dancing by her grandparents at the age of eight.

Mabiba is also an inspiring drummer. In addition to her Congolese dancing, for many years she studied West African Dunun drumming with master drummer Famoudou Konate in Guinea, and she was the first woman to teach this form in the U.S. Mabiba is also an acclaimed singer and has toured and recorded with Salif Keita, master drummer Mamady Keita, and Samba Ngo.
Sistahs of the Drum are students and teachers, listeners and communicators, consumers and creators, protectors and nurturers, friends and lovers. We drum from the heart, for the heart, to the heart, and with our heart. Absorbing the teachings of West African rhythms, songs, and dances, Sistahs of the Drum respectfully represent the essence of our traditional African roots in harmony with our African-American cultural rearing. The resulting sound is from somewhere deep within; playing through us and resonating with you. Current members are Mar Stevens, Sandy Mills, Charlene Gumbs, Shawn Nealy-Oparah, La Tanya Carmical, Mya Cross, Nina Roberts and Jillian Lyles.