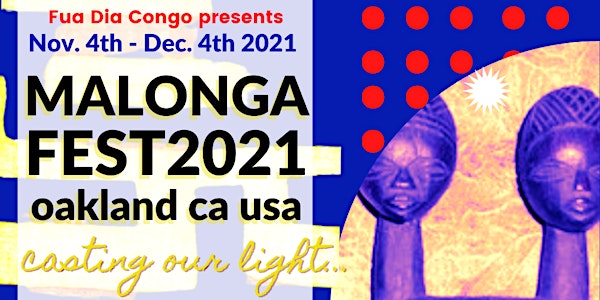 MalongaFest 2021: Casting Our Light
MalongaFest 2021: Casting Our Light is a month-long celebration of African Cultural excellence and the legacy of Malonga Casquelourd.
When and where
Location
Malonga Casquelourd Center 1428 Alice Street Oakland, CA 94612
About this event
You are cordially invited to the 6th edition of MalongaFest, a community arts festival celebrating the rich legacies of African cultural excellence in Oakland/Bay Area brought to you by @Fua Dia Congo, @KongoSQWest and @BottleTreeCulture.
November 4 - December 4, 2021, MalongaFest will offer a rich array of in-person and virtual programming `that honors communal ancestors and harnesses the healing power of art, music, dance, community and more!
Join us as we "Cast Our Light" during this spirit-filled season of remembrance!
Matondo!
Our note of gratitude for the benevolence of funding and time invested towards this all important vision, so vital to the wellness of our Community. ~We Thank You
Funders:
Zellerbach Family Foundation,
Akonadi Foundation and
The City of Oakland Cultural Funding Program
Community Kinship Partners:
Afro Urban Society
Baba Tacuma & the Oakland Benevolent Society
Dimensions Dance Theater
nzoCALIFA Dance Works
O.Y.A. Strategies
Rara Tou Limen Haitian Dance Company
A salute to our partnership with Co-Executive Producer, Calloway Curated ™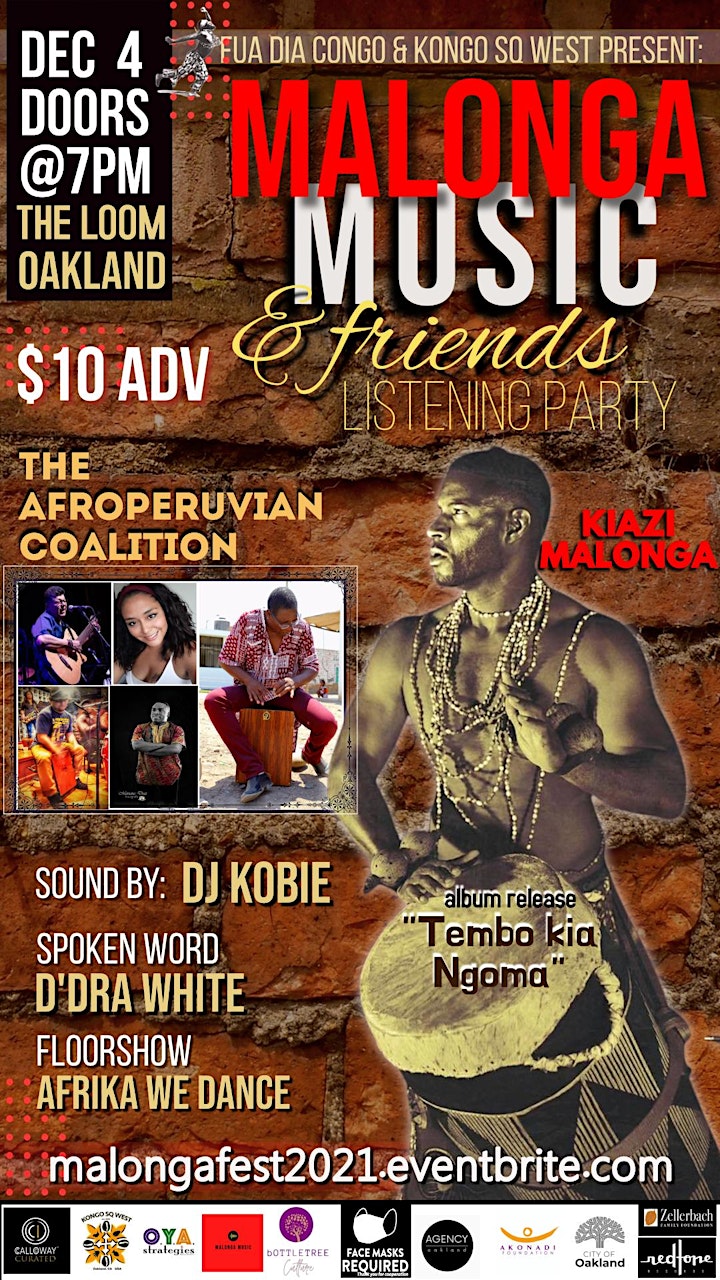 We are THRILLED to announce the GRAND FINALE of #MalongaFest2021: #CastingOurLight, the eagerly anticipated listening party & celebration of @KiaziMalonga's Debut Album "Tembo kia Kongo."
One of the best things to come out of the pandemic, this album is a masterpiece that honors the rich Ngoma traditions of the Kongo Kingdom! On December 4, you have permission to party, savor the music and let your light shine.
Join Malonga Music & Friends for a sparkling night full of rhythm and joyful surprises.
Our Special Guests #TheAfroPeruvianCoalition, featuring the legendary Cajon Maestro Juan Medrano COTITO, Dj Kobie Quashie & Afrikawedance will add their signature sauces to a night chalk full of flavor. Avoid FOMO & register now.
Adults Only this time around, let's get it in, all aligned kin.
Be in Communal Consciousness, Cultivating Sacred Space in JOY and Fete wellness.
Matondo,
Muisi-Kongo Malonga, Visionary/Executive Producer Malongafest2021 / Bottle Tree Culture Creator /#FUA4Ever
Fua Dia Congo, Kongo SQ West Kinship Society Malonga, Music, BottleTree Culture, Nzo Califa Dance Works, O.Y.A. Strategies, The Afro Peruvian Coalition, Agency Oakland, Redtone Records.
************
ABOUT KIAZI MALONGA: @MalongaMusic on all Social Media Platforms See: LOMAMI (Official Music Video) https://www.youtube.com/watch?v=tmScd8pSGMs
ABOUT MAESTRO JUAN MEDRANO COTITO: @CotitoMedrano on Social Media Platforms website: https://www.cotitomedrano.com/about
>>Members of the Afro Peruvian Coalition
We are a gathering of Performing Artists and Educators of the Afro Peruvian Cultural Arts movement. Our membership extends from Peru transplanted to the Bay Area through residencies, exchange and building vibrant Community. We host Master Teachers from abroad bridged with quality local Arts Education, Performances and presenting opportunities. And create unique presenting and performance opportunities that highlight local Afro Peruvian Artists and Culture. We are fortunate to make the Bay Area our Home as Oakland, California is our hub. We salute Fua Dia Congo and Kongo SQ West for presenting our debut performance at Malongest2021, Malonga Music Listening Party, deeply honored.
Pedro Rosales, Javier Barrer, MariCruz Bisso, Juan Roberto Hernandez and Maestro Juan Medrano COTITO. Contact: proyecto.lando1974@gmail.com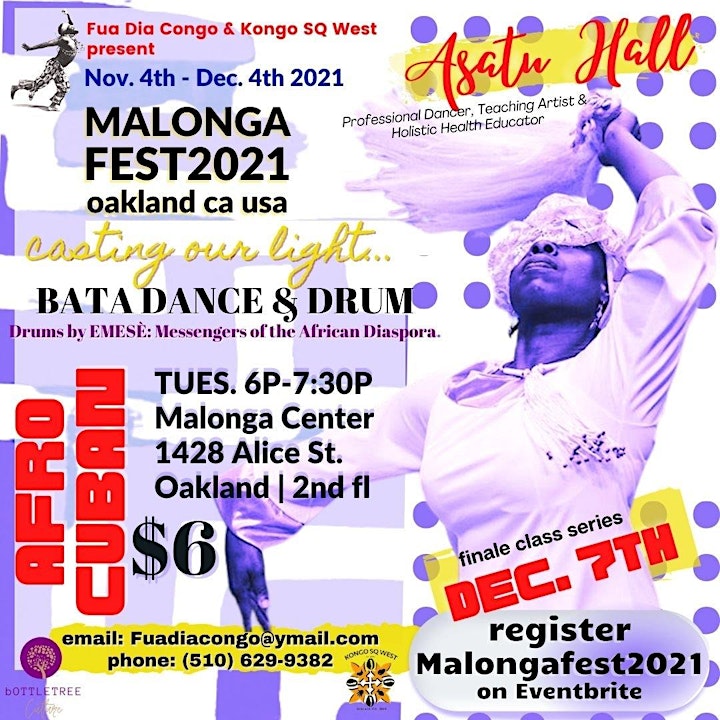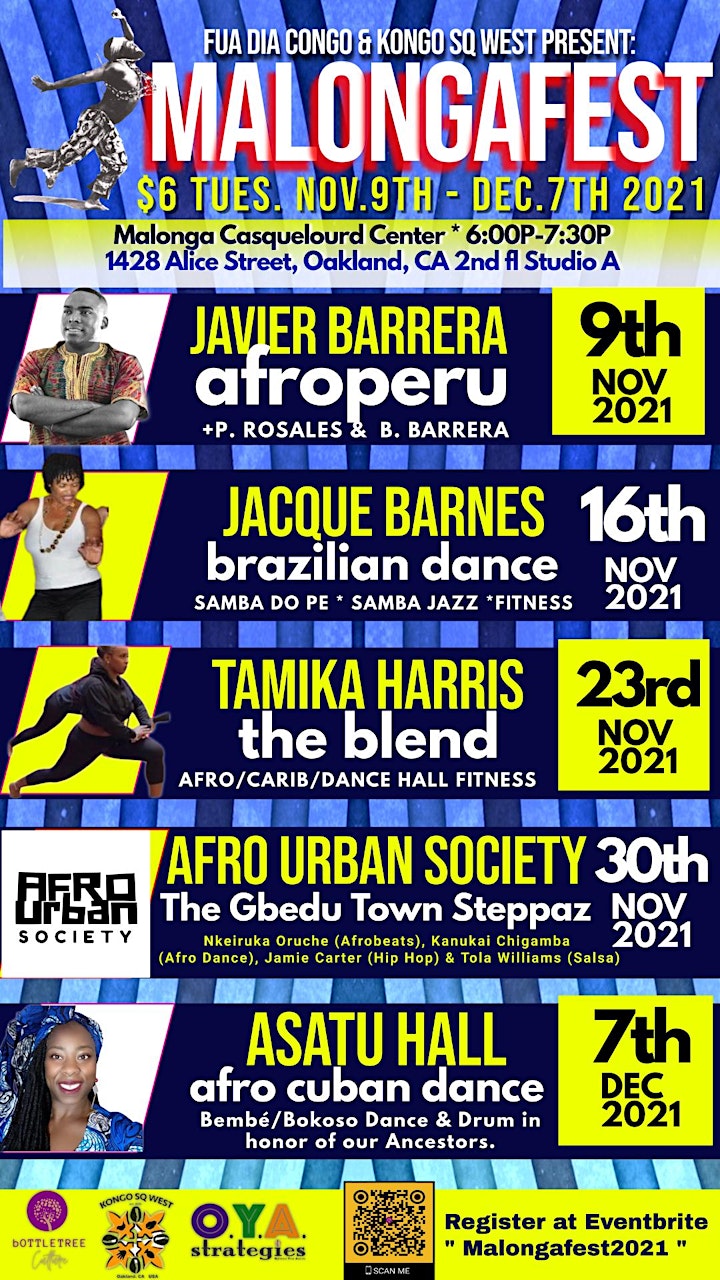 $6 Tuesday night workshops now throughout December 7th, at the Historic Malonga Casquelourd Center for the Arts, Oakland, CA.
#MalongaFest2021 just keeps on giving us Life, Dance and Joyful Remembrance! Check out how we are casting our light through this stellar lineup.
Our amazing multigenerational guest artists represent some of the Bay Area's most dynamic dancemakers and keepers of cultures. What truly distinguishes them is their commitment to serve, enrich and transform our community through art.
Matondo, Malongafest2021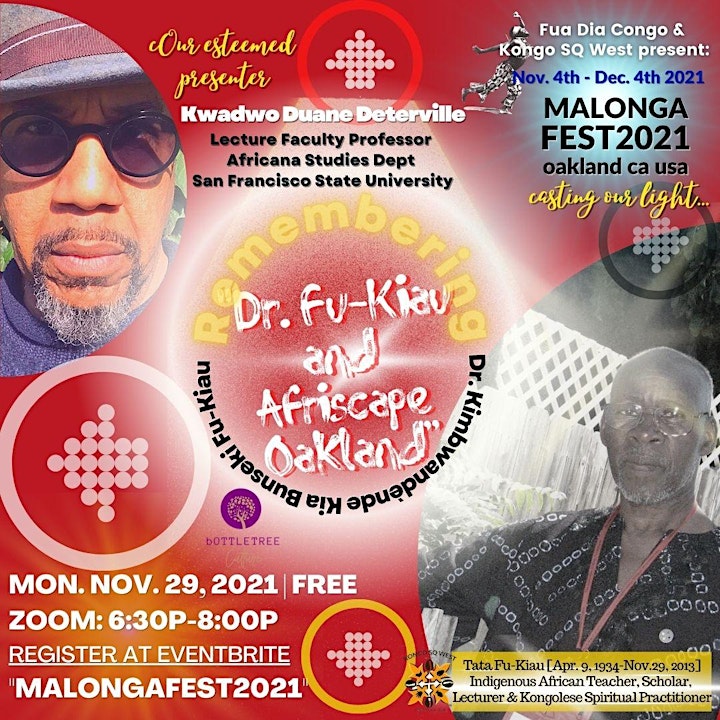 Talk/Slideshow Presentation: "Dr. Fu-Kiau and Afriscape Oakland" Q&A to follow
ABOUT OUR ESTEEMED PRESENTER OF KINSHIP:
Professor Kwadwo Duane Deterville is an artist, writer and scholar of visual culture. A former Contra-Mestre of the African Brazilian martial art known as Capoeira, his primary area of study is in African and African Diasporic cultural expression. His visual art practice is focused on drawings that address the intersection between symbols and ritual in African Diasporic religions. His artwork has been shown both domestically and abroad.
As a teaching artist he designed lesson plans and curriculum to teach art to youth incarcerated in San Francisco. Deterville received his BFA and an MA in Visual and Critical Studies (2009) from the California College of the Arts located in San Francisco California. In 2015 he received the Visual and Critical Studies department's alumni award and was the second scholar to receive the honor. Deterville is currently lecture faculty for San Francisco State's Africana Studies Department.
Kwadwo Duane Deterville | 510) 501-1919
Artist/Writer/Scholar of Visual Culture
MA, Visual and Critical Studies
California College of the Arts Residency: KROWSWORK https://www.krowswork.com/duanedeterville.html
Alumni Columnist for the SF MOMA's Open Space https://openspace.sfmoma.org/author/duane-deterville/
BOOK: "Black Artists in Oakland" by Jerry Thompson and Duane Deterville at Books Inc.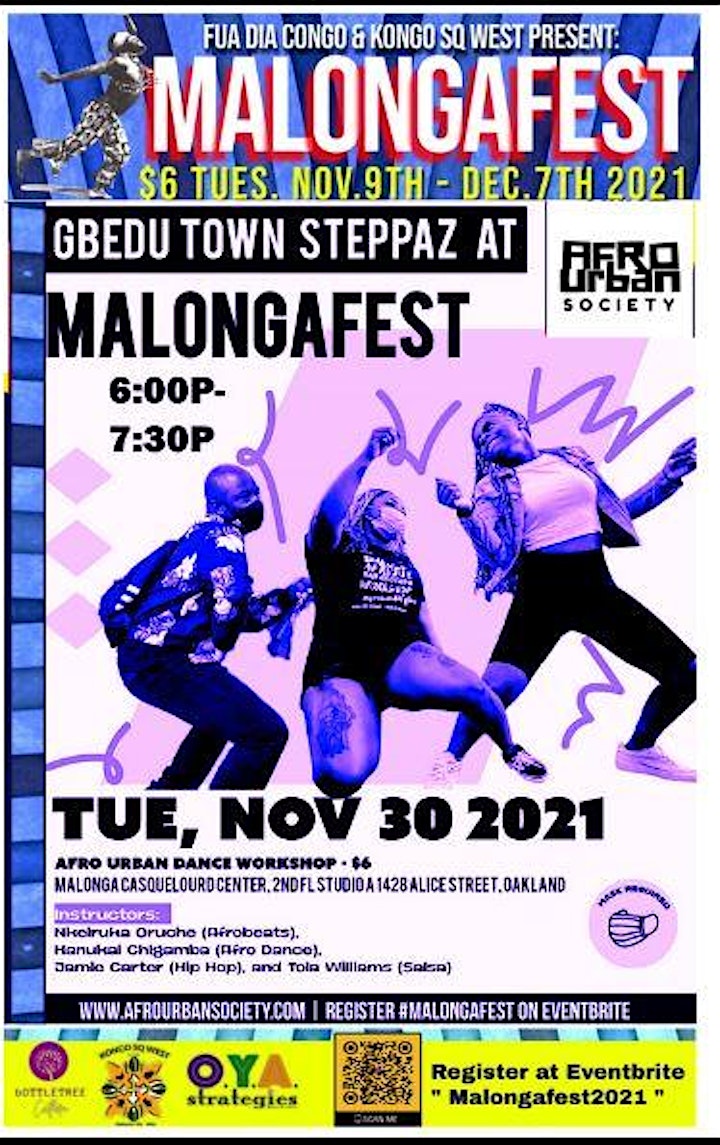 Tune in to one of our favorite Dance kinship portals Gbedu Town Steppaz joining #Malongafest2021 in full Dance Society mode to permeate the Malonga Center atmosphere this Season. Matondo!!!
The Gbedu Town Steppaz will lead the workshop focusing on different dance styles. Get the vibe! Dance workshop is open to all levels. Highlighting Teachers: Nkeiruka Oruche (Afrobeats), Kanukai Chigamba (Afro Dance), Jamie Carter (Hip Hop) & Tola Williams (Salsa)
Gbedu Town Radio is a project of Afro Urban Society, an incubator and presenter of Afro-Urban performing and visual arts, culture, media, and social discourse. A lively group of dancers, musicians and all-around performers representing the diverse African Diaspora, they are your bus ride to an upbeat romping, riveting and rousing time.info: AfroUrbanSociety.com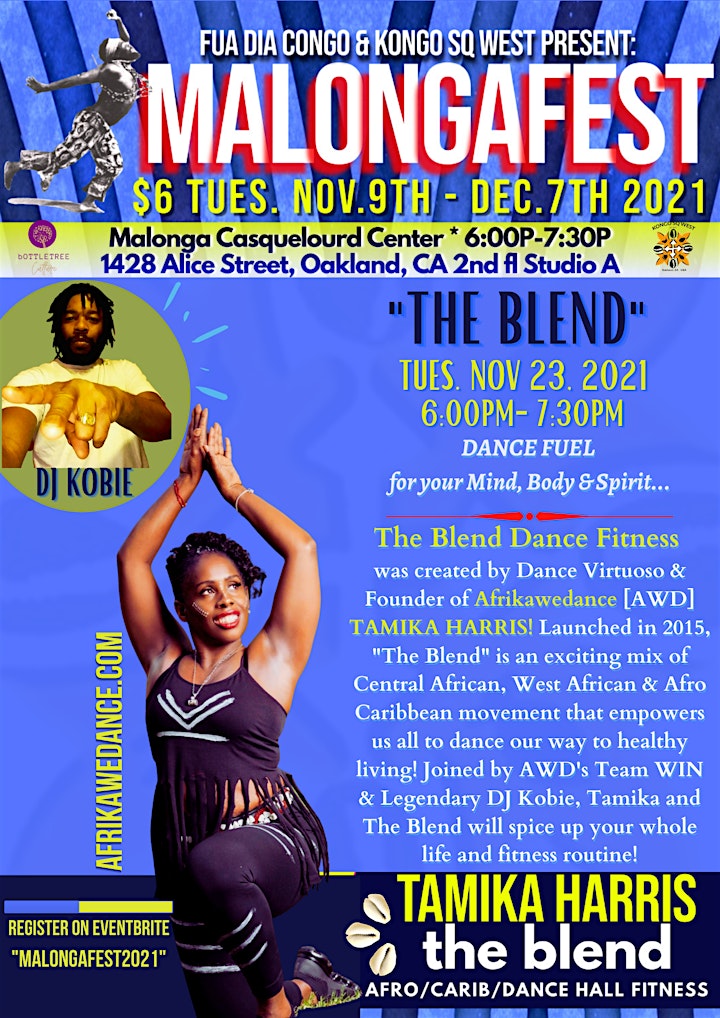 Powerful Dance Agent, Tamika Harris harnesses all of her gifts, experiences and her own powerful artistic vision through Afrikawedance.com, Team Win Dancers and The Blend Dance Fitness. As a founder, creator and dancemaker, Tamika shares her unique artistic voice and and rich perspective to inspire audiences and dancers around the world! Come experience "The Blend" featuring Tamika Harris, Dj Kobie and #TeamWinDancers, at #MalongaFest2021 Tuesday 11/23 @6PM! It is our honor to present this exciting Dance fitness class! info: afrikawedance.com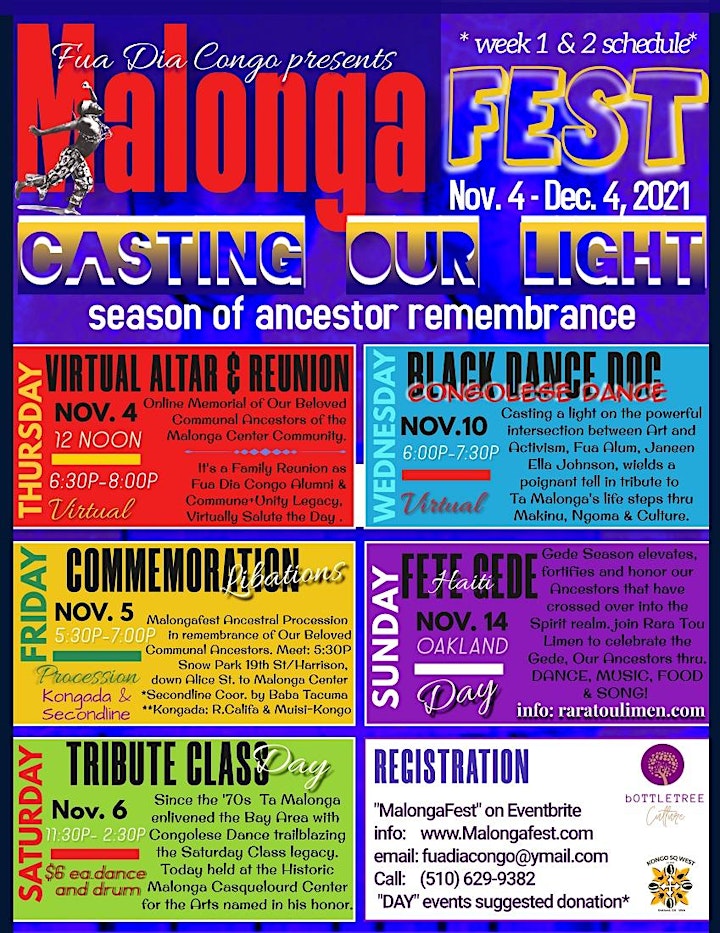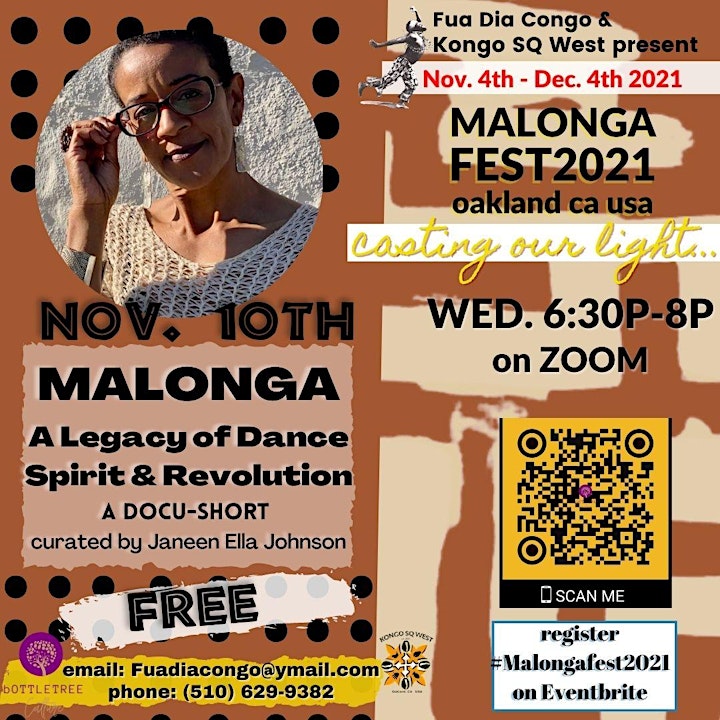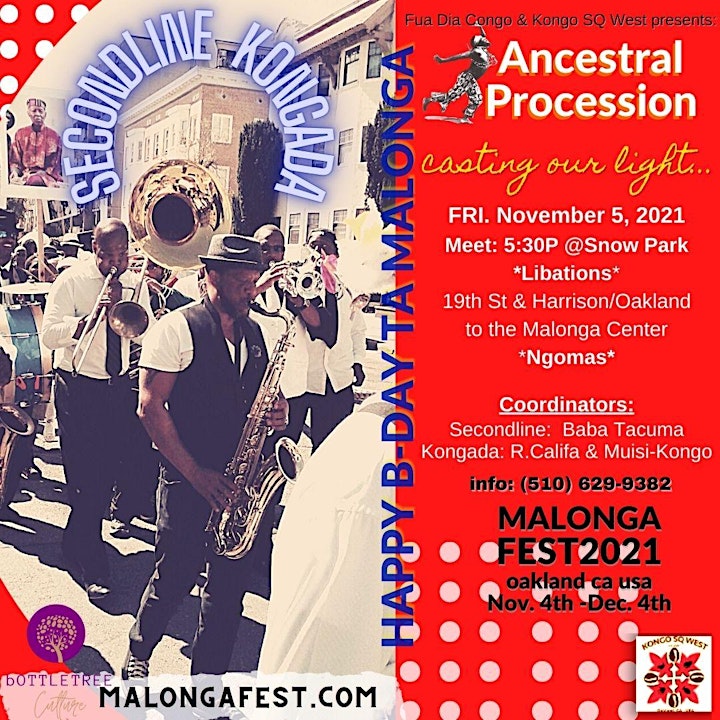 Happy Birthday Ta Malonga - Nov. 5th | 5:30 meet at Snow Park 19th St * Harrison
Ancestral Procession
Agogos, Chekeres, clave sticks, Core Surdo Players, Veteran brass & horns, Parasols, Umbrellas, bandanas & Bom Axé. Libations to open, Ngomas to close. Join in this Ancestral Celebration, a gathering of Commune+Unity of the Malonga Center.
Secondline Coordinated by Baba Tacuma Kongada: R.Califa and Muisi-Kongo
Our go to for poster-size photo enlargements, to honor your Ancestor Replica Digital link in Berkeley: Address: 2138 Oxford St, Berkeley, CA 94704
Place your order online: https://store.replicadigitalink.com Replica Digital Ink ph: 510) 573-7149
#givepraisetolife