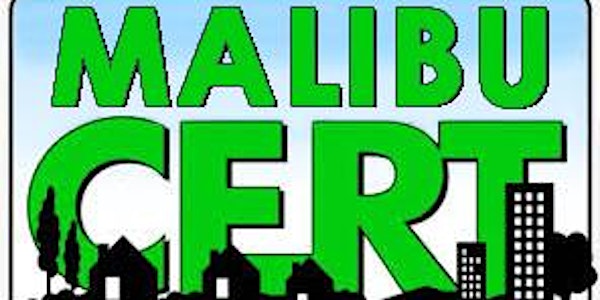 Malibu CERT Class
The Community Emergency Response Training (CERT) is a FEMA community disaster preparedness program.
When and where
Location
Malibu City Hall 23825 Stuart Ranch Road Malibu, CA 90265
About this event
What is CERT?
CERT is a highly-acclaimed program of free courses administered by the City of Malibu and by public safety agencies across the country that empowers citizens to help during disasters. Through hands-on training, participants learn the most up-to-date information on basic disaster preparedness, the use of a fire extinguisher, disaster medical care, first aid, search and rescue techniques, disaster psychology, and neighborhood team building.
CERT Team volunteers are a crucial part of the City's ability to prepare and respond to disasters. The program will run Wednesday evenings from 6:00 PM to 9:00 PM, and the final will be on the Saturday following the last class. Participants must complete all 7 classes, and the final to receive a certificate of completion.
CERT Class Schedule:
Wednesday, June 15, 6:00 PM - Units 1 & 2
Wednesday, June 22, 6:00 PM - Unit 3
Wednesday, June 29, 6:00 PM - Unit 4
Wednesday, July 6 - NO CLASS
Wednesday, July 13, 6:00 PM - Units 5 & 8
Wednesday, July 20, 6:00 PM - Unit 6
Wednesday, July 27, 6:00 PM - Unit 7
Saturday, July 30, 9:00 AM - Final Drill
For more information, visit www.MalibuCity.org/CERT. For questions or registration issues, please call Public Safety Specialist at 310-456-2489 ext. 368 or send an email to PublicSafety@malibucity.org.