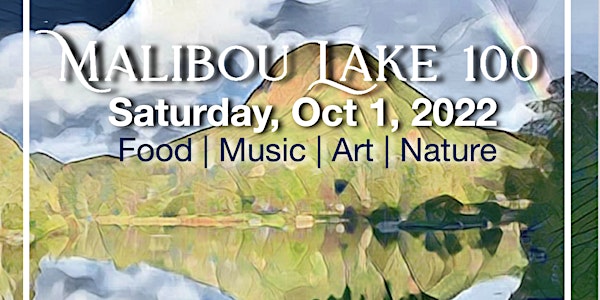 Malibou Lake 100 Centennial Public Celebration!
A public celebration of a 100 years of Malibou Lake! Art Fair, Food Trucks, Live Music, Nature and more. Fun for all ages!
When and where
Location
Malibou Lake Mountain Club -- with parking only at Paramount Ranch 2903 Cornell Rd Agoura, CA 91301
About this event
Saturday October 1st, for one day only, Malibou Lake is celebrating its historic community's centennial with local artists, vendors and businesses. All are welcome!
Fun for the whole family!
Art Fair! Luisa Millicent and Allied Artists of the Santa Monica Mountains and Seashore
The music of the mountains with 6 live bands from 12-7pm
A day not to be missed!
Free admission with $15 parking.
Air conditioned shuttle from Paramount Ranch * just 3 minutes down the road.
RESERVE YOUR PARKING NOW!
Timeline of Events:
All Day: Music, Food & Art
Luisa Millicent & Allied Artists of the Santa Monica Mountains and Seashore Art Fair and Sale on the clubhouse lawn!
Talks all day in our beautiful and historic clubhouse
11am- Native Plant talk- Mark Abrahamson with Eco Malibu
12 pm -Rock talk- Geology of The Santa Monica Mountains with the Del Air Rockhounds
1pm - The Wildlife around us - California Wildlife Center
2pm - Life in the Water - Aqua Bio
3pm- One magical Mile- Malibou Lake 100 with Brian Rooney
ALL DAY AND ON THE HOUR
All Day- Observation Bee Hive with Save My Bees
On the 30. 11:30-5:30- Nature walks with California Wildlife Center
On the 15. 11:15-5:15- Tours of Malibou Lake's main campus
Kids crafts (schedule TBD- paper bag canoes, coffee filter butterflies and painted rocks. Creativity all day)
A Bounce House
Face painting
and much more!
Food trucks are LA Shaved Ice, Basta Wood Fired Pizzas and Rock Chef Rolls.
RESERVE YOUR PARKING TODAY!
Be sure to come check out our little historic rural village and celebrate our 100th on October 1st! We can't wait to welcome you to the event.
Reserve your parking now (mainly so the organizers can shake that "what if nobody comes" fear, ya know?)
Full Music Schedule
Local/High School groups (10:00am-11:45am)
The Blue Dolphins (12:00pm) - The Blue Dolphins are a Los Angeles-based songwriting duo composed of singer/songwriter Victoria Scott and four-time Grammy Award-winning producer/engineer Alfonso Rodenas. Characterized by beautiful melodies, tight harmonies and an uplifting positive mood, their musical style embraces Folk, Pop and Rootsy Rock with a unique timeless quality.
Kris Angelis (1:00pm) - Kris Angelis is a radiant singer/songwriter who writes lyrics that read like poetry and delivers harmonies imbued with a sense of longing. She delivers folk/pop music with a hint of southern charm and touches on every aspect of human nature in a unique and engaging way. 
I See Hawks in L.A. (2:05pm) - I See Hawks in L.A. are Southern California's leading alt country/Americana/folk rock band, with 10 critically acclaimed albums. The Hawks are noted for their lyrical celebrations and lamentations of earth and ecosphere, odes to the endless highway, and wry social commentary.
The Sounds of Ghosts (3:15pm) - The Sound of Ghosts are an Americana roots musical collective from Los Angeles, who have crafted a musical experience unlike any other with their unique arrangements and vast variety of influences. A culmination of traditional front porch Americana, folk-laden melodies and vintage rock'n'roll.
Ted Z & the Wranglers (4:25pm) - Ted Z and the Wranglers, hailing from Southern California, deliver outlaw country-charged rock. Ted's catchy story-songs are fully-realized tales of love, regret, getting older, and getting in trouble. The band stirs up its Americana influences, featuring quick picking and bluesy slide guitar over galloping train beats and swinging shuffles.
Sam Morrow (5:45pm) - Sam Morrow cites classic southern rock legends Little Feet, Lynyrd Skynyrd and ZZ Top, along with country music Hall-of-Famer Waylon Jennings among his primary influences. He performs a unique blend of music that's sometimes funky and soulful, sometimes country, yet always steeped in his unique brand of southern-inspired rock and roll.
RESERVE YOUR PARKING NOW
See you there!
*no parking is available onsite in our little old place, so we partnered with Paramount Ranch to provide it.
KID'S AREA DETAILS
All Day: nature walks, face painting & bounce house
Craft time (schedule TBD)
Paper bag canoes, Painted Rocks and
Coffee Filter Butterflies
At this time of year, the Malibou Lake has naturally occurring algae. No swimming or fishing offered at this event. Malibu Creek State Park and the world famous beaches of Malibu are nearby, make a day of it!
SPECIAL THANKS TO GABRIELLE HARRIS of SAGE HILL WINES, 14 CANNONS and HOMEWOOD SUITES by HILTON for supporting Malibou Lake Mountain Club and the Lodge at Malibou Lake with sponsorship!