Mali: Peace & Reconciliation/ La paz y la reconciliación/ La Paix en Malí
Fifth pre-conference session, Peace & Reconciliation in Mali /La paz y la reconciliación/Paix et réconciliación en Mali
About this event
Webinar: Building the Road to Peace and Reconciliation in Mali / Construyendo el camino hacia la paz y la reconciliación en Malí/Construire le chemin de la paix et de la réconciliation au Mali
Simultaneous translation: Française, Español, English
As the Malian Commission for Truth, Justice, and Reconciliation (CVJR) approached the end of its first five-year term in 2018, they sent a small delegation to Bogota, Colombia to consult with the Colombian Truth and Reconciliation Commission (CEV). Both countries had experienced a long history of violence, although arguably the level of organized hostility in Colombia was much higher, more lethal, and more constant than the levels of violence in Mali. This session provides a view onto the Malian process for any who share an interest, including future delegates to "Development in Times of Conflict," the Twelfth Congress of the International Development Ethics Association, to be held in Medellín in summer 2022.
Wednesday, November 10, 2021 10:00am - 12:00pm, Colombia time (GMT-5)
Miércoles 10 de noviembre de 2021, 10h - 12h00 (GMT-5)
Mercredi 10 de novembre de 2021, 10h - 12h00 (GMT-5)
Webinar meeting address (active at meeting time): to be announced
Moderator / Moderador: Stephen L. Esquith, Professor, Residential College in the Arts and Humanities, and Department of Philosophy, Michigan State University, USA
Discussants / Panelistas:
Welore Tamboura, Dr. Tamboura is Instructor, Institut Universitaire de Technologie, Universite des Lettres et des Sciences Humaines de Bamako, Mali
Boubacar Garango & Moussodjie Dembele, Charge des activités de leadership social et communautaire, Institut pour l'Education Populaire (IEP) Kati, Mali & Coordinateur des activités de leadership social et communautaire, Institut pour l'Education Populaire (IEP) Kati, Mali
Julia Bello-Bravo & Barry Pittendrigh, Co-Directors and founders, Scientific Animation without Borders (SAWBO). Assistant Professor, Department of Agricultural Sciences Education and Communication, Purdue University, USA & Professor, Department of Entomology, Purdue University, USA
Further details for this session here. Más detalles para esta sesión aquí. Plus de détails pour la session ici.
Seminar series announcement general details here. Detalles generales del anuncio de la serie de seminarios aquí.
Página principal de la conferencia/Main conference website: http://devethics2021.unaula.edu.co/
Queries may be directed to conference2021med@unaula.edu.co
For one language, please set the Translation/Traduccion/Traduction mark at the bottom of your zoom screen for the full session.
Para un idioma, establezca la marca de traducción / traducción / traducción en la parte inferior de la pantalla de zoom para la sesión completa.
Pour une langue, veuillez définir la marque Traduction/Traduccion/Traduction en bas de votre écran de zoom pour la session complète.
Questions and comments - Preguntas y comentarios - Questions et commentaires
• Use "Chat" in zoom to provide comment as the presentations proceeds.
• Use "Q&A" in zoom to provide questions that will be asked of the speakers.
• Use el "Chat" en Zoom para hacer comentarios de las presentaciones.
• Use la opción Q&A en zoom para hacer preguntas a las/os invitadas/os.
• Utilisez « Chat » dans le zoom pour fournir des commentaires au fur et à mesure que les présentations avancent.
• Utilisez « Q&R » en zoom pour fournir les questions qui seront posées aux orateurs.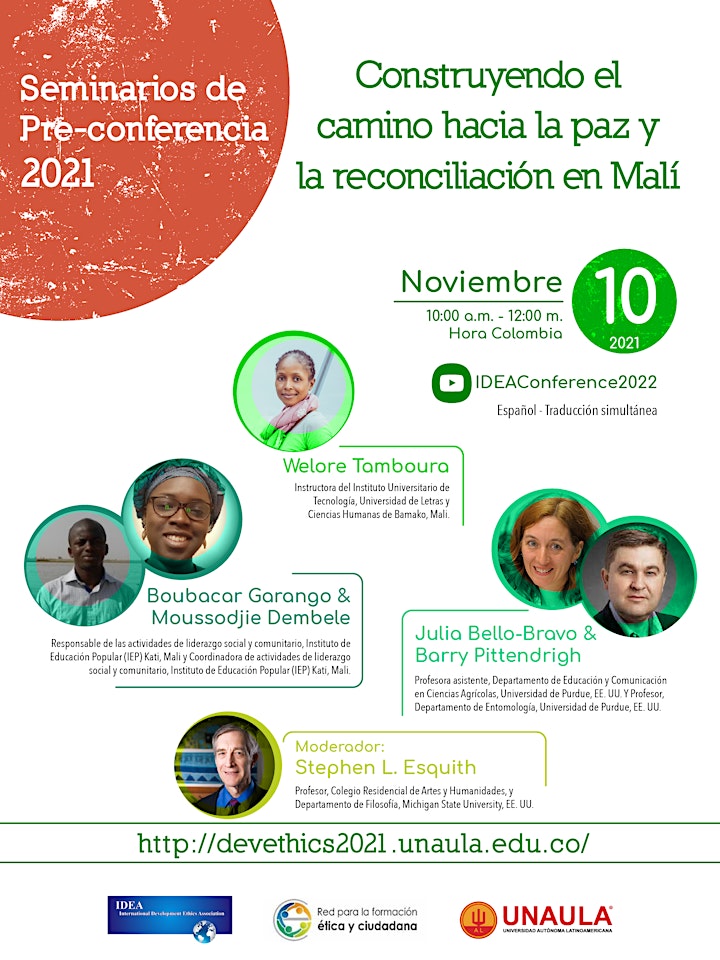 Organizer of Mali: Peace & Reconciliation/ La paz y la reconciliación/ La Paix en Malí