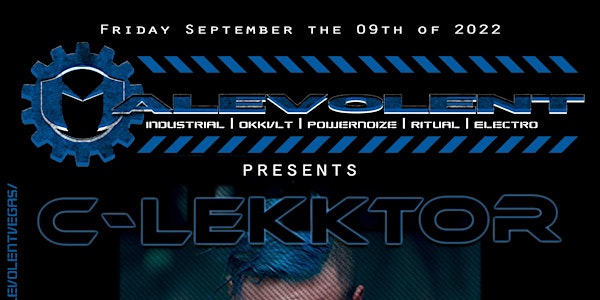 Malevolent Presents: C-Lekktor
Malevolent Presents: C-Lekktor + The BA Sisters + Clockwork Echo Spinning Industrial 'til 4 A.M.
When and where
Location
The Dive Bar 4110 South Maryland Parkway Las Vegas, NV 89119
About this event
Friday, September the 9th of 2022
MALEVOLENT
Presents:
C-LEKKTOR
+
BA SISTERS
(Industrial/Metal from Argentina)
+
Clockwork Echo
(EBM Aggrotech)
This is Las Vegas Industrial.
☠Industrial, EBM, Aggrotech, PowerNoize, TechnoEBM, IndustrialTechno, Post-Industrial and requests.
☠ We spin artists like SUICIDE COMMANDO, AESTHETIC PERFECTION, AND ONE, SOLITARY EXPERIMENTS, HOCICO, X-RX, VNV NATION, GRENDEL, ROTERSAND , ASSEMBLAGE 23, AND ONE, SEABOUND, FRONTLINE ASSEMBLY, KMFDM, TRISOMIE 21,SCHWEFELGELB, W.A.S.T.E., TR/ST, HECQ, THE BLACK QUEEN, INCUBITE, GESAFFELSTEIN, REZZ, EISFABRIK, FICTIONAL, CABARET NOCTURNE, NUMB, GOD MODULE, SCHLAGSTROM, ESPERMACHINE, CONVERTER, NOISEX, ALTER DER RUIN, IMMINENT STARVATION, IVARDENSPHERE, SNOG, CAUSTIC, ALIEN VAMPIRES, SKINNY PUPPY, TERENCE FIXMER, AEON RINGS, ARCHITECT, CRYO, AGONOIZE, BLACK LIGHT SMOKE, FIENDFLUG, FRACTURED TRANSMISSION, HORSKH, EMPATHY TEST, MEATBEAT MANIFESTO, HYPNOSKULL, MASCHINENKRIEGER, KONER, CONFIG.SYS, 13th MONKEY, PHOSGORE, ESA, C-LEKKTOR, SOLITARY EXPERIMENTS, FUNKER VOGT, AURAL BLASPHEMY, P@L, DOWNLOAD, ISZOLOSCOPE, ANGELS AND AGONY, THE KLINIK, MELOTRON, HOW TO DESTROY ANGELS, NA-HAG, NITRONOISE, UNHEILIG, VALIUM ERA, FGFC820, ALIEN VAMPIRES, MELOTRON, FRONT 242, LEATHER STRIP, S-STALKER, ROPPONGI PROJECT, MONDTRAUME, DOTCORE, FABRIK-C, PROJECT PITCHFORK and your requests...
☠ From labels such as Metropolis Records, HANDS, Ant- Zen, Bloodline, Hymen, Zoth-Ommog, Negative Gain, Re:Mission Entertainment, Dependent Records, Re-Constriction Records, Wax Trax, Digital Hardcore Recordings, Dutro, ROIR, Pharmafabrik, Ad Noiseam, 21st Circuitry, Cleopatra Records, Soleilmoon Recordings, Memento Materia, Dynamica and More!
☠ DJ's Thaad,Morbid J, Revenant, Kris Toxn and Thorn Blackfire
More TBA
Covid 19 Restrictions are still in place. Masks and Vaccinations are requested by the promoter in order to attend.
Thank You.
$ 10 Presale
$15 atd.
Capacity is limited.
☠ 9:00 PM - 4:00 AM
☠ TheDive Bar - 4110 S. Maryland Prkwy
Las Vegas, NV 89101
☠ Electronic Music Means War To Us.
Presale Tix are available at,
https://www.eventbrite.com/.../malevolent-presents-c...
#Industrial #ebm #aggrotech #futurepop #cyber #cybergoth #noize #goth #Synthpop #neogoth #darkwave #powernoize #Fetish #LasVegas #Nightlife #LasVegasIndustrial #powernoisemovement #clekktor