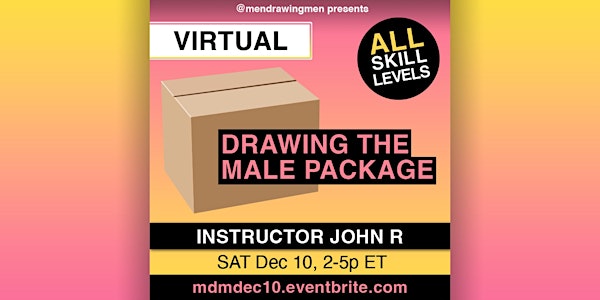 Male Package Class (VIRTUAL) SAT Dec 10, 2-5:30p ET (NYC)
Men Drawing Men (VIRTUAL) SAT Dec 10, 2-5:30p ET (NYC)
Refund Policy
Refunds up to 1 day before event
About this event

How to Draw the Male Package!
Special class (Zoom only) with John R! He will teach you how to draw the male package!
SATURDAY December 10, 2-5:30p ET (NYC time).
Check your time zone. (https://www.timeanddate.com/worldclock/).
EARLY BIRD TICKETS - $63
REGULAR TICKETS - $75
REPLAY + REGULAR TICKETS - $125
Problems buying a ticket? Click here for common problems.
If you are a student or are struggling financially, email us by clicking "Contact Organizer."
Guest Instructor JOHN R
My friend, fantastic artist, and member of Men Drawing Men / Men's Naked Drawing Group, John R will be teaching an in-depth class on how to draw the male package, male P - or whatever name you want to call it.
John is taking a break from Instagram. However, John's Twitter is working: https://twitter.com/StudioMaleArt
CLASS CURRICULUM:
Full-figure pose - cut, soft - Jesse
Seated-figure pose - uncut, soft - Kees
Close-up pose - cut, soft - Stephen
Close-up pose - uncut, soft - DMAC
Close-up pose - cut, hard - Stephen
INFO
3-1/2 hour class
Male-identified persons only
Over Zoom
Handouts and Reference Photos provided
Session will be recorded. Replay Ticket available.
You do not need to turn your camera on.
Please do not take screenshots.
Clothing is optional - wear or don't wear clothing, whatever is comfortable for you. Please be aware that most of our members prefer not to wear clothes.
MATERIALS NEED:
Drawing pad, iPad/tablet
Pencils or charcoal pencils, or whatever you want to draw with.
Reference photo models:
Because this male body part has a mind of its own, so we're going to use reference photos of our models. Check out their Instagrams:
Jesse: https://www.instagram.com/jesseherndon/
Kees: https://www.instagram.com/65_kees/
DMAC: https://www.instagram.com/dmaclifedrawing/
Stephen: https://www.instagram.com/whiterunner54/
OTHER NOTES ON BUYING A TICKET:
(Processing by PayPal. PayPal account not required - if you want to pay by credit card, choose "buy as guest.") NOTE: if this doesn't work, you can email me to pay by Venmo or PayPal directly.
IMPORTANT NOTE FOR IPHONE USERS: Eventbrite has disabled in-app purchases from iPhones. You can still buy tickets using the Safari browser. Android users are not affected by this change.
You MUST answer all the required questions AND mark the check box to accept Eventbrite's terms. Otherwise you won't be able to complete your purchase.
FOR EASY ACCESS TO THE ZOOM CALL, USE THE "VIEW THE EVENT" BUTTON. THE ZOOM LINK IS ALSO INSIDE THE EVENTBRITE CONFIRMATION EMAIL!
Scroll all the way down to Additional Information). It's also in the PDF TICKET. -- CHECK YOUR JUNK/SP_M FOLDERS!
Questions?
shungaboy@mendrawingmen.com (please include your first name in your email)
Follow us on Eventbrite to get notified first: https://mendrawingmen.eventbrite.com