Description
INTRO TO MALE BURLESQUE (LEVEL 1)
Beginner classes for guys, boys, men, drag kings, butch aficionadas..!
In this 3-week series, we will learn the fundamental concepts of "masculine" burlesque movement and dance, while getting you started working on the basic building blocks of crafting individual solos derived from your own unique dance (and non-dance) experiences.
1. Persona & Presence
2. Dynamic Presentation
3. Undress with finesse (practical striptease fundamentals)
4. Putting it all together (burlesque mini act rough drafts, improvisation activities)
* Includes access to private student website for additional resources, video tutorials, and more!
Open to people of all shapes, sizes and backgrounds, 18 years and older. No prior dance experience necessary!
Led by HARDEN REDDY (Burlesque Hall of Fame "King of Boylesque" 2016) & Mynx d'Meanor (Artistic Director).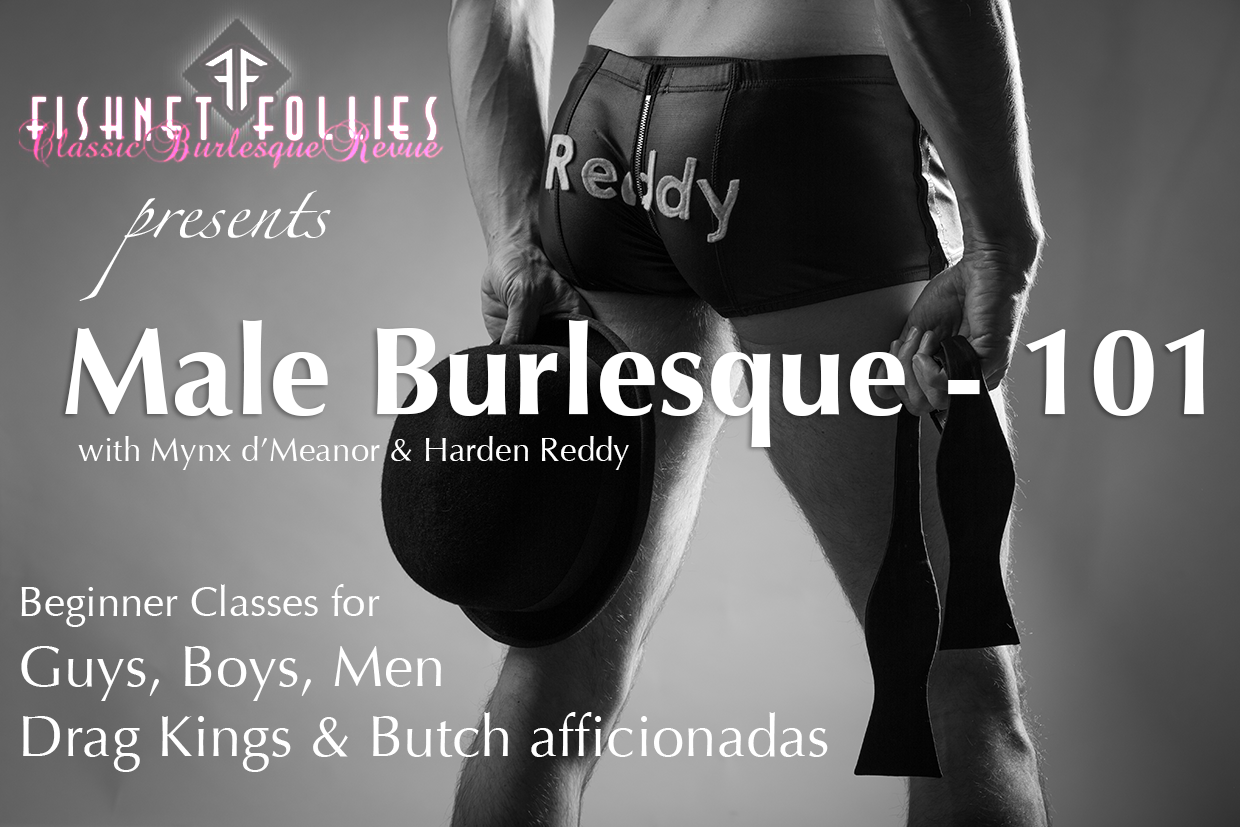 ---
NOTES/FAQ:
* You do not have to have a solo act idea before taking this session. That's what these classes are for– learning/practicing the fundamental building blocks of burlesque to give you a taste and get you started on your journey as a soloist!
* Much of what we learn and practice in this class can be applied to everyday life--"all the world's a stage", after all! Give yourself an extra kick to pepper through your 9-to-5 days. Also fun for anyone who just wants to dabble in burlesque without feeling bound by fitting into group dance routines.
* For those more seriously pursuing solo burlesque side-careers: Level 1 leads into Level 2, which delves deeper into the process of creating your own unique acts (see Level 2 description). After that, Level 3 gives you an opportunity for 1-on-1 coaching/mentoring to fully refine and polish your act(s), along with leads on how to book your latest creation.
* More questions? Email fishnetfollies@gmail.com
---
SCHEDULE
Mon / SEPTEMBER 12 - 26, 2016 / 7:30PM – 9:00PM
COST
Registration: $80.00
MORE INFORMATION
Go to www.fishnetfollies.com for more info on class policies, what to wear/bring, etc.
---
Fishnet Follies School of Classic Burlesque was voted "Best School for Showgirls" in East Bay Express 2015 and an Editor Pick in Diablo Magazine Best of the East Bay 2011:
"Pint-sized performer and Fishnet Follies leader Mynx d'Meanor keeps things fun with her goofy sense of humor and easy directions. Don't let her size fool you: This petite woman is a fiery, sensual vixen, well schooled in the art of the tease.D'Meanor focuses on the classic burlesque, with slow, elegant, and sophisticated moves. Along with teaching the choreography of two popular Fishnet Follies dance numbers, she coaches students on proper posture—creating long lean lines by emphasizing your body's best assets through pinup-inspired poses—and how to move evocatively with a deliberate, sensuous grace." - Diablo Magazine
---