Malbec with Mike: A Wine Pairing x Album Listening Experience
About this event
Wine... you've had it before but not like this. Hip-Hop ... you've heard it before, but not like this. Vine of the Rhyme and LLeft Entertainment are coming together again to bring you a unique album listening experience featuring Off the Wall by Michael Jackson.
Join us for a Hip-Hop/R&B happy hour Wednesday, September 18 5:30P-8P at City Winery as the Vine of the Rhyme crew pair wine with the sounds of Off the Wall. Plus music industry vet Tracey Lee and music producer Ojizz will share an insider's insight into the impact of this classic album.
Limited Early Bird tickets are available starting at $15.
Follow @Vineoftherhyme on IG to check out our previous Vine of The Rhyme events featuring My Life by Mary J. Blige, illmatic by Nas, and Expect the Unexpected by Tracey Lee.
Curious about what a music/wine pairing sounds like... here is a sample of our NxNW Chardonnay mix
https://www.mixcloud.com/Dr_DeepCrates/smooth-taste-profile-mix-nxnw-chardonnay/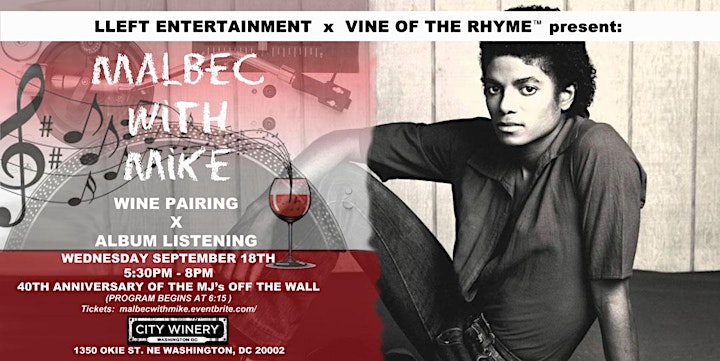 Organizer of Malbec with Mike: A Wine Pairing x Album Listening Experience