Malaysian Indian Digital Economy Conference 2018 (MIDEC18)
Sales Have Ended
Registrations are closed
Thank you for having an interest to visit the exhibition. If wish to participate in Conference please grab a VIP Pass at : www.gosmvevents.com/store To book a table booth : https://gosmvevents.com/midec18/booth/
Sales Have Ended
Registrations are closed
Thank you for having an interest to visit the exhibition. If wish to participate in Conference please grab a VIP Pass at : www.gosmvevents.com/store To book a table booth : https://gosmvevents.com/midec18/booth/
Description
For more info: www.gosmvevents.com/midec18
RM80.00 Buy VIP pass to Participate in the Conference

Benefits: 1 Free ecommerce Portal + Food voucher + Front Seat
To confirm your participation : SMV Events, RHB Bank : 2121 6100 0653 87, Pls Whatsapp to +60142534893 or email to : smvevents2u@gmail.com
RM50.00 can pay at the entance if ONLY wanted to participate the Conference (Behind Seat)
Free for exhibition area.
++++++++++++++++++++++++++++++++++++++++++++++++++
What is MiDEC ?
Malaysian Indian Digital Economy Conference 2018
This event organised by SMV Events and patronized by Chamber of Digital Entrepreneurs Development, Malaysia and encouraged by Ministry of International Trade & Industry (MITI) since 2017. We also been strongly supported by ASEAN INDIA BUSINESS COUNCIL.,KLPICC, SICCE
We are the leading and pioneer event in Malaysia to highlight the emerging of Digitalisation & E-Commerce Eco-System to Malaysian since 2017. Our ultimate aim is to encourage ASEAN and Malaysian Entrepreneurs to participate in Digital Economy.
Schedule / Agenda Conference:
08.30am - 09.00am :Registration
09.00am - 09.10am :Arrival of VIP & Guest of Honour
09.10am - 09.30am :Opening Address Mr Ganesh Kumar Bangah, Chairman Pikom
09.30am - 10.30am : E-Commerce Forum
Dato Sri Andy:Founder & MD of Everest Group Ecommerce and Logistic Experience
Mr Joachim Sebastian. Founder of Everpeaks Consultancy & Ambassador for Payoneer.
Ms Vickie from Commerce Asia
Ipay88 Representative
10.30am - 11.00am : Cross Boarder Selling & DFTZ By Ms Carol Fung (MDEC)
11.00am - 11.30am : Break
11.30am - 12.20pm : Digitalization Process & Industry 4.0
Dato Sri Ganes : Sg Academy
Mr Jeyasigan Narayanan Nair - Director of Advance Tech and R&D, MIDA IR4.0
Mr Imran Kunalan - University Malaysia of Computer Science & Engineering
Dr Harjit Sidhu - Moderator from Quantum Achievers International Sdn
V.K.K. RAJASEKARAN, President Industry 4.0 Association Malaysia
12.20pm - 01.00pm : Indian Women In Digital
Sashikala - Director Sme, HRDF - New Business Opportunity for women
Munisvari Paranjodi, Hers Manufacturing- Expo In China
Viji Ramasamy Pillai- Maxvue Vision Sdn Bhd - Exporting Contact lense to 60 countries
Moderator: Dr Umaiyal Munusamy - Ambassador of Sustainable Development Goal
01.00pm - 02.00pm: Lunch Break
02.00pm - 02.45pm : Youth Digital Entrepreneurship
Mr Alvin Sinclair - VBuzz Fame
Mr Chandra - CEO of Mammam Food delivery
Ms Banu TK - The preparation & Power of Networking
Dr Suthan Kaveri - Moderator.
02.45pm - 03.20pm : Start ups & Crowd Funding
Dr V.Sivapalan - President, Malaysian Business Angel Network
En. Sam - CEO of Pitch Platform Sdn Bhd
Mr Suresh Naidu - ICO & Blockchain Tech
Mr Bala Guru - Tekun National
Mr Lallan - Blue Micro Solutions Sdn Bhd - Moderator
03.20pm - 03.50pm : Break
03.50pm - 04.45pm : Indian Chambers Participation in Digital Economy
MAICCI, KLSICCI, KLPICC, IMINE, NSIE
04.45pm - 05.00pm : Special Address By Organising Chairman
05.00pm - 06.00pm : Key Note address by Yb Senator Tuan Waytha Moorthy, Minister in Prime Minister office.
Contact +60142534893 (Hotline)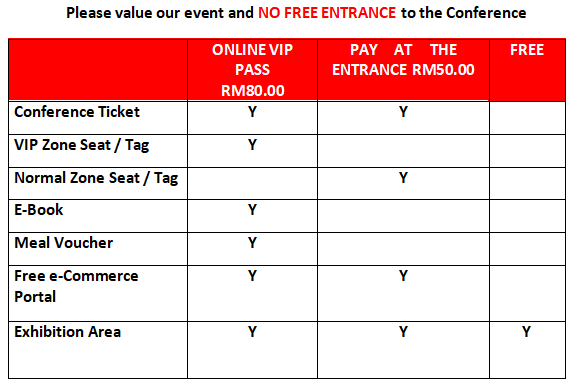 Organizer of Malaysian Indian Digital Economy Conference 2018 (MIDEC18)