Description
A Seminar on Design Thinking and Industry Processes; Pushing Boundaries for Global Presence
---
The inaugural seminar on Malaysian Designscape organized by Institute of Creative Arts and Design (ICAD), UCSI University, will be held on 19 July 2017. It will be conferred at UCSI's very own Le Quadri Hotel Ballroom in Cheras, Kuala Lumpur. The seminar theme is "Design Thinking and Industry Processes; Pushing Boundaries for Global Presence".
The seminar will have leaders from various areas of design and industry as speakers and forum panelists. It will be a convergence of multi and interdisciplinary experts that will provide a platform and much needed framework for the future of the Malaysian Designscape.
It will be an honor and pleasure for ICAD to welcome and host the speakers, panelists, and audience in a conducive environment with the aim to learn from each other. Issues and concepts such as design thinking, technology game-changers, business inferences, social and cultural perspectives, among others, will be discoursed through keynotes and forum sessions in the one-day seminar. It is also envisioned that this seminar will become a full-fledged conference with paper presentations from academics and practitioners worldwide in the near future.
Speakers;
William Harald-Wong (keynote) – WHW & Associates Sdn Bhd
Eugina Lee – Royal Selangor International Sdn Bhd
Faizal Hamid – Fashion Department, UiTM
Asri Ahmad – Rifaei Chua Sethi, Rekanegara
Shukri Rifaei – Rifaei Chua Sethi, Rekanegara
Usamah Zaid - Wau Animation Sdn Bhd
Updated: 12/7/2017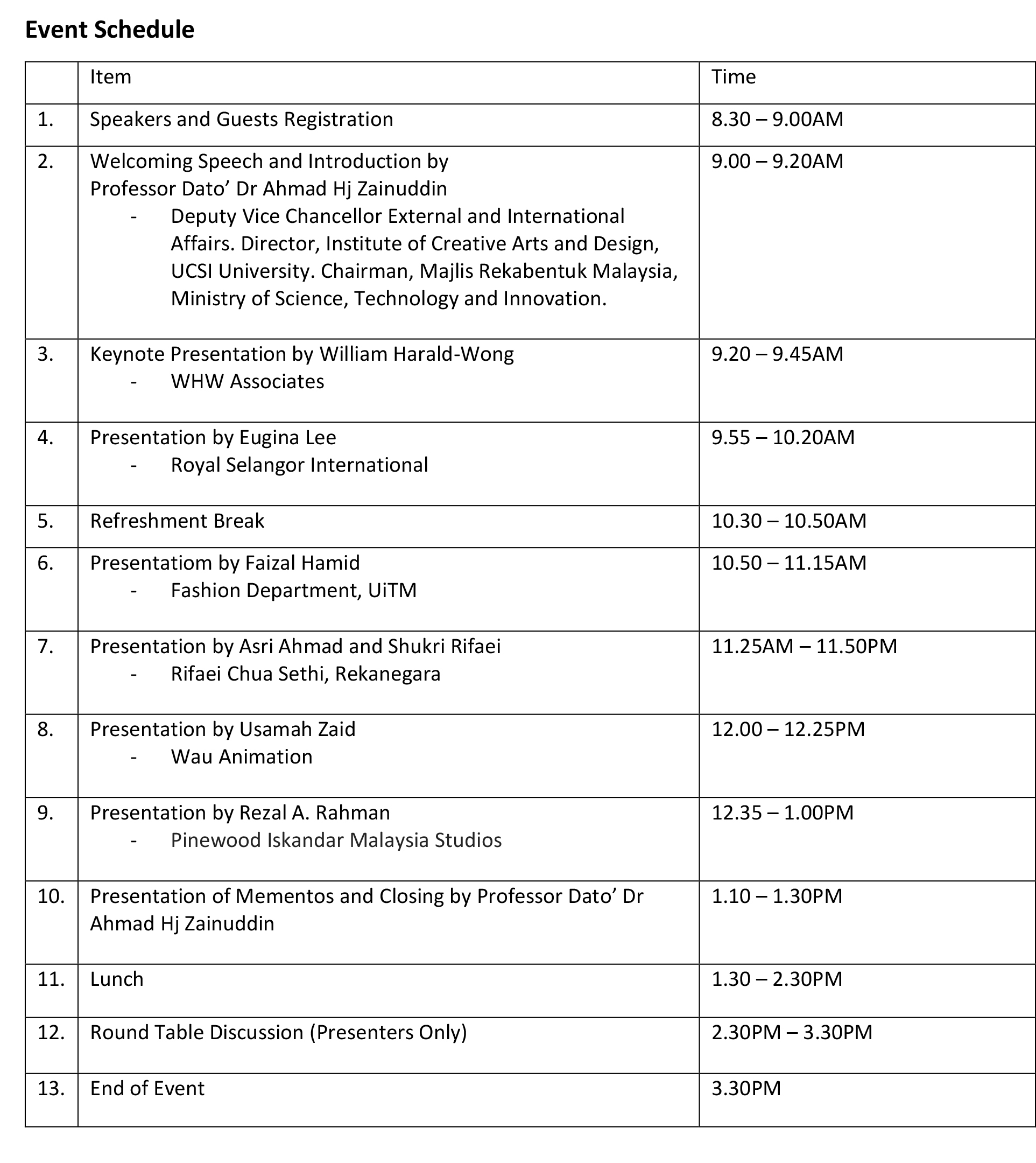 * Lunch provided by Le Quadri courtesy of ICAD
Event Schedule
Item
Time
1.
Speakers and Guests Registration
8.30 – 9.00AM
2.
Welcoming Speech and Introduction by
Professor Dato' Dr Ahmad Hj Zainuddin
- Deputy Vice Chancellor External and International Affairs. Director, Institute of Creative Arts and Design, UCSI University. Chairman, Majlis Rekabentuk Malaysia, Ministry of Science, Technology and Innovation.
9.00 – 9.20AM
3.
Keynote Presentation by William Harald-Wong
- WHW Associates
9.20 – 9.45AM
4.
Presentation by Eugina Lee
- Royal Selangor International
9.55 – 10.20AM
5.
Refreshment Break
10.30 – 10.50AM
6.
Presentatiom by Faizal Hamid
- Fashion Department, UiTM
10.50 – 11.15AM
7.
Presentation by Asri Ahmad and Shukri Rifaei
- Rifaei Chua Sethi, Rekanegara
11.25AM – 11.50PM
8.
Presentation by Usamah Zaid
- Wau Animation
12.00 – 12.25PM
9.
Presentation by Rezal A. Rahman
- Pinewood Iskandar Malaysia Studios
12.35 – 1.00PM
10.
Presentation of Mementos and Closing by Professor Dato' Dr Ahmad Hj Zainuddin
1.10 – 1.30PM
11.
Lunch
1.30 – 2.30PM
12.
Round Table Discussion (Presenters Only)
2.30PM – 3.30PM
13.
End of Event
3.30PM