Malaysia & Singapore Education Session (Petaling Jaya) (Free Admission) | 27 Oct 2018

Saturday, October 27, 2018 from 11:00 AM to 3:00 PM (Malaysia Time Malaysia (Kuala Lumpur) Time)
Event Details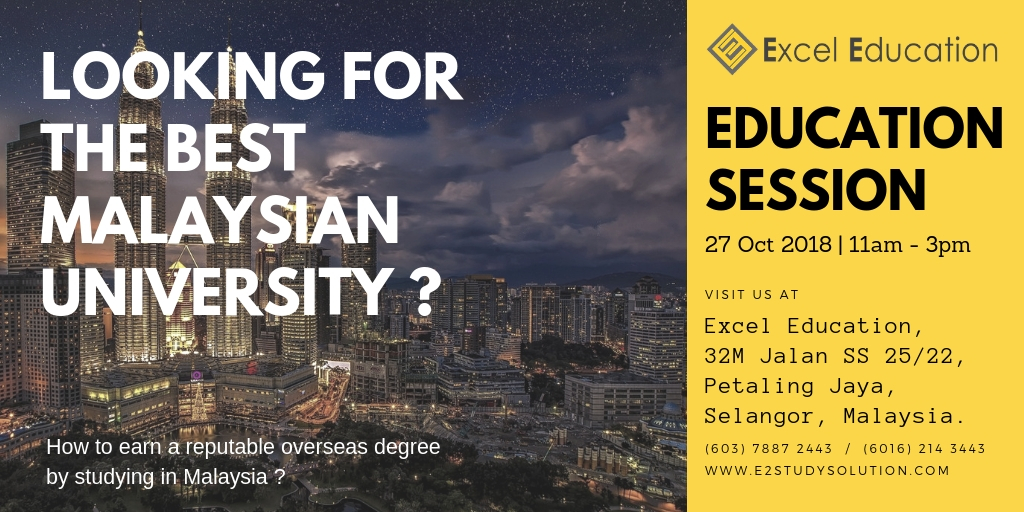 EVENT ALERT
Malaysia & Singapore Education Session
(Petaling Jaya)
(Free Admission) | 27 Oct 2018
Why you should study in Singapore? or it is better to study in Malaysia? There are pros and cons to further your education in Singapore, let alone the career in Singaporean dollar or permanent residency perspectives. In Malaysia, you will have the ease of accessing education loan from the government (PTPTN) and range of scholarships, but with the cost of lower income potential compared to the fresh graduate from Singapore.

To explore more of your choices, come and meet with prominent Malaysia and Singapore university representatives & alumnus at our event located in Petaling Jaya (Search "Excel Education" on Google Maps or Waze) on 27 Oct 2018. Get yourself a personalised consultation on living, program options and scholarships hunting tips in overseas.

***Malaysia***
Curtin University (Business, Engineering & IT)
Nottingham University (Medicine, Science)
Heriot-Watt University (Engineering & Actuarial)
Taylor's University & College (Business)
UCSI University (Medicine)
HELP University (Law)
and many more...

***Singapore***
Kaplan Business School (Business & IT)
PSB Academy (Engineering & IT and Science)
KLC Academy (Early Childhood)
LSBF (London School of Business & Finance)

About Us (Excel Education)
Partner with over 200 leading universities in Australia, Malaysia and Singapore. We give recommendations to school-leavers and young adults seeking advice on further education in overseas. Our headquarter is based in Sydney, Australia with two branches located in Malaysia and China. 

EVENT DETAILS
Date: Saturday, 27 October 2018
Time: 11am - 3pm
Location: 32M Jalan SS25/22, Petaling Jaya, Selangor, Malaysia (Waze Map: https://waze.to/lr/hw281xyek7)
Cost: Free event, registration required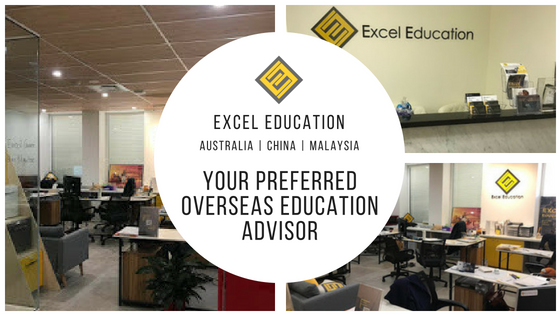 For more events like this, join the Excel Education community on Facebook
Need help with your uni application? Connect with us here
Frequently Asked Questions
What can I learn from this event?
The E2 Education Session is a great event to learn about the opportunities offered by some of the top Universities in overseas. You will find a wide range of majors to choose from and learn about the steps you need to take to study abroad
How can I get a Scholarship?
Most of the Universities offer merit-based scholarships to cover a percentage of the annual fees, but we do not have full scholarships at the event. The participating Universities will be happy to talk to you about their merit-based scholarship programs for international students. To verify your eligibility, we encourage you to bring copies of your report cards, IELTS scores or any other relevent documents to the event. To learn more about how you could get a merit-based scholarship, please come to the fair and speak with the admissions officers directly.
What do I need to bring?
Students are not required to bring any documents to the Education Session. However, if you bring your SAT/ACT, TOEFL or IELTS scores and your high school transcripts, Our counsellors will give you a better idea of your eligibility for admission and merit-based scholarships. Whether these documents are available or not, you should not miss the opportunity to learn about the Universities and the steps you need to take to be admitted.

Can my parents come? If I have one ticket, will I need extra ones for my parents?
Parents are always welcome to come and meet with the University representatives. All prospective students need an individual ticket to participate, but parents who are not interested in studying in the U.S. do not need one.

Is there a dress code?
We do not require any dress code. You are free to come as you like. But remember, always dress to impress!
Have questions about Malaysia & Singapore Education Session (Petaling Jaya) (Free Admission) | 27 Oct 2018?
Contact Excel Education
When & Where

Excel Education
32M Jalan SS 25/22
Petaling, Selangor 47301
Malaysia

Saturday, October 27, 2018 from 11:00 AM to 3:00 PM (Malaysia Time Malaysia (Kuala Lumpur) Time)
Add to my calendar
Organizer
Excel Education is the leading provider in providing prospects with tailored study solutions. Our pride and passion are to go the extra mile to assist students in making their career dreams come true by placing them into the right course and institution in Australia, New Zealand, Malaysia and Singapore, with Australia as our primary focus.
The Malaysian office started in 2017, objective to bring to the local community the same standard that is synonymous with the Excel Education brand. Our counsellors are once international students from Australia, New Zealand, Malaysia and Singapore.
We have accumulated a combined 20 years' experience in the placement industry and are attuned to the unique challenges that Malaysians face in seeking overseas education. Understanding the ever-demanding schedules of Malaysians, our counsellors are able to meet with students outside of the office environment making sessions more casual and convenient. Career profiling assessments, which helps to identify unique strengths, interests and traits to provide a clearer picture of the student's potential career pathway, are also available to our students for free. As partners in your global education, we see it as our privilege to have a hassle-free road for you.
For more info:
URL: www.e2studysolution.com
Tel: +6016-214 3443