Description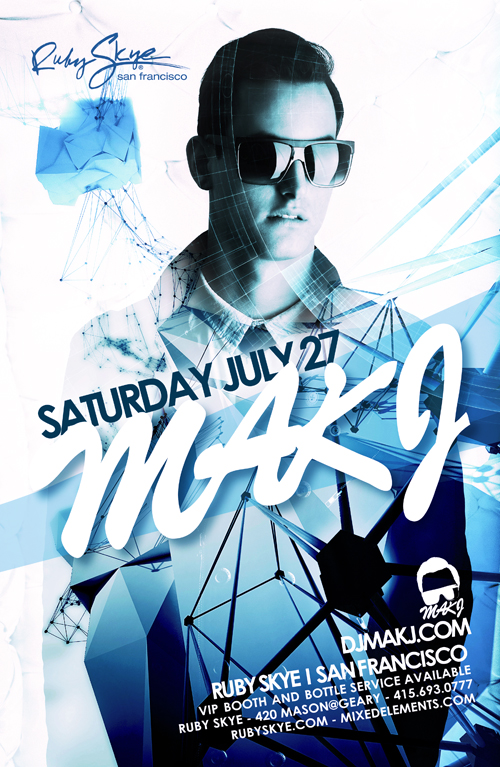 Mackenzie Johnson, better known as MAKJ, uncovered a passion for mixing and DJ'ing at only 15 years of age. While living overseas in China as a professional racecar driver, the teenager grabbed hold of his first set of Technics 1200 Turntables. As he experimented with the new equipment, Johnson also took advantage of the countries in which he was living and travelling, and critically studied the technical nuances and styles set before him in the most popular overseas clubs. No longer would DJ'ing be just a hobby for MAKJ; it soon turned into a thriving career path. As a 17-year-old, Johnson made his way back to the United States with a unique outlook and greater ambition than ever before. The insight Johnson acquired abroad gave him incredible local momentum; Johnson found himself being repeatedly invited to DJ countless local university and community college events and concerts. It was at this age that MAKJ also received priceless DJ'ing tutelage from one of the best in history, the late great DJ AM himself, who skilled MAKJ in the art of scratching over the course of several one-on-one lessons. Honing and perfecting his skills over the past several years, MAKJ has DJ'ed at some of the premier venues in the country including Playhouse, Avalon, Dim Mak Studios and Supperclub in Hollywood, Marquee, TAO, and Tryst in Las Vegas, The Grand in San Francisco, Pacha, Lavo and 1OAK in New York, LIV and Wall in Miami, plus recent shows in Toronto, Montreal, Vancouver, San Diego, Dallas, El Paso, Puerto Vallarta, and Cabo San Lucas. He also performed at this year's Ultra Music Festival in Miami and performed on the 2011 IDentity Festival in Boston, Washington, and New York. He has played direct support to greats such as Avicii, Armin Van Burren, Steve Aoki, Morgan Page, Wolfgang Gartner Paul Oakenfold, Adrian Lux and more. Johnson's creativity and diversity as an artist have now carried over into the production field and his works have deservingly awarded him much critical acclaim and positive reception. His originals, edits, bootlegs, and remixes have received immense support from renowned artists such as Hardwell, Tiesto, Steve Aoki, Afrojack, Fedde Le Grand, R3hab, Chuckie, Avicii, Laidback Luke, Adrian Lux, Swanky Tunes, Steve Angello, Sebastian Ingrosso, and many others. With the support of these greats in his pocket, MAKJ is now thriving in the realm of original production; he has a slew of new tracks slotted for release over the course of 2013, including releases on Hardwell's Revealed label, The Bingo Players' Hysteria Records, Nicky Romero's Protocol, and Robbie Rivera's Juicy Music. He has also released several official remixes on mega-dance label Ultra Records. Additionally MAKJ hosts a weekly radio show on Clear Channel's Evolution channel which can also be heard on 101.7fm in Boston and online via iHeartRadio. At only 22 years of age, Mackenzie Johnson has achieved an almost unfathomable amount of success. His dedication to his craft and ambition to surpass any and all competitors will further propel MAKJ higher than he could ever have imagined.
Terms and Conditions:
This event is 21 and over. Any Ticket holder unable to present valid identification indicating that they are at least 21 years of age will not be admitted to this event, and will not be eligible for a refund.
Support lineup subject to change. No refunds will be issued for lack of identification or invalid identification.
Fashionable Attire is required, no sneakers, shorts, tank tops, baseball hats or gym clothes.
By purchasing a ticket, you will also receive weekly email blasts from Ruby Skye about upcoming events, guest lists and more.
Ruby Skye is San Francisco's premiere Nightclub and Special Event Venue. It is conveniently located in the heart of downtown San Francisco just off of Union Square and the famed theatre district. Whether you are a seasoned nightclub enthusiast, looking to go out for the memorable evening, or wish to host a private event, Ruby Skye is available for all your entertaining needs.