MAKING YOUR PROJECTS HAPPEN!: Successful Film/TV Producing & Financing

Saturday, May 5, 2018 from 10:00 AM to 3:00 PM (PDT)
Event Details
JOANNE BUTCHER, FILMMAKER SUCCESS and COMMAND PERFORMANCE PRODUCTIONS 
 Proudly Present
MAKING YOUR PROJECTS HAPPEN!: Successful Film/TV Producing & Financing
The Highly Acclaimed and Anticipated Workshop by Former ICM Agent, Award-Winning Filmmaker & Bestselling Author 
JIM JERMANOK
A Professional Workshop for Producers, Investors, Writers, Directors and Actors on How to Produce and Finance Successfully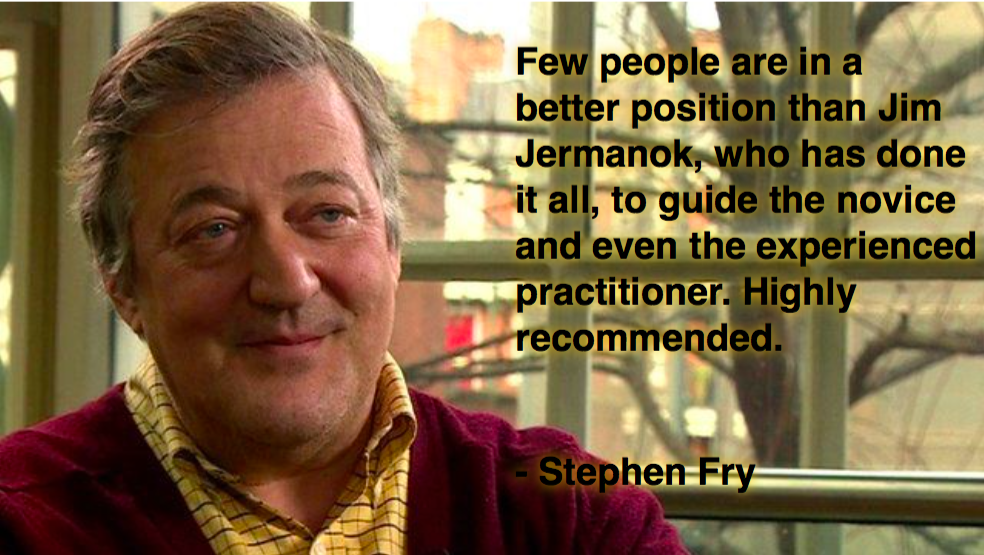 Saturday, May 5, 2018 @ 10 am-3:00 pm 
NINTH STREET INDEPENDENT FILM CENTER
145 NINTH STREET
SUITE 250
 SAN FRANCISCO, CA 94103
MAKING YOUR PROJECTS HAPPEN!: Successful Film/TV Producing and Financing
 An acclaimed, intense and empowering professional 5-hour workshop geared toward producers, investors, filmmakers, directors, key crew, screenwriters, editors, journalists, actors and other aspiring, working and successful creative professionals who want to produce films, TV and web series.
 This is an insider's no-bull, no fluff presentation of the current film, TV and New Media business.  
In this day and age, it is a well known fact that to work professionally as an actor, writer, director and producer in any aspect of film, TV and media, you need to create your own opportunities and make your own projects.This workshop is for those in the business and those who want to enter the business. It is based on 30 years of  experience and analysis of the qualities and traits that successful film/TV creators/producers share. 
MAKING YOUR PROJECTS HAPPEN!: Successful Film/TV Producing and Financing is extremely empowering (if not life-transforming) bottom-line and nuts-and-bolts. No fluff. You will be taking 20-30 pages of notes! By the author of the recent bestseller: BEYOND THE CRAFT: What You Need to Know to Make A Living Creatively published in 2017.  
Space is limited--Register today!
"Everyone should listen to Jim Jermanok!  I certainly do."
 - MARTIN LANDAU, Oscar-winning Actor (1927-2017)
"Jim Jermanok's advice in "Making Your Projects Happen" are the CliffsNotes for people hoping to make it in the business of creative pursuit; a MapQuest tour through the baffling and congested world of entertainment and media."
 -STEVE KROFT, CBS News Correspondent for "60 Minutes," 5-time Peabody Award Winner
 "Jim's advice is so spot on; it's like having a father in Show Business.'
 -EDDIE FELDMANN, Executive Producer, Writer and 5-time Emmy Award winner ("HBO's Dennis Miller Live")
Jim Jermanok's workshop was one of the best-received workshops I've ever produced here at the Writers Guild of America. The feedback has been ebullient. The 75 WGA members who attended thanked me profusely, and reported being energized and inspired.
 – DANA WEISSMAN-SCALI, Director of Programs, WGA
"I took my own, hard route to my career and I wish I'd had taken Jim's workshop at the start. It would have been so helpful! It should be compulsory for all creative professionals and students worldwide."
- ALUNA FRANCIS, star of global recording group AlunaGeorge
"Film directors (any creative people really) must constantly re-invent ourselves, fight the blues, the self-doubt . . .We are increasingly forced to function as our own self-promoters, motivators, and salespersons. It's not an easy thing to do, to play both the Creative and the Business roles!  Jim not only provides insight into these challenges, but also gives us some real tools to get past them and make your career dreams come true."
- RANDA HAINES, Director of Oscar-nominated film, "Children of a Lesser God"
It was great seeing Jim in action, sharing important facts with a riveted audience. He told it like it is–straight forward–and gave very practical information which will help these producers today and in the future. Keep mentoring. Your no-nonsense approach is the way to go! Well done!
 – STEVE FEINBERG, Rhode Island Film Commissioner
JIM WILL COVER MOST OF THE FOLLOWING:
Selecting and researching the right script
Producing fictional TV series
Everything you've ever wanted to know about reality/non-fiction TV series
Distinguishing yourself and your projects
Creating superb promotional materials
Pitching yourself and your projects
Where the financing comes from 
How to find, approach, research and convince investors 
How to produce or invest in television and new media 
How to package yourself as a creative
What you need to know about domestic and international tax incentives and other soft money
Film Producing advantages of holding a foreign passport
Current status of the independent film industry
What genres/budget ranges are working now
Assembling a team whose sum is greater than its parts
Overcoming creative career self-sabotage 
Understanding and succeeding with agents and managers
Distributors and sales agents--what you need to know 
Do It Yourself Distribution
Social Media Marketing for producers
Making it happen on your own 
Here is a recent Jim Jermanok Producing article from IndieWire, America's top independent film website: 
 www.indiewire.com/article/6-techniques-to-research-and-locate-film-investors
WORKSHOP VIDEOS
Admission $99 (Regularly $129!)
Early Bird discount of $89 by April 10th!
 10% Student Discount
NINTH STREET INDEPENDENT FILM CENTER
145 NINTH STREET
SUITE 250
SAN FRANCISCO, CA 94103
For further info:  Please contact Joanne Butcher: Joanne at filmmakersuccess.com
Reserve today! Space is limited.
About Jim Jermanok:
Jim Jermanok is an award-winning writer, director, producer author and speaker based in NY. He is currently directing and producing a feature documentary about the life and art of Oscar-winning actor Martin Landau featuring interviews by Chris Rock, Diane Ladd, Jon Voight, Woody Allen and Ellen Burstyn.  Mr. Jermanok wrote and produced the highly acclaimed romantic comedy, "Passionada," which was released by Columbia Tri Star in over 150 countries. His  film "Em"won the Grand Jury Prize at the Seattle International Film Festival and the Criterion International Inspiration Award. It was released by Vanguard Cinema and SnagFilms.  Jim Jermanok recently wrote and directed "Homophonia," a political comedy film on gay marriage which has appeared at over 50 film festivals while winning several of them.  Also active in TV and New Media, Jim Jermanok's  new web series "LIFEADVICE.TV" has drawn tremendous praise since going live globally in November, 2015. Mr. Jermanok is a former ICM Agent who represented Arthur Miller, Shirley MacLaine, John Chancellor, Ben Kingsley, Dudley Moore, Helen Hayes, Alan Arkin and General H. Norman Schwarzkopf, among others. Jim also speaks and has conducted over 300 workshops worldwide on the subject of his 2017  bestseller, BEYOND THE CRAFT: What You Need to Know to Make A Living Creatively!-- http://amzn.to/2hmx6YQ , Making Your Projects Happen!: Successful Film/TV Producing and Financing as well as The Art and Business of Screenwriting. 
For more information, go to www.jimjermanok.com
APPEARANCES WORLDWIDE: Jim Jermanok has made numerous appearances as a speaker, teacher, workshop instructor, panelist and moderator of panels.
Jermanok has spoken at Cannes, Harvard University, Yale University, New York University, The Writers Guild of America (WGA),The New School, The School of Visual Arts, Boston University, University of Pennsylvania, New York Film Academy, Screen Directors Guild of Ireland, Raindance (London), and the Scriptwriters Guild of Israel.
 In addition, Mr. Jermanok has spoken at: The WGA (Writers Guild of America), Arizona Studios (Phoenix, AZ), ATRIA (Paris, France) Brooklyn Intl. Film Festival, Clark University (Worcester, MA), Digital Hollywood NY Media Summit, Dublin Institute of Technology, The Edinburgh International Film Festival, Filmbase (Dublin, Ireland), Five Towns College (Dix Hills, NY), The Florida Intl. Film Festival (Orlando), Garde Arts Center (New London, CT), George Washington University (Washington, DC), Herzliya Cinematheque for the Scriptwriters Guild of Israel (Tel Aviv, Israel), The Independent Feature Film Festival (New York), Intersection for the Arts (San Francisco, CA), Irish Theater Institute (Dublin), Long Island Intl. Film Expo (Bellmore, NY), Long Island University (Brookville, NY), Making Media Now Documentary Conference (Waltham, MA), The New London Film Festival, The Newport Film Festival, The NY-Bulgarian Film Festival, The New York Intl. Film Festival, The NY Screenwriters, Ninth St. Independent Film Center (San Francisco, CA), North Carolina Film Workshop (Greensboro, NC), Northern Arizona University (Flagstaff, AZ) The Queens International Film Festival, The Palm Springs Intl. Film Festival, Raindance (London, England) Rawi Screenwriters Lab (Amman, Jordan), Ruff Cutz Film Festival (Boston), San Diego City College, The Santa Fe Intl. Film Festival, The Screening Room (Tucson, AZ) The Seattle International Film Festival, Show Biz Expo (New York, NY), Sithengi: Cape Town World Cinema Festival, The Sofia Independent Film Festival (Sofia, Bulgaria), Story Forward (New York, NY), The White Sands Film Festival (New Mexico) and WilliFest (Williamsburg, Brooklyn), among many others. 
"Very practical and pragmatic. For all working producers, directors and writers."
 – ROBERT L. SEIGEL, NY Entertainment Attorney 
"Jim Jermanok workshop "MAKING YOUR PROJECTS HAPPEN!: Successful Film/TV Producing & Financing" was one of the best-received workshops that the Screen Directors Guild of Ireland has ever produced! The turnout and interest was enormous, and the feedback was enthusiastically positive."
 – BIRCH HAMILTON, Executive Director, Screen Directors Guild of Ireland
 "Jim Jermanok knows the film business from all sides.  As a successful writer, director, producer and agent, Jim has assembled his vast knowledge of the business into an invaluable compilation of tips and tools for what it takes it make it!"
  -BETTINA GILOIS, Acclaimed Screenwriter, "McFarland" starring Kevin Costner, "Bessie" starring Queen Latifah, "Glory Road"
 "Jim Jermanok draws on his own wealth of experience in this treacherous field. Somehow, he manages to keep all this information clear, concise and often fun.  I have no doubt that aspiring and working professionals will find him extremely useful. Bravo!"
  - HARRY GREGSON-WILLIAMS, Award-winning Film Composer ("The Martian" "The Chronicles of Narnia" "The Shrek Series" "Passionada")
 "I can't thank you enough for your unique, mesmerizing and inspirational "Successful Film/TV Producing & Financing" workshop you gave for The Sofia International Film Festival at our National Academy of Theater and Film Arts. Your audience of 250 Bulgarian filmmakers and creative professionals has not stopped praising your presentation and the five hours they spent with you."
  - JANA KARAIVANOVA, Executive Director, Sofia Independent Film Festival
 "Creative career success is becoming harder than ever.  Jim provides insights and practical skills that will give you a competitive edge to achieve your goals. It is invaluable!"
  - GEORGE T. NIERENBERG, Acclaimed Documentarian ("Say, Amen Somebody")
"Born from his own hard work and years of experience, Jim is a worthwhile and useful guide to any "creative" seeking or maintaining a career in the entertainment business."
 -WENDY SAX, Producer, ("Particle Fever" "Songcatcher")
 "Definitely found Jim's workshop very useful. Attended last year and then closed on financing for my first feature-length doc with IFC."
 - JIM FARRELL, Feature Film Producer, Director
"Jam-packed with information.  I took 25 pages of notes. You should certainly invest in yourself and your career this way. The body of knowledge we received in four or five hours was invaluable. Invaluable."
 - JENN MELLO, Founder/CEO of Film Interchange, Producer
 "Informative, no-nonsense seminar that offer priceless information on how to maximize your career path in the entertainment or film business."
 - LAURA SIEGEL, Entertainment Agent
 "Jim Jermanok brings tremendous knowledge, depth and passion to his workshops.  His insight and enthusiasm are not only inspirational, but also very, very practical. Jim has a refreshingly honest and direct point of view towards a life in the arts. I would highly encourage anyone on a creative path to spend time with the Jim Jermanok."
 - NICK YELLEN, Professor, New York Film Academy
"Let me tell you guys straight up, this is a great workshop! I did Jim's workshop last year in Worcester, MA, and it was excellent! I have since produced and directed a feature film, "Confused By Love." Consider this event an investment into your career if you're serious about it. Sign up right now."
 - CROSBY TATUM, Feature Film Director, Writer, Producer 
 "Jim Jermanok understands the creative life as few others do. He has worked and taught at the highest level and helped many others on the way to achieve real results in this most competitive of industries.  I think Jim may have changed the title of his workshop, but whatever it is, I can tell you this:  You should not miss his next workshop.  Jim Jermanok changed my life and career and he can make a difference in yours."
  - RAY YEATES, Renowned Irish Director, Actor and current Dublin City Arts Officer
"As a filmmaker, whether you are learning to swim in the equity-investor pools or have money burning a brand into your designer bag or wallet, the wisdom that Jim Jermanok imparts during his workshop is both informative and motivational."
  - SARA MARGOSHES, Literary Agent, SMA Agency
 "Your keynote speech on "Creative Career Success" instilled trust, fostered clarity and increased the confidence of our entire audience in a contagious way.   Your dynamic, no-nonsense approach encouraged filmmakers toward the completion of their content."
  -  MIKE CAMOIN, Founding Director, Capital Cinema Cultural Exchange
 "With the extremely positive feedback from our audience, Jim Jermanok gave the most inspiring and informative panel discussion we've ever had. Highly recommended!"
 - JAMES BENTI, CEO, Ruff Cutz Indie Film Conference
  "Honestly, I walked into Jim's workshop thinking that I already knew it all.  And I walked out having learned more than I could have imagined! His advice and coaching is second to none!
 - JAY MILES, Filmmaker, Bestselling Author of  "Conquering YouTube"
When & Where

Ninth Street Independent Film Center
145 Ninth Street
Screening Room
San Francisco, CA 94103


Saturday, May 5, 2018 from 10:00 AM to 3:00 PM (PDT)
Add to my calendar
Organizer
Contact Joanne Butcher at joanne at filmmakersuccess.com