Refund policy
Contact the organizer to request a refund.
Eventbrite's fee is nonrefundable.
Explore a 100% natural and sustainable way to paint! A 2-hour interactive workshop turning natural raw materials into inks for artwork.
About this event
Join abstract artist and natural ink maker Melissa Jenkins, for a 2-hour virtual workshop as she guides you in the process of foraging and crafting natural inks. Melissa will provide you with insights into foraging for urban and/or rural ink-making seasonal plant material and share her knowledge of the art and techniques of handcrafting inks.
• There will be time for Q&A throughout the workshop and at the end.
• This workshop is accessible for anyone wanting to learn more about natural inks and/or a more sustainable art practice. No prior artistic experience is needed, simply a love for the natural world.
• The following topics that will be covered:
How and what to forage for to make natural inks
A step by step instructions about how to craft natural inks
Learning about tools and cooking materials
Learning about modifiers and thickeners
How to paint with natural ink & how to preserve your artwork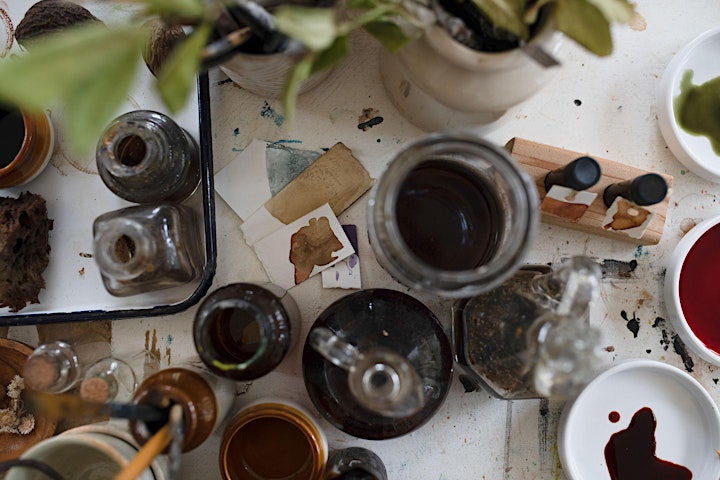 *** DURING THE WORKSHOP: If you would like to participate and create your own natural ink, it is advised that you have the following items on hand during the workshop- but you can also absolutely simply watch and learn:
Watercolour paper, rags, 2 avocado pits (fresh or frozen from fresh), a sharp knife and cutting board, water, measuring cup , teaspoon, a hot plate or cook top, a non-reactive pot (stainless steel or glass), a medium sized glass bowl, 2 glass jars and 1 lid, a coffee filter, a small funnel, gum arabic powder *not necessary but will add to your experience*, a stirring spoon and fork, a colander/strainer, cheesecloth or cloth
This workshop is led by Melissa Jenkins and moderated by Haylee Barsky. Melissa is an abstract artist and natural ink maker. Melissa lives in a lovely Canadian rural setting in a farm house surrounded by vibrant landscapes. Her studio is framed by windows looking out onto dazzling farm fields, towering pine trees and a natural pond. She spends her summer on a lake where she spends her days foraging by the lake and local waterfalls. Melissa paints with and around her twin girls and in between living "life". Melissa's abstract landscapes reflect the colours of the seasons, the lines of the hills surrounding her studio and the trees dotting the horizon.
Haylee is an Independent Curator, Photographer and Arts Entrepreneur based in New York City. She founded and currently runs a popular online platform in the art world, hosting workshops, private events and more.
*This digital event will not be recorded. A journal is highly recommended for note taking. Each attendee will receive an emailed PDF of a recipe and of a list of what was covered in this workshop after attending!