Description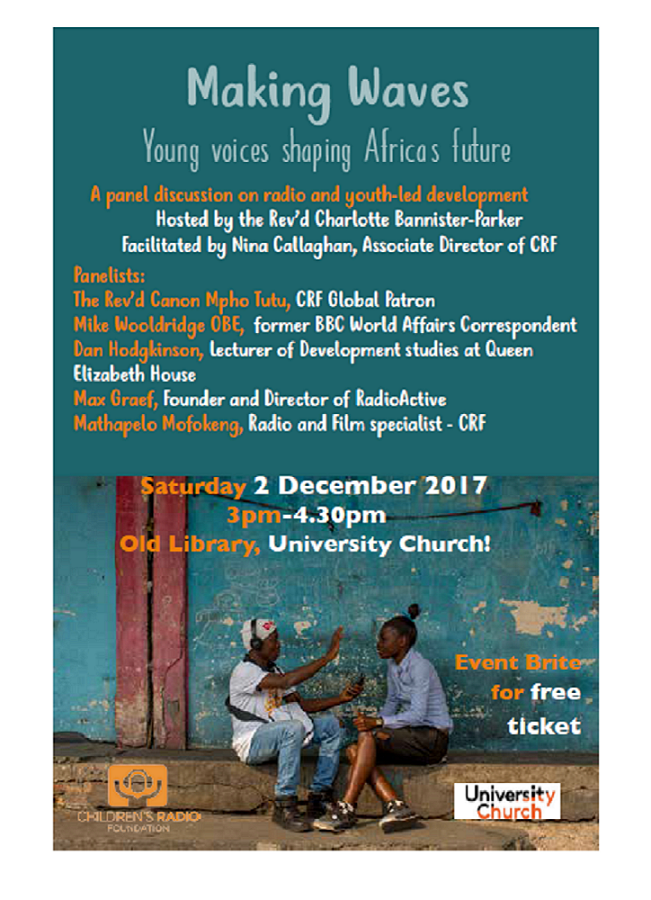 This panel discussion will focus on how communities are using radio to represent themselves and make their voices heard across Africa. In the context of often being forgotten or ignored by mass media, radio has become a medium that facilitates a platform for empowerment and information-sharing. Through their use of radio, communities are encouraging and enabling social cohesion and action, both in the political and cultural spheres.
The Rev'd Canon Mpho Tutu, CRF Global Patron - Mpho Tutu is an author, speaker and, as well as being CRF's Global Patron, is the Executive Director of the Desmond & Leah Tutu Legacy Foundation an organization founded by her father Archbishop Emeritus Desmond Tutu and Nomalizo Leah Tutu. The Foundation works towards a peaceful, more compassionate world world where human dignity and potential are celebrated.
Mike Wooldridge, Ex-World Affairs Correspondent and BBC Media Action Trustee - Working as a World Affairs Correspondent has taken Mike all over the world, including much of East Africa where he covered the Ethiopian famine (1984-5) and other civil conflicts and humanitarian emergencies in Sudan, Somalia, Chad, Mozambique, Angola and Uganda.

Dan Hodgkinson, Lecturer and DPhil student in Development Studies at Queen Elizabeth House, Oxford - Dan specialises in student activism in southern Africa, especially Zimbabwe. He worked for several years as a strategy consultant for clients that including the UN-Global Compact, Save the Children, and the Council for Europe, and has an MSc in African Studies.

Max Graef, Founder and Director of Radioactive - Max brings his experience installing equipment and training staff at community radio stations around the world. He delivers workshops in radio production, radio drama, station management and engineering, helping people with no previous radio experience to gain the skills and confidence to run their own radio stations and produce radio programming

Mathapelo Mofokeng, CRF Programme Director and media specialist - Mathapelo coordinates 300 youth reporters across 15 radio stations in all nine provinces of South Africa, assisting with direct program support, new project development and community-based partnerships. She is currently pursueing a Masters in Scriptwriting at the University of Goldsmiths, London as a Chevening recipient.
There will be a tea and coffee and a chance to network during the afternoon.